Jaffer alone
The mute maestros of Indian cricket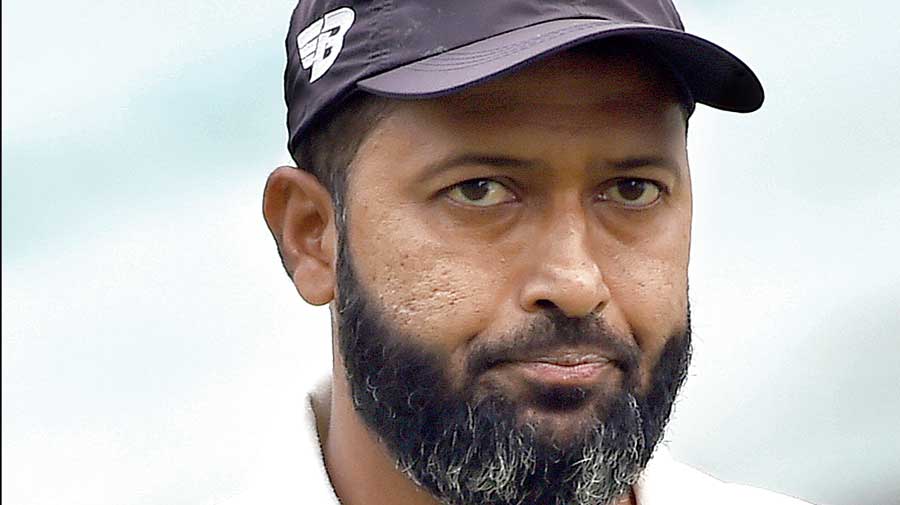 Wasim Jaffer
File picture
---
Published 14.02.21, 12:32 AM
|
---
Indian cricket nearly died this week. It was buried in a landslide in the Himalayan foothills. It lies there still, in critical condition, because hundreds of Indian players who could have helped dig it out have determinedly looked the other way.
An official of Uttarakhand's cricket association accused Wasim Jaffer, the provincial team's coach, of communalism. Jaffer is a Muslim; he was charged with favouring Muslims over Hindus. Given India's past and present, that is a wicked, career-ending allegation.
It has been a storied career. Jaffer is 42 years old. He recently retired from the first-class game, having played as an opening batsman for more than two decades. In that time, he played 31 Tests for India, won eight Ranji Trophy titles for Mumbai, and then moved to Vidarbha and won two more with an unfancied side. He is the most prolific run-scorer in the history of first-class cricket in India. He has scored more runs than any other batsman in the Ranji Trophy, the Duleep Trophy and the Irani Cup.
Jaffer's list of Test teammates reads like a Who's Who of Indian cricket. He played alongside Sachin Tendulkar, Rahul Dravid, V.V.S. Laxman, Virender Sehwag, Anil Kumble and Sourav Ganguly, who is currently president of the Board of Control for Cricket in India. Two days after he was accused of being communal, only Kumble amongst these storied names had come forward to offer support or solidarity.
Kumble didn't mention the accusation; he simply offered support and praised Jaffer for having done the right thing. (Jaffer had resigned as coach citing interference in matters of selection.) Even this brief message of solidarity echoed in the thickening silence as the other members of Indian cricket's modern pantheon stayed as mute as a row of waxworks.
It was left to Dodda Ganesh, who played for Karnataka and represented India in four Tests, to offer full-throated support. His tweet is worth quoting in full to illustrate what fraternal solidarity reads like: "Dear @WasimJaffer14, you've been a great ambassador of the game and represented India with pride. Cannot believe that this could happen to someone like you. You're a gem of a cricketer and human, brother. Cricket world knows you and your integrity."
There is an innocence about Ganesh's tweet that makes you want to cry. The 'cricket world' clearly doesn't know Jaffer; it certainly doesn't give two paise for his integrity, else Tendulkar, Dravid, Laxman, Sehwag and Ganguly might have used up 280 characters to tweet their support for him, as Kumble did.
This is what is so baffling, so dismaying about their silence: why couldn't they do what Kumble did? Just put out a tactful tweet that tells an old comrade that he is not alone, that they are, metaphorically, on his side.
Unless they aren't, of course. Unless the manager who accused Jaffer and the association secretary who backed him up are, in the eyes of these immortals, local avatars of the neta-gods who own Indian cricket and, therefore, not to be crossed.
Which makes you wonder: what is the point of being a cricket immortal if you can't stand up for a teammate publicly accused of bigotry by a petty official? What price your Bharat Ratna if you can't practise that basic republican virtue, fraternity, within the narrow bounds of your sport? How seriously can we take the well-turned sentences of your Bradman Oration if you can't spare a dozen words to comfort a beleaguered colleague who you once shared a dressing room with? Why become the president of the BCCI if, on your watch, a cricketer noted for his professionalism and integrity can be defamed by your minions?
Jaffer shouldn't be in the dock, trying to defend himself against defamation. The officials of the Cricket Association of Uttarakhand who defamed him should be suspended for bringing the game into disrepute and asked, in the babu's menacing jargon — the only language that they understand — to show cause.
Contemptible as the behaviour of his national teammates has been, the bigger betrayal of Jaffer and Indian cricket has been the failure of Mumbai cricket to protect its own. For Indian cricket fans who grew up in the 60s and 70s, Mumbai wasn't just Indian cricket's regional powerhouse, it was a formidable cricketing culture.
Its league cricket nurtured some of India's greatest players. The Mumbai school of batsmanship, epitomized by Vijay Merchant, Vijay Manjrekar, Dilip Sardesai, Sunil Gavaskar, Dilip Vengsarkar and Sachin Tendulkar, was famous for orthodoxy, stubbornness and the ability to play the long game. The camaraderie engendered by this high-pressure cricket culture was intense and the loyalty of Mumbai's cricketers toward their own was legendary and, in matters of selection, notorious.
Where is that loyalty now? Jaffer is the embodiment of the Mumbai school of batting. He batted for Mumbai for nearly two decades with heroic consistency. Mumbai's cricketers man the commanding heights of every part of India's cricketing establishment. Sunil Gavaskar and Sanjay Manjrekar are fixtures in television commentary boxes; Tendulkar is India's cricketing mascot; Ravi Shastri is the manager of the national team; Rohit Sharma is the vice-captain of India's ODI side, and Ajinkya Rahane is the vice-captain of India's Test team. Not one of them has said a word in support of Jaffer.
Ajinkya Rahane was asked on the eve of the second Test against England about the Jaffer affair. He refused to comment, saying, "I don't have an idea regarding this issue..." Rahane was Jaffer's teammate in Mumbai's first-class side for years. It's fair to say that he knows Jaffer. And it's hard to believe that he doesn't know that Jaffer's been accused of communalism. He lives in a bio-secure bubble, not under a rock.
Just a week ago, Rahane, Sharma, Kohli, Shastri and Tendulkar, prompted by the powers that be, were tweeting in chorus against foreign commentary on the farmers' agitation. #IndiaTogether was Rahane's preferred hashtag. Someone should tell this Mumbai batsman that unity begins at home.
This recent sequence of events has been the perfect reveal: on-demand tweeting one moment and deathly silence the next. When Mohammed Siraj was heckled abroad by bigoted Australian spectators, the Indian team's captain and manager brimmed over with outrage and solidarity. A month later, an awful allegation has been made against Jaffer, who held an impromptu press conference to rebut those charges, item by item. It hasn't elicited a single word of sympathy or solidarity from his fellows. What is so different now?
The answer to that question cannot be that in India, when cricketers who happen to be Muslim are at the receiving end of bigotry, discretion shall be the better part of valour. That would mean that Indian cricket, till recently breathing under that landslide in Uttarakhand, is conclusively dead. We should all hope that over the next few days, Jaffer's peers, past and present, begin to speak up for him.
They could start by reading a Mumbai player who had the decency and the heart to offer a resounding endorsement of Jaffer. Chandrakant Pandit, who had a brief Test career as a wicketkeeper-batsman, wrote: "It is shocking to read that Wasim tried to influence players over religion. I have known Wasim for... very long and worked closely with him during my time at Vidarbha. He was a role model to all the youngsters irrespective of caste or religion. He would only talk about talented players who he thought would benefit the team... He is an out-and-out team man. If any player was deserving, he would talk about him. It didn't matter what religion he belonged to."
Shishir Hattangadi, who batted for Mumbai for a decade, has, like Pandit, declared his faith in Jaffer. If more cricketers take their cue from Kumble, Ganesh, Manoj Tiwary, Pandit and Hattangadi, we might yet drag Indian cricket, breathing, from under the rubble. If they don't, we'll know it's dead. A team that represents a nation must consist of citizens who play for each other, not clients who service a hectoring State.