Why are women considered to be indebted to their parents?
It is heartening that people are challenging old customs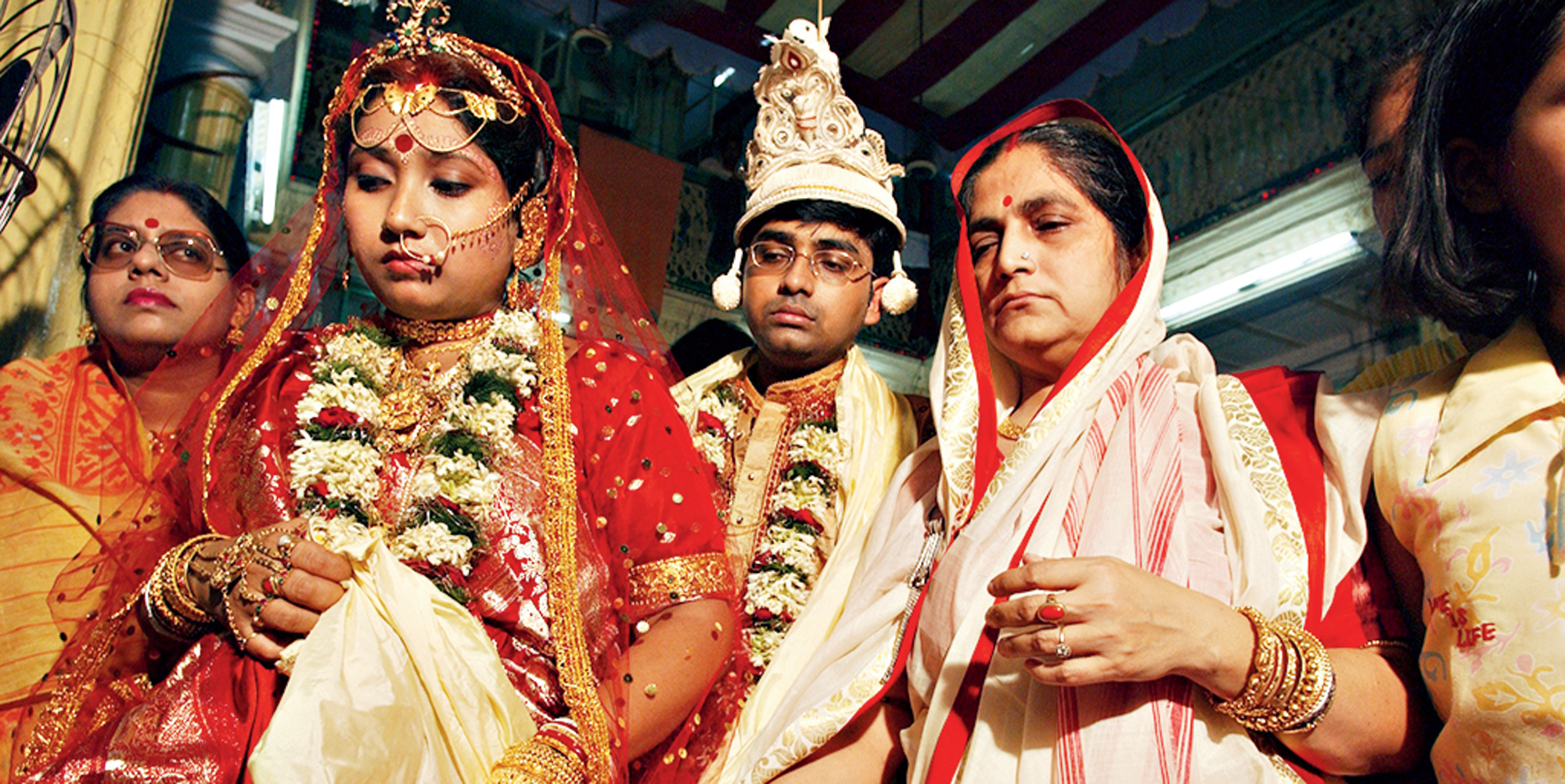 Recently a bride did away with the traditional rice-throwing ceremony to make the statement that nothing could repay the debt she owed her parents
The Telegraph picture
---
Published 08.02.19, 04:55 AM
|
---
Sir — At a recent wedding, the bride did away with the rice-throwing ceremony. This ritual generally takes place when the newly-wed woman is leaving her maternal home; she throws grains of rice behind her, allegedly to repay the debts of her parents. The bride here said that nothing could repay the debt she owed her parents. It is heartening that people are challenging old customs. Is it not also time to consider why women are considered indebted to their parents? If a couple chooses to bring a child into the world, is it not their responsibility to provide for that child? Can an act of love — is this not the feeling that prompts parents to look after their offspring? — expect indebtedness in return?

Shantipriya Malakar,
Calcutta
Dangerous trend
Sir — The article, "Killing Gandhi again" (Feb 4), was a chilling reminder of the stark reality that divisive forces, whose only motive is to tear the inclusive fabric of India apart, still exist. Nathuram Godse and his ideological descendants want to divide India's population between a majoritarian 'us' and a 'them' comprising minorities. What does it say about equality in the eyes of the law that the killers of Mohammad Akhlaque, Junaid Khan, Pehlu Khan, Alimuddin Ansari — killed in plain sight, with ample witnesses — are out on bail?
The columnist, Manini Chatterjee, rightly pointed out that the mock re-killing of Mahatma Gandhi in Aligarh by Pooja Shakun Pandey is a glimpse of what lies in store for the minority citizens of 'New India'. There is no point claiming to be a secular democracy unless we, as a nation, can stand up to and resist such disruptive elements.
Manzar Imam,
Calcutta
Sir — It is both despicable and shocking that the Aligarh unit of the All India Hindu Mahasabha staged a mock killing of Mahatma Gandhi on his 71st death anniversary. One shudders at mindset that leads people to commit such acts of desecration in the name of upholding so-called majoritarian sentiments. They are gravely mistaken if they believe that they will be feted for their shameful actions.
This brazen display of violence by a fringe group should be condemned by all right-thinking individuals in this country. The fact that the police remained silent spectators — could they not have forcefully stopped these people? — raises serious questions about the power and the intent of law enforcement agencies in India.
There can be no denying the fact that instances of violence and attacks on minorities have increased under the Narendra Modi regime. That the perpetrators of crimes against minorities are roaming free does not bode well for the future of a democratic and secular country like India.
It is also unfortunate that attempts are being made to trivialize Gandhi's contribution to the creation of this republic and efforts are underfoot to taint his image. What kind of precedent do such acts set before future generations? This goes against everything that Gandhi taught. There is an urgent need to revisit the message of peace and non-violence that he propagated in his lifetime.
Aditya Mukherjee,
New Delhi
Sir — It is bewildering that Indians can harbour such hate for the Father of the Nation. The police has apparently taken action against those who shot an effigy of Mahatma Gandhi on his death anniversary. But the question here is what prompted these people to behave as they did? Whether it is trying to destroy a statue of B.R. Ambedkar or shooting an effigy of Gandhi, these are not just an insult to eminent figures of the freedom struggle but also an attack on the idea of India itself. Had a minority citizen chanted, "Nathuram Godse amar rahe", he would have not only been called an anti-national but also, perhaps, silenced forever. The extremists in Aligarh are nothing but criminals and must be punished accordingly.
Z. Rahmani,
Calcutta
Sir — The incident in Aligarh was frightening. It is this sense of impunity of the fringe outfits that hangs menacingly over the heads of minority citizens like Damocles' sword.
Rima Roy,
Calcutta
Innocent prayer
Sir — Article 92 of the code of Kendriya Vidyalayas makes it mandatory for students and teachers to recite Sanskrit and Hindi verses with folded palms. Petitioners have requested the Supreme Court to quash this section on the grounds that it violates the fundamental right to religious freedom. The apex court has referred the matter to a Constitution bench.
But the contents of the so-called prayers are taken from the Upanishads and are not religious tenets. Rather, it is a solemn prayer seeking the transition of the mind and the soul from untruth to truth, from darkness to light and from death to immortality. By singing "Asato ma sadgamaya", one seeks emancipation from the transitory illusions of life and salvation from all confinements.
Each and every religion spreads a similar message of peace, love and transcendence. It would thus be unfair to give these verses religious colours.
Tapash Chatterjee,
Calcutta
Cruel reversal
Sir — The article, "Smoke on the Waters" (Feb 3), by Chandrima S. Bhattacharya revived the horrors of Marichjhnapi under the Left Front government led by Jyoti Basu. The veteran communist leader went back on his electoral promise of rehabilitating the refugees of Marichjhnapi and instead unleashed an inhuman attack on them by cutting off supplies of essential commodities and engaging the police to evacuate them. He made unjust use of the Reserve Forest Act by claiming that the refugees had contributed to global warming by cutting trees.
Not only do people in the deltaic region know how to coexist with nature, but those who were evacuated were also extremely poor and belonged to the vulnerable sections of society. Their action in Marichjhnapi thus left the pro-poor image and slogans of the erstwhile Left Front government in a shambles.
Jahar Saha,
Calcutta