Trouble brewing
It is curious that the PLA laid an ambush in Churachandpur, not its usual area of operation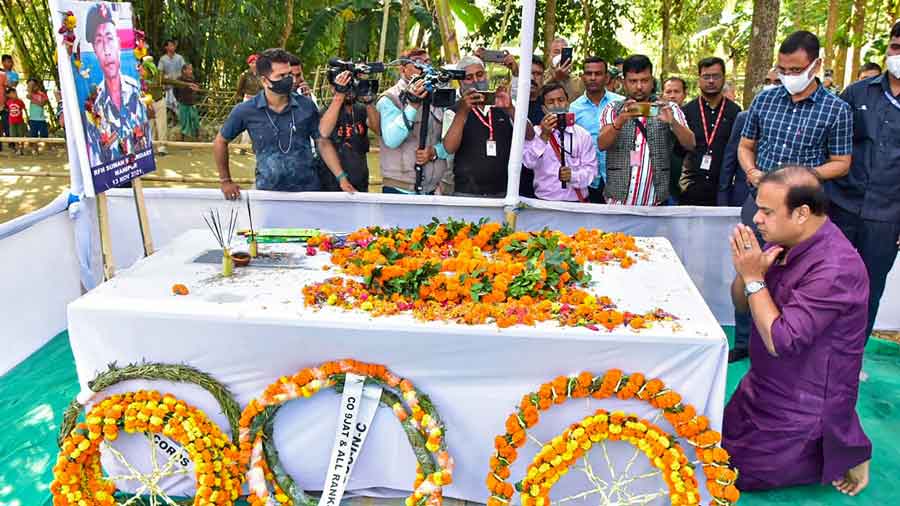 Chief Minister Himanta Biswa Sarma pays tribute to Rifleman Suman Swargiary, who was killed in a terrorist attack on a convoy of Assam Rifles in Churachandpur, at his residence at Thailarakuchi in Baksa district, Nov 17, 2021.
PTI
---
Published 23.11.21, 02:52 AM
|
---
Unlike the mostly-fenced border with Bangladesh, the 1,643-km-long Indo-Myanmar border is porous, offering free movement on either side. Of the northeastern states that share a border with Myanmar, Arunachal Pradesh (520km) and Mizoram (510km) have been relatively free of militant transgressions. It is the Manipur-Myanmar border of 398km and the one with Nagaland (215km) that have been a cause for concern.
The recent ambush on an Assam Rifles convoy took place in Manipur's hill district of Churachandpur, an unusual choice given that most attacks on security forces have hitherto been limited to the other border district, Chandel.
The hills alongside most routes outside the valley offer vantage points for militants to monitor security movement. The roads are usually quite deserted; it is indeed unnerving to travel for miles without another vehicle in sight while contemplating the prospect of being watched by a gun-toting rebel from the hills alongside.
The People's Liberation Army of Manipur and Manipur Naga People's Front claimed responsibility for the ambush. It is curious that the PLA laid an ambush in Churachandpur, not its usual area of operation, although the district's proximity to Myanmar's Chin state could have augmented easy transit.
The Assam Rifles apprehended one PLA militant from Bishnupur, a pointer that the outfit, apparently dormant for the last few years but with camps in Myanmar, could well have been nudged into India following the military coup in the neighbouring country.
According to Myanmar specialist, Sanjay Pulipaka, "There are reports that some ethnic armed groups in Myanmar have sourced their weapons from China. Due to the coup and subsequent increase in hostilities between the Tatmadaw and ethnic armed groups/peoples' defence forces, the security situation on India's eastern border has deteriorated significantly. There is an increase in proliferation of small arms and sophisticated weapons. Consequently, there is concern that some of these weapons will also be used by Indian insurgents. Given the standoff in the Himalayas, the security situation in Myanmar will provide a good cover for China to scale up its assistance to militants."