IS CRICKET DYING? - The BCCI's remaking of world cricket in its own image
Read more below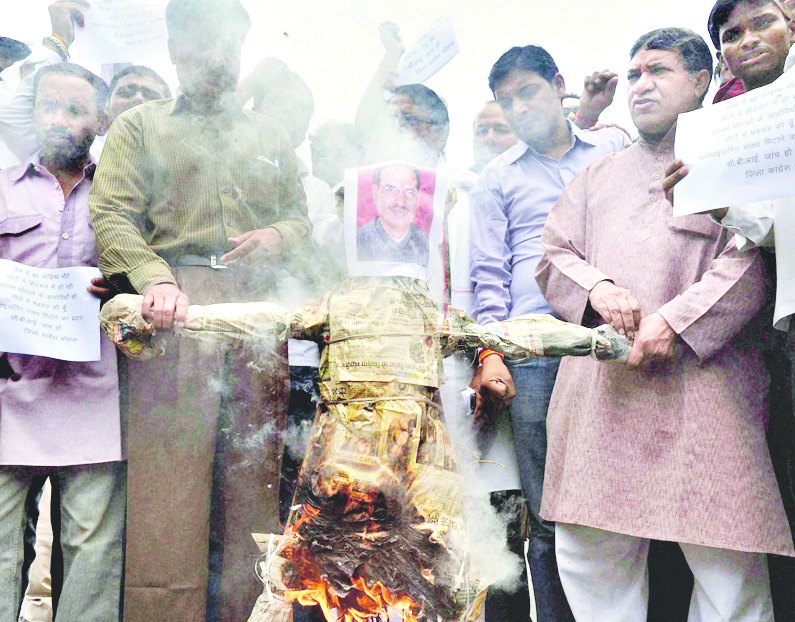 ---
Published 06.11.14, 12:00 AM
|
---
This is the kind of question you'd expect an economically illiterate middle-aged fan, nostalgic for a golden age of Test cricket (located, coincidentally in his boyhood and adolescence) to ask. Just as cricket becomes a proper professional livelihood, with annual contracts, team franchises, professional management and the prospect of a comfortable retirement complete with nest egg and pension, come the malcontents prophesying doom.
Never has cricket in India been in ruder health. We know this not just because Sunil Gavaskar and Ravi Shastri make six crore annually on account of their ongoing services to Indian cricket, but because a much larger pool of players than before make comfortable livings out of the profits of a game that used to depend on patronage and subsidy to make ends meet. Television revenue has been the tide that's buoyed up everyone's boats.
Once, not so long ago, an M.J. Gopalan, double international in both cricket and hockey, had to run from one petrol pump to another measuring fuel levels with a dipstick, for that was his job with Burmah Shell. A genius like B.S. Chandrasekhar didn't have the means to cope with ill health in retirement because during his international career, cricket in India was a shamateur sport, which, despite being subsidized by maharajas, private companies and public-sector corporations, didn't constitute a living. Bishen Bedi remembers a time when Indian Test players were paid Rs 250 per day for playing a Test. He has a story about a Test match which India won in four days… so the Board didn't pay them for the fifth day!
Today, every Indian player who has had a reasonable run at the first-class level gets a monthly pension as does every player who has played a Test match for India. Where once an international career was the only route to economic security, today a much larger pool of players, even those without any prospect of representing India, can make ends meet and achieve recognition. First-class cricket now pays enough to constitute a decent living and the Indian Premier League has created such an enormous audience for domestic franchised cricket that young men can become rich and famous without ever having played for India. This is unqualifiedly a good thing.
So where does the question come from? Maybe it should be rephrased: is bilateral, international cricket dying? This sounds clunkier and not nearly as stark, but it's the better question. And the answer is yes, it is.
It's dying because modern cricket is owned by the BCCI. This is not the BCCI's fault; this has happened for secular social and economic reasons — namely, the size of India's population, its hopelessness at everything but cricket, and cricket's ability, therefore, to monopolize India's vast television audience. Any cricketing contest that this audience watches generates such enormous television revenues that they dwarf the economic potential of any match or series that doesn't involve India.
The realization of the economic potential of India's market for cricket upset the low-level economic equilibrium that sustained cricket the world over. For a long time, cricketers in India and elsewhere were modestly paid because cricket had to live within its straitened means. As ticket-buying audiences for first-class cricket shrank, the domestic game, the world over was subsidized by the revenues generated by international cricket. No cricketer made anything like the money sportsmen made in professional sports like football, basketball or even tennis. Vijay Amritraj made a great deal more money as a middling tennis player than Sunil Gavaskar made as the best batsman in the world in careers that ran roughly parallel through the Seventies and Eighties.
This changed forever after India's economic liberalization in the early Nineties. Under Jagmohan Dalmiya and his successors, the BCCI became exponentially richer and, as India's contribution to cricket's revenues became even larger, more powerful in the councils of the ICC. In recent times, it has become apparent that many national cricket boards are economically unviable. Their solvency and economic well-being now depends on playing cricket with India. Given the opaque and instinctively authoritarian nature of India's cricket administrators, this has come to mean that the BCCI sees other members of the ICC as clients.
The BCCI demanded and received the acquiescence of other ICC members to its plan to control the calendar of international cricket and the lion's share of its revenues. Its allies in this coup were Cricket Australia and the English Cricket Board, who, realizing that since they couldn't beat the 800 lb gorilla in the room, decided to become its enablers.
International cricket as a professional sport can only flourish if the BCCI volunteers behave collegially, as the first amongst equals, perhaps, but as one member of a fraternity of cricketing nations. This is hard to do when you bankroll cricket, and nothing in the BCCI's cricketing culture and recent history indicates that it's willing to do this. A year ago, it nearly bankrupted the South African cricket board by unilaterally truncating a scheduled Indian tour of South Africa. It did this for two reasons. First, it wanted to punish the South African board for making Haroon Lorgat its CEO because Lorgat had annoyed Srinivasan by criticizing India's stance on the DRS (criticizing the BCCI is lèse majesté), and secondly because it wanted to give Sachin Tendulkar a comfortable farewell Test against not-too-testing opposition. So, the BCCI organized a two-test 'series' against a weak West Indian side and shortened the South African tour… just because it could.
It's entirely characteristic of the BCCI that the willingness of the West Indian cricket board to abet its plans earned it no consideration. When the recent West Indian ODI tour was called off because of a dispute between the WICB and its players, the BCCI threatened to start legal proceedings to recover $40 million despite the WICB's near-grovelling contrition. The BCCI knows that its Caribbean counterpart is insolvent but it pressed its claims regardless because ultimately the BCCI sees other cricket boards as obstacles in its bid to become the sole proprietor of the cricketing calendar.
The BCCI no longer has any real interest in bilateral cricket except when it hosts matches because its touring sides make money for other countries. It sends the Indian team out on Test-match tours out of a kind of historical inertia. The Indian team, in the recent past, has done so badly touring countries outside the subcontinent that these visits have become embarrassments. Increasingly, the Indian board's principal focus is on making the IPL and the Twenty20 format that it embodies the centrepiece of the cricketing year. The BCCI harbours no animus against West Indian players because it wants the best of those players to feature in the IPL. So long as the likes of Sunil Narine and Chris Gayle play for their IPL franchises, the BCCI doesn't really care if the WICB exists as a functional organization.
And the drawing power, the gravity, of the BCCI's cash cow is such that it has begun to subvert the authority of other boards, even prosperous ones like the ECB. The controversy of Kevin Pietersen's autobiography has obscured the fact that the breach between Pietersen and the ECB might never have come to pass if Pietersen hadn't had the security of knowing that his IPL contract would underwrite his future regardless of what action the English authorities took against him. The reason West Indian players thumbed their noses at their board is likewise, at least in part, on account of the leverage that the IPL gives their star players.
As men like Gayle, Pietersen and Dhoni make it known that the shortest format of the game and its richest tournament is their professional priority, bilateral cricket as we have known will begin to wane. It's a matter of time before cash-strapped cricket boards in countries like Sri Lanka, Pakistan, Bangladesh and South Africa find themselves organizing their schedules around the IPL; their players will leave them no choice in the matter.
The traditional bilateral contest arranged around a touring side will begin to seem as much of a dinosaur as the idea of a timeless Test match. The BCCI will move to protect an audience raised on subcontinental derring-do in the shortest format of the game from the disappointment of seeing their champions fail in the longer game elsewhere. In a cricketing world where Ravindra Jadeja and Suresh Raina embody cricketing charisma and 'attitude', the rigours of Test cricket and its longueurs will begin to seem intolerable. Short of an apocalyptic scandal, nothing will stand in the way of the BCCI's re-making of world cricket in its own image. This might seem alarmist but rather like global warming, the process is well on its way and pretty much irreversible.
mukulkesavan@hotmail.com