God and the forsaken
This year, ordinary citizens braved the pandemic and poured out of their homes to celebrate life and living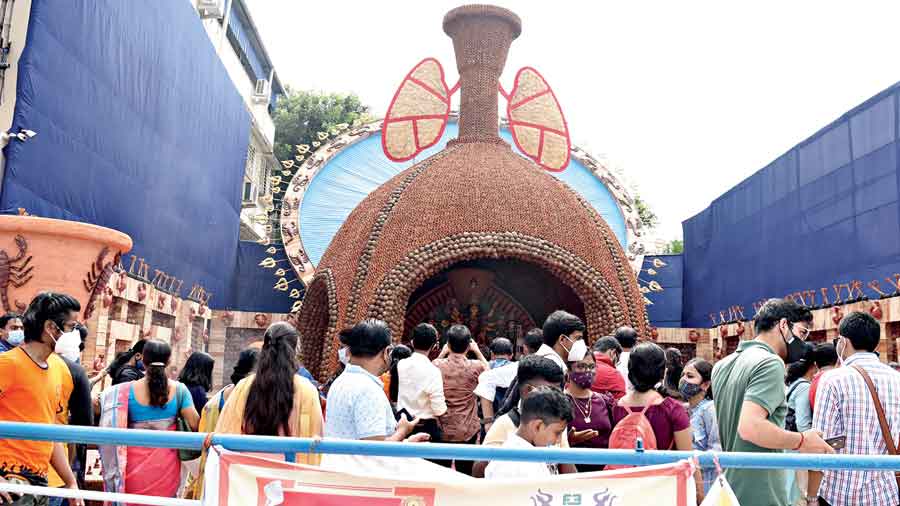 ---
Published 17.10.21, 12:09 AM
|
---
This Durga Puja, the Bengal BJP found new reason to be offended. In the pre-Assembly election years, the complaint had been that the people of the state were "not allowed to celebrate Puja". But this year, ordinary citizens braved the pandemic and poured out of their homes to celebrate life and living; hence, a new line of offence was sought and found. And there it was in a Durga mandap. A pandal in Dum Dum Park had put up an installation of a giant pair of blistered feet and hundreds of orphaned footwear. There were pro-farmer slogans and graffiti too, around the place. A tractor full of gunny bags at the entrance. All of it some distance away from the idol of the goddess.
Seeing is…
Depending on who you are, the installation would have reminded you of the long march of Maharashtra farmers from 2018. More than 35,000 of them, many barefooted, had marched to Mumbai from Nashik, braving 180 kilometres and a blazing sun. One of the visuals that went viral was of the bleeding foot of a Sakku Bai. Depending on who you are, the installation would have reminded you of the longer march of migrant labourers, welting across India right through lockdown. Or the 16 weary workers who had lain down one evening on a rail track near Aurangabad and the next day turned into an enduring image of strewn roti and chappals. You might have seen in the installation, the resolve of the farmers at Tikri or a flash of Lakhimpur Kheri, depending on who you are and who you will be.
Kaunspiracy
These Pujas, there have been pandals themed on issues as varied as a childhood swallowed up by a virus and the worry of having to prove citizenship. Like every year, this year too, the pandals and their art mirrored life as it is. Light installations showed oxygen cylinders and, aesthetics apart, there was a pandal designed to look like lungs.  But all that the Suvendu Adhikaris and Tathagata Roys saw in the Dum Dum Park installation was a "heinous act" and an affront to Hinduism and therein pulled down man and god alike. Neither divinity nor humanity is so fragile that they will come apart on interpretation. Poor politics is another matter.