Inspiring to see students taking to the streets to save the planet
Children are stepping in at a time when political leaders are ignoring or denying climate change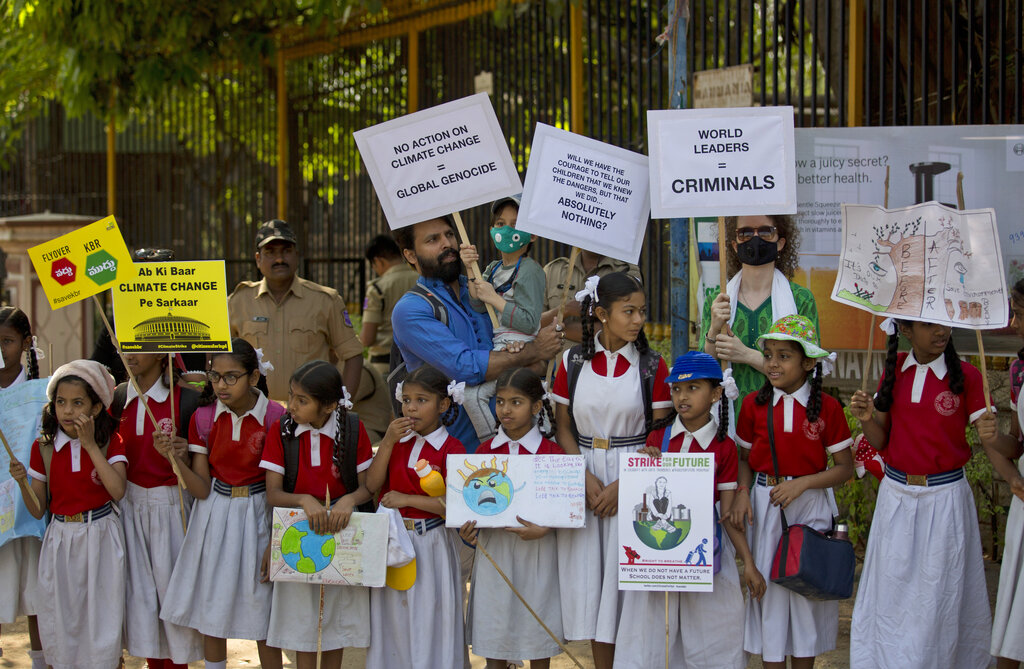 Students in a climate protest in Hyderabad on Friday, March 15. Students in more than 80 countries worldwide skipped class to protest their governments' failure to act against global warming
AP photo
---
Published 20.03.19, 10:10 AM
|
---
Sir — The first global climate strike by the youth on March 15 was highly impressive. Many problems in society persist simply because the good people remain silent while, as a poet once wrote, "the worst/ Are full of passionate intensity". Therefore, at a time when senior political leaders are either ignoring or denying climate change and its disastrous implications for the world, it is inspiring to see millions of students taking to the streets to raise awareness and demand action. Clearly, not all lessons can be taught in the classroom, and these children have quite an important lesson to teach.
Debaparna Chaudhury,
Calcutta
Stay strong
Sir — After the shocking terror attack by a gunman at two mosques in Christchurch, New Zealand — where 50 people lost their lives — the prime minister, Jacinda Ardern, has vowed to toughen the country's gun laws ("We'll 'walk with you'", March 17). This is, indeed, a relief for the migrant communities in the country, who feel threatened at the moment. The culture of gun ownership, largely in many western countries, is worrying. Possession of sophisticated firearms is easy for civilians in countries with weak gun-control laws. Even in the current case, the accused, Brenton Tarrant, is reported to have obtained a 'Category A' gun licence and purchased the five weapons used in the massacre by legal means. One hopes that stricter rules will now come into effect, so that such incidents of violence do not recur in future.
T.K. Nandanan,
Kochi
Sir — On the day following the massacre in Christchurch, Jacinda Ardern visited a refugee centre to express solidarity with Muslim refugees. This gesture will go a long way in restoring the confidence of the shaken minority community living in that country. New Zealanders have also shown exemplary empathy for their fellow Muslim countrymen, who constitute a minuscule one per cent of the population, by generously donating money and food at their time of crisis. The international community is looking forward to New Zealand emerging from this catastrophe soon. This does not seem impossible given the humanitarian stand that the head of state has taken.
Hira Lal De,
Hooghly
Sir — Within a few hours of the mosque attacks in New Zealand, their prime minister took charge of the situation and addressed the nation with a humble and grieving speech. Her assertion that foreign migrants living in New Zealand are an integral part of their society was a supreme example of compassion, humanity and sanity in the face of a grave crisis. Unlike the reaction of the prime minister of India after the terror attack in Pulwama, there was no muscle flexing or any threatening rhetoric —just an outright condemnation of terrorism. A level-headed, mature and secular response of this kind from such a young leader is appreciated.
Kajal Chatterjee,
Calcutta
Sir — The wounds of the Pulwama terror attack had hardly healed when humanity came under attack again in New Zealand. Soon after China's veto at the United Nations security council which blocked India's bid to declare the Jaish-e-Mohammad chief, Masood Azhar, a 'global terrorist', a 28-year-old gunman caused a massacre in two Christchurch mosques. There were at least five Indians among the 50 casualties.
Before his crime, Brenton Tarrant posted a racist manifesto on social media. Subsequently, the graphic footage of the shooting could be found in circulation on several online platforms. It has still not been possible to remove all the videos. Although social media does not directly provide weapons to the perpetrators, it must be held accountable for the uncontrolled spread of hate speech and lack of supervision of violent content. To end the menace of terrorism, people from every country, irrespective of religion, caste and creed, should unite and resolve to put a stop to violence. No country should be allowed to put stumbling blocks in the path of peace and counterterrorism.
Bidyut Kumar Chatterjee,
Faridabad
Sir — It is undeniable that terrorism has infiltrated every nation. Everyday, shocking reports about fresh tragedies greet us from the front pages of newspapers. This time, it has happened in New Zealand. It is one of the country's darkest times. But the international community should realize that it is not a challenge for New Zealand alone. Such terror attacks indicate that violence can erupt in any country, no matter how developed it might be. It is the responsibility of every citizen to unite against violence.
Shahid Hasan,
Calcutta