Indian children are often addicted to screens for games and low-quality programmes
Parents, grandparents and caregivers who are raising children should heed WHO guidelines on screen time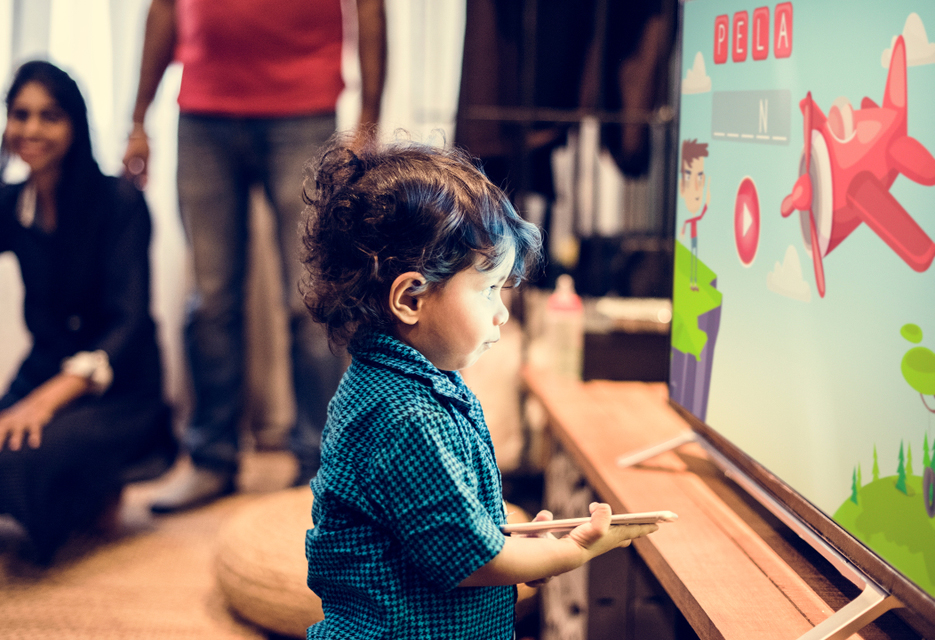 According to the World Health Organization, children below the age of two should not be exposed to screens at all
(Shutterstock)
---
Published 01.05.19, 10:08 AM
|
---
Sir — The guidelines issued by the World Health Organization should serve as a timely caveat for all ("Dark screen", April 30). These days, everyone seems to be addicted to electronic devices, whether these are smartphones, tablets or the television. This has adversely affected our lifestyles at the personal and social levels. It has encroached upon the time reserved even for family. Exposure to the screen for an unchecked amount of time can be detrimental to one's cognitive abilities. At first, it seems that the information gathered online makes one smarter, but in reality it hampers a person's ability to delve deeper into a subject and acquire proper knowledge. This might be reflected in the academic performances of schoolchildren.
The advisory suggests that screen time should be limited for children aged between two and four, and infants below the age of two should not be exposed to the screen at all. Besides preventing the direct harm that it might cause to the children, this is also important in the long term. If kids acquire the habit of using gadgets all the time in their early years, their addiction will only increase with age. This is already evident in the strange allure that such electronic gadgets hold among the youth today. There are reports of teenagers committing suicide on being denied fancy electronic devices.
Healthy habits, like proper sleep patterns and regular exercise, should be inculcated in kids. The WHO's urge is a right step in that direction.
Pramatha R. Bhattacharya,
Calcutta
Sir — The WHO has recommended restricting screen time among children of different age groups for better health practices right from the beginning of their lives. This is a great lesson to be learnt by Indian parents, grandparents and caregivers for bringing up children.
David Hill, an American paediatrician, has remarked that technology is developing faster than the scientific study on the effects that new devices have on young brains. Electronic devices like computers, smartphones and TVs are widely used in Indian households and children are often found to be addicted to electronic screens for video games and low-quality programmes. Adults from all fields — paediatricians, sociologists, psychologists and the government bodies dealing with childcare — should coordinate to create public awareness in this regard.
Jahar Saha,
Calcutta
Speak up
Sir — It is heartening that the legacy of bold rationalists such as Narendra Dabholkar lives on even after their death ("Dabholkar's war on superstition rages on", April 27). With every passing day, India is regressing further into the past, as political leaders have begun to profess and cultivate an unscientific temper. Recently, Pragya Singh Thakur claimed that drinking cow urine cured her cancer — it has now been revealed that she had undergone surgery to prevent the recurrence of the disease. This is abetted because not only does the prime minister of the country stand by such outlandish theories — he claimed that the first plastic surgery in history was that of Lord Ganesh — but several researchers have begun to spew similar irrational comments at eminent science congresses.
At such a time, it has become even more necessary to expose fake godmen and save lives from being sacrificed at the altar of superstition. Like Dabholkar's Maharashtra Andhashraddha Nirmoolan Samiti, everyone should speak up against superstitious practices, and make the voice of reason stronger.
Shreya Chakraborty,
Calcutta
Quench the thirst
Sir — It was heartening to note that a 71-year-old man offers water to thirsty passers-by on Tallah bridge, and keeps water and grains for birds. His act proves that he is a benevolent human being and a responsible citizen. Summer is making its presence felt in the city, and with the rising temperatures, the risk of high fever, heat-stroke and dehydration are also increasing. We should avoid outdoor activities in the sun, and consume plenty of fluids. Many birds die during summer because of the lack of water. Everyone should store water and grains in their backyards or on their rooftops to help birds survive this blistering heat.
Kiran Agarwal,
Calcutta
Lonely planet
Sir — Many elderly people suffer from loneliness, but their company is often avoided by the young. The gesture shown by three friends in Alabama, who spotted an old lady sitting alone at a diner and asked her to join their table reflects not only their sensitivity but also the fact that loneliness is a universal phenomenon ("Act of kindness to lonely widow grabs Net's attention", April 27). In Calcutta, too, many people who live alone have lonely lives. Perhaps the local clubs, who organize events such as blood donation camps and festivals, could help them by asking some members to check up on them regularly.
Sanjit Ghatak,
Narendrapur