On an even keel
India-US ties should not be affected by the presidential polls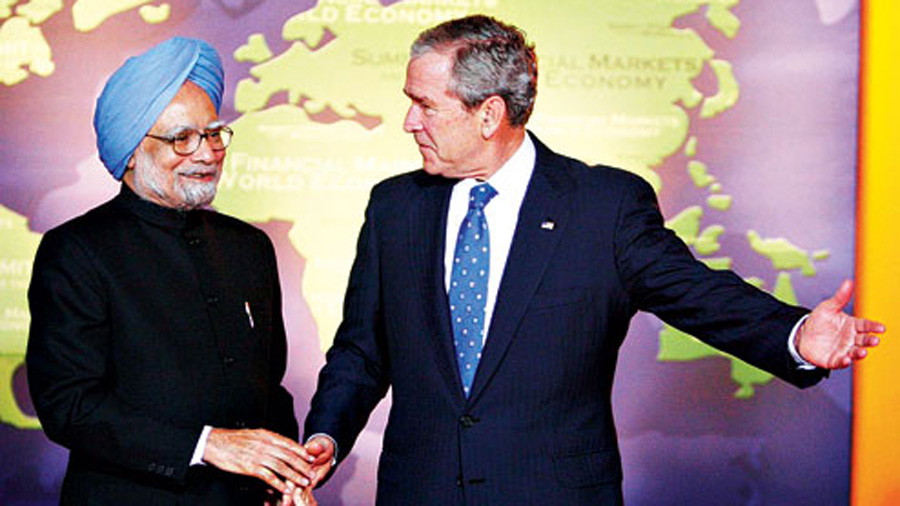 ---
Published 06.11.20, 01:01 AM
|
---
One of the most contentious and consequential US presidential elections has just taken place. While final election results are still awaited, the strategic trajectory of India-US relations should not be affected by the outcome. We are at an opportune moment to reflect on the past relationship, to better understand the current dynamic, and perhaps to see what the future may hold for us. 
There are recent signs of confidence that the relationship between both countries has matured to a level that transcends both partisan politics and individual personalities. The outcomes of the QUAD meeting of foreign ministers in Tokyo last month and, more significantly, the third 2 plus 2 India-US meeting of foreign and defence ministers in Delhi, barely one week before the US elections, reinforce this confidence. At the same time, there have been some raised eyebrows on the direction of our security partnership and the advisability of hitching our wagon to a flickering star. Given the unpredictability of policies of different US presidents on the issues of China and Eurasian security, there are concerns that a close embrace with the US could undermine our strategic autonomy and our room for manoeuvrability in a fluid situation.
Nonalignment has been and remains the lodestar of our foreign policy, in all its different ideological avatars of "non-alignment 2", multi-alignment", strategic autonomy and so on. Pragmatic rebalancing by anticipating and adjusting to changing circumstances has been consistently practised by our successive governments since Independence. In 1962, just one year after the nonaligned movement's founding summit in Belgrade, in response to Jawaharlal Nehru's SOS after the Sino-India border war, US combat units were deployed in India and U2 reconnaissance operated covert flights over China. In 1971, just one month after Kissinger's secret visit to China, Indira Gandhi finalized the Indo-Soviet treaty. This effectively checkmated the possibility of any US-China pincer moves to forestall the liberation of Bangladesh. At another turning point marking Sino-Soviet rapprochement, Rajiv Gandhi's pathbreaking visit to China in 1988 came before the ill-timed visit of Mikhail Gorbachev to Beijing the following year during the Tiananmen Square protests. 
Such realignments among the US, China, Russia and other countries were not always at the initiative of the weaker party. The strong strategic partnership between Russia and China in recent years has coincided with US-China and US-Russia relations and now India-China relations sinking to their lowest levels. This has posed an unprecedented national security challenge for us. I am sure that we will effectively address the evolving situation, protecting our national security while averting an irreversible break in India-China relations and not allowing China to unduly influence the direction and pace of our relations with the US, Russia and our neighbours.  
We tend to use different yardsticks to judge US policies, be it foreign, national security, trade, or immigration, compared to how we view those of any other country or for that matter even our own policies. We expect certainty and constancy in our partners' policies while retaining flexibility in our own. We take for granted the bi-partisan consensus in the US Congress on India-US relations. This consensus was manifested in the four-fifth vote in favour of the nuclear deal by both the Republican-controlled House and Senate in 2006 and the Democratic-controlled House and Senate in 2008. At the same time, allegations of surrendering our sovereignty to the US levied by the Left-BJP combine almost succeeded in unseating the UPA government of Manmohan Singh in a parliamentary vote of confidence in 2007. While the India-US deal and nuclear liability terms were analysed threadbare, those with Russia and France escaped public scrutiny. Good sense finally prevailed in 2017 when Narendra Modi termed the nuclear deal as the "centre-piece" of India-US ties after his first meeting with Donald Trump and imparted a new impetus to the partnership.
 Many of the selling points of the nuclear deal and the defence agreement of 2005 remain relevant today. China was not the main motivating or cementing factor, but the idea of strengthening liberal, pluralist, federal and democratic India as an alternative model to an inexorably rising communist China resonated very strongly with George W. Bush personally and also with both sides of the aisle on Capitol Hill and in State assemblies and beyond. We have rightly ignored unsolicited homilies on our internal developments made by leaders and lawmakers from countries with different cultures and histories. But we need to heed the civilizational values espoused by our own national icons, including Mahatma Gandhi, Swami Vivekananda, Rabindranath Tagore, Jamsetji Tata and others. 
There was a shared conviction that democracy promotes peace and stability, as historically democracies do not go to war against each other. It was not coincidental that institutions of democracy, like our Parliament and the US Capitol, and that of free-market economies, like the Twin Towers in New York and our financial capital, Mumbai, were targets of radical terrorists. With an average annual GDP growth rate of around 8.5% between 2004 to 2008, India was perceived to have also demonstrated that democracy was not an impediment for growth in a poor and incredibly diverse country of subcontinental size. 
Never before have India-US relations been as good as they are today. It is also true that our previous expectations of collaboration have not been fully realized. The nuclear deal has not yet resulted in any new power stations being set up with any country. We are known to take our time. It took 28 years after the signing of the Indo-Soviet agreement in 1988 till our prime minister's inauguration of the Kudankulam nuclear power station in 2014. 
We did not utilize the significant opportunities that the nuclear deal had unlocked to access US dual-use technologies. It took us a decade and a half to finalize the three foundational agreements to enable defence cooperation. Now we have to take a call on how and how far to proceed in terms of operational inter-operability. Major sales of US platforms have taken place, but no joint co-production or co-development projects are in the pipeline yet.
The strength and resilience of any strategic partnership needs the ballast of mutually beneficial economic ties. We had missed opportunities for resolution of some trade and economic issues in an earlier favourable political atmosphere. The world has now moved on. A free trade agreement (FTA) with the US will have to conform to the provisions of the US-Mexico-Canada Agreement (USMCA) for US Congressional approval. Unnecessary political capital need not be expended on such a bilateral trade deal or on the H1B visa issue where realistic outcomes would not be commensurate with the efforts. Morarji Desai had once flummoxed Jimmy Carter by retorting "they [the USSR] build walls to keep people in; you build walls to keep people out." This has contemporary relevance in terms of race and religion-based immigration practices and protectionist trade policies. Moving forward in our relations with the US and other strategic partners, we should focus our efforts on leveraging complementarity of interests and our strengths in talent and market size, along with shaping the new standards and regulatory regimes. An area of interest in this regard is new and emerging technologies, which we have seen being fast-tracked to meet the needs of the post-Covid-19 digital era.
The author is the former ambassador to the US