At the mercy of development's axe
India's protected area is well below the global average of 14.9 per cent land under protection, so we are committed to do much more to safeguard biodiversity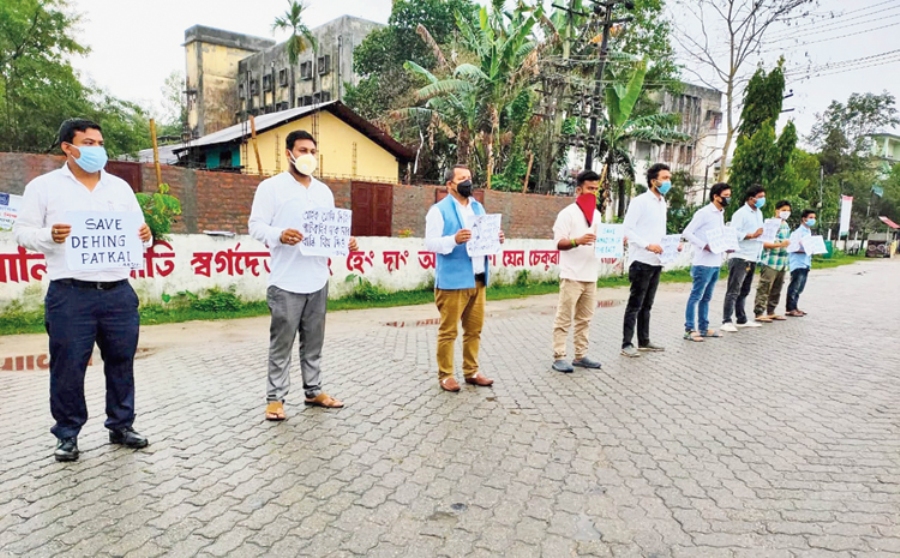 Lakhimpur Regional Students Union stages a protest to save Dehing Patkai wildlife sanctuary on Saturday.
UB Photos
---
Published 30.06.20, 01:37 AM
|
---
Protected Areas in India have never been as beleaguered as they are today. Recently, there has been a spate of technical clearances awarded by the ministry of environment, forest and climate change to infrastructure projects located inside or around protected areas. These include the Dibru-Saikhowa National Park (oil exploration), Dehing Patkai Elephant Reserve (coal mining) in Assam and Dibang Wildlife Sanctuary (dam) in Arunachal Pradesh. Numerous other projects are also under consideration. 

I will not go into the bureaucratic lapses in clearing projects: the lack of credible public hearings, the dilution of the power of the National Board for Wildlife, inadequacy of scientific studies and the misrepresentation of existing data to suit the development purpose. These are important issues, no doubt. However, here I discuss a more fundamental question: can we afford any more damage to, or diversion of, PAs in a country as densely populated and as ecosystem-dependent as India? 

Currently, the MoEFCC lists as many as 870 PAs, which include national parks, wildlife sanctuaries, conservation reserves and community reserves across the country.  From a paltry 65 in 1970, the numbers have seen a steep climb, particularly during the last two decades. Half of our 50 tiger reserves have been declared during the last decade or so. All of these PAs together cover about 5 per cent of the country's area. 

But these figures are deceptive. Field visits to PAs indicate that many of them exist largely on paper. Most have inadequate staff, lack scientific management or monitoring and few compensatory schemes for the people living around them. Poor financial support makes it difficult to scale up protection or livelihood activities. Even a prominent tiger reserve like Ranthambore struggles to survive on a paltry annual budget of approximately Rs 7 crore, which includes both recurring and non-recurring expenditures. The rush to declare PAs in recent times has scarcely been accompanied by structural improvements in their protection or management or increase in financial support. 

A PA network covering 5 per cent of our area sounds impressive. However, many of our smaller PAs are becoming unviable due to fragmentation and isolation from similar habitats. Earlier the matrix of cultivation and fallow provided movement corridors to wildlife, but suburban sprawl and concretization are rapidly putting a stop to this. In many sites, forest loss has brought urban clusters right on to the threshold of PAs, stoking conflicts with wildlife. According to a recent analysis, 65 per cent of our PAs are under 100 sqkm in size which, scientists point out, is not enough to host viable ecosystems. Only 28 PAs are above 1,000 sqkm in size. Deficiency of trained personnel for protection from poachers and the timber mafia has left PAs vulnerable to predations, as has been evident during the ongoing pandemic. 

Yet, their deficiencies notwithstanding, the PAs have historically been the only places that are legally out of bounds for damaging economic activity. Over the years, PAs have proven to be indispensable for species that would otherwise not stand a chance, the most obvious being large mammals such as tigers and elephants. PAs also provide immense ecosystem services to human society. A government-sponsored study estimated that the 10 tiger reserves annually provide Rs 330 billion worth of water services that would otherwise have to be paid for. Another study showed that the Ranthambore tiger reserve raised as much as Rs 19.57 crore through entry fees in 2016-17 in addition to an estimated Rs 219 crore in tourism-related business in nearby towns and villages. A large number of Indians continue to be dependent on forests for their everyday subsistence, crafts and occupations. Forests also improve resilience against climate change and provide some modicum of protection against disasters such as floods and cyclones. Yet, PAs are seen as obstructive to national development, both by the government and the public at large. 

In the popular view, diversion of a limited area within a large PA may seem inconsequential. For instance, the Ken-Betwa river link caused the recent denotification of only 58 sqkm in Panna tiger reserve, which covers a total area of 543 sqkm. However, a closer look shows that the planned river link will not only cleave the tiger habitat but also destroy the core area. The extent of the damage depends on where the infrastructure is located. Finally, it's not just the infrastructure  project itself which causes damage but also other paraphernalia required to get the project up and running: roads, housing, and fuel wood, often required for years together. 

Internationally, we have significant commitments too. India's PA area is well below the global average of 14.9 per cent land under protection, so we are committed to do much more to protect biodiversity. Protection can also count towards our national carbon credits, but we have repeatedly failed to leverage our forests, grasslands and wetlands towards meeting this commitment. One can argue that we still harbour forests on an additional 14-15 per cent of our land area. However, the quality of such forests is highly debatable: a large proportion is feared to be degraded and depauperate in terms of species. 

Vast swathes of our natural landscape have already been mismanaged, over-used and rendered barren by mining, salinization, unproductive plantations, weed invasion, and toxic effluents. Such poorly productive tracts are estimated to be one-sixth of our land area.  With scarcely any serious attempt at restoration and use of such land, India's national focus is, unfortunately, riveted on what remains of the wilderness. With each development project, we are chipping away at these sites that shelter vulnerable species, compromising ecological security. It is time for a moratorium on further damage to PAs: they need unconditional safeguards.