India-China clash: Read the tea leaves right
This is a moment when India can partner with other major democracies not just to send a message to China but to actually strengthen New Delhi's grasp over South Asia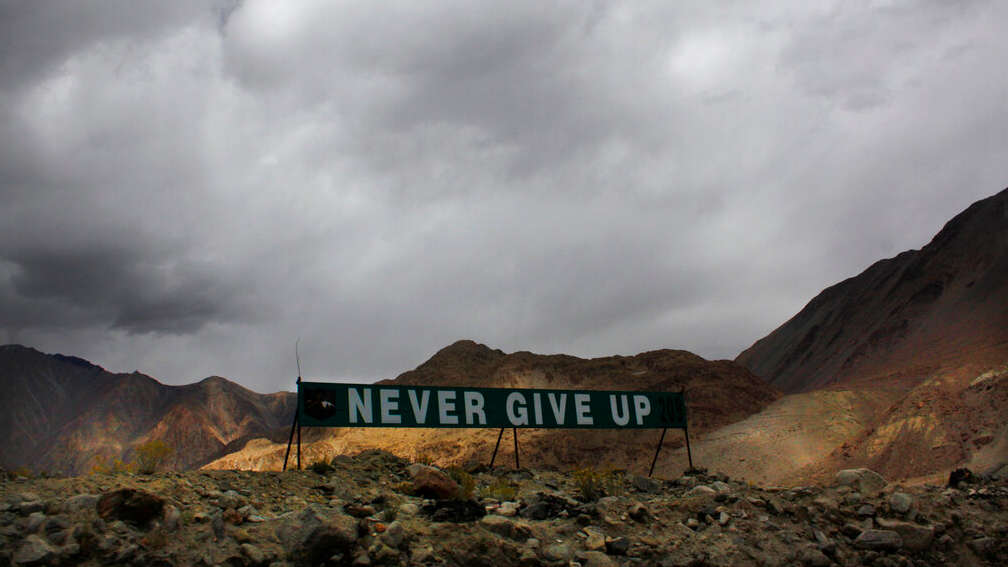 In this Sept. 14, 2017, file photo, a banner erected by the Indian army stands near Pangong Tso lake in India's Ladakh area.
AP Photo/Manish Swarup, File
---
Published 22.07.20, 12:53 AM
|
---
In these days of masks and quarantines, there seems little harm in your neighbours and friends maintaining some distance from you. It's temporary, you tell yourself. But if those same partners feel safe embracing your rival, it's a cause for concern. So it should be for India.
Even as India refuses to buy oil from Iran because of the fear of US sanctions, China is deepening its influence with the West Asian nation. Beijing and Tehran are finalizing a $400 billion aid and investment package from China in exchange for subsidized Iranian oil for the next 25 years. This is a long-term partnership that Beijing is investing in. And even before that pact is inked, Iran is flexing its muscles with India. It has announced that it is going ahead — without India — with a critical railroad connecting the Chabahar port that India is building to Zahedan on the Iran-Afghanistan border. The rail line is vital for India to be able to use the port as a gateway into landlocked Afghanistan and Central Asia.
But it isn't just Iran.
To India's north, Nepal is in churn. It's easy to get distracted by the claims of Nepal's prime minister, K.P. Sharma Oli, that Rama was born in that country. What's more serious is the new set of territorial claims that Nepal is making. In a new map approved under constitutional amendments brought in June, Nepal has insisted sovereignty over Limpiadhura, Lipulek and Kalapani, territories that India has for long seen as within its borders. New Delhi has protested diplomatically, but Kathmandu's current government, backed by an increasingly assertive Beijing, has refused to budge even as Oli battles to remain in power in the face of internal opposition.
Bangladesh, to the east, has similarly snubbed India's concerns over its proximity with China in recent days. While the Indian and Chinese militaries were locked in a tense stand-off in Ladakh last month, Dhaka entered into a zero-tariff trade deal with Beijing. And on Monday, Bangladesh allowed China to conduct human trials on one of its leading coronavirus vaccine candidates.
China appears poised for major strategic gains in Sri Lanka when the island nation votes in parliamentary elections on August 5. Chinese officials have in recent months held meetings with leaders of multiple major Sri Lankan parties, and President Gotabaya Rajapaksa, who is seen as being close to Beijing, is a front runner in the elections. As India's southern neighbour grappled with the coronavirus crisis, China swiftly offered a $500 million loan. Rajapaksa thanked China by sending Sri Lankan tea to Beijing's embassy in Colombo. But it's India that needs to read the tea leaves.
To be sure, no nation in the region — or indeed the world — views China as a true friend in need. In fact, China faces its own struggles with its neighbours. Apart from countries like Japan, Taiwan, Vietnam and the Philippines that have for long had disputes over the South China Sea with China, even Myanmar has accused the nation of arming rebel groups in recent weeks.
That only underscores just how much India risks missing a rare opportunity in the geopolitics of its neighbourhood. China has lost goodwill because of the pandemic. It is busy battling trade and strategic tensions with the United States of America and Europe. Australia, a key economic partner, is locked in a Cold War with China.
This is a moment when India can partner with other major democracies — including Australia, Japan, the US and Europe — not just to send a message to China but to actually strengthen New Delhi's grasp over South Asia. But while it is deepening military ties with the West, Japan and Australia — Canberra will now be included in the Malabar naval exercises — there is little evidence yet that New Delhi is using these partnerships to woo back immediate neighbours who have tilted toward Beijing.
That would be an error. At a time when India is worried about securing its own borders with China, it is understandable for it to focus on great power relationships that can — in theory at least — help with the intelligence and technology needed to counter Beijing. But ultimately, when you're in a crisis, you need those physically nearest to you to stand by you, and not with your enemy.
It's an idea New Delhi understands well. India has repeatedly used its influence with its other neighbours to try and isolate Pakistan regionally when tensions between the two have been high. It must make sure it doesn't fall foul of that equation with its neighbours when it comes to China.