Letters to the Editor: Incentivising gig economy and labour reforms can help overcome Monday blues
Readers write in from Visakhapatnam, Jamshedpur, Maruthancode, Ujjain, Kanpur, Mumbai and Calcutta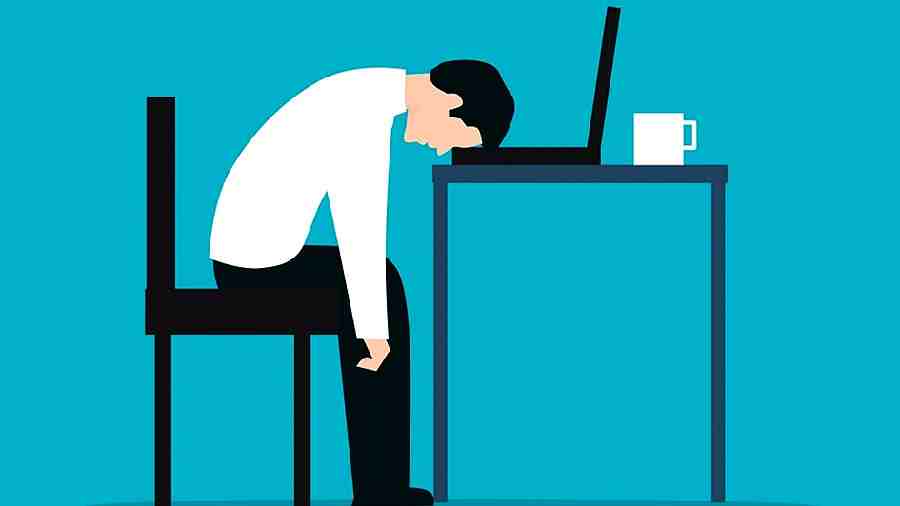 A 2021 study revealed that 57 per cent of Indian employees feel overworked with the new mode of working.
---
Published 25.08.22, 04:26 AM
|
---
Monday blues
Sir — Traditional notions of workspace and work hours have changed significantly since the pandemic. While flexible work hours have increased productivity, this has come at a price. A 2021 study revealed that 57 per cent of Indian employees feel overworked with the new mode of working. Data show that Indian millennials are clocking 30 per cent more time than the global average per work shift. Limited opportunities, economic uncertainty and other factors have ensured that employees are struggling to achieve a work-life balance. This has resulted in a rise in cases of burnout and resignations. Perhaps incentivising the gig economy and labour reforms that set up official work-life boundaries can minimise some of the Monday blues.
Mehul Das, Jamshedpur
Suspicious timing
Sir — The Central Bureau of Investigation recently raided the residence of the deputy chief minister of Delhi, Manish Sisodia, in connection with irregularities in the excise policy. Interestingly, the searches were carried out a day after The New York Times published a flattering report on improvements in government schools in Delhi with a picture of Sisodia — the minister of education — on the front page of its international edition. The timing of the raids is thus suspicious. It highlights the practice of the ruling Bharatiya Janata Party at the Centre to intimidate Opposition leaders by misusing Central agencies ("Missing CBI? Make it to NYT", Aug 20). Instead of lauding the achievements of state governments headed by rival parties, the BJP is only interested in maligning their efforts.
K. Nehru Patnaik, Visakhapatnam
Sir — After the Enforcement Directorate arrested Satyendar Jain, the health minister of Delhi, in connection with a money laundering case, the chief minister, Arvind Kejriwal, had expressed concern that more ministers from his cabinet would be targeted by Central agencies. Kejriwal's fears are justified. Investigative agencies are acting as tools of the Central government. It is appalling that leaders of the ruling party remain immune to such probes in spite of charges of corruption existing against them. 
After winning the Punjab elections, the Aam Aadmi Party has emerged as a principal challenger to the BJP in the upcoming elections in Himachal Pradesh and Gujarat. The raids against AAP leaders are meant to rein in the party's growing political influence.
G. David Milton, Maruthancode, Tamil Nadu
Sir — Manish Sisodia claims that he has received an offer from the BJP to split the AAP if he wants the CBI and ED cases against him to be dropped. Given the BJP's propensity to unseat elected governments through horse-trading, it is not possible to dismiss Sisodia's allegations as baseless. If this claim is found to be true, the Election Commission should take strict action against the BJP functionaries responsible for such trickery.
Pradip Singh, Calcutta
Break the chains
Sir — In her column, "Blind spots" (Aug 22), Sevanti Ninan underscores the need for an independent, non-commercial, public broadcaster in a democratic country like India. Doordarshan, which is an autonomous public broadcaster, is, unfortunately, independent only in name. It has been used as a mouthpiece by successive governments. The country's information needs are thus rarely met. There is a case for Doordarshan to remodel itself and revolutionise the type of news it broadcasts. The government must also refrain from coercing the broadcaster.
Ambar Mallick, Calcutta
Let it be
Sir — The prime minister of Finland, Sanna Marin, is facing backlash after a video of her partying was leaked. Marin's carefree attitude in the video has led many to question her leadership abilities at a time when Finland has given up its usual neutrality to apply for a NATO membership owing to the tense situation in Europe caused by the invasion of Ukraine. However, political leaders partying and enjoying their personal lives are not matters of public scrutiny. They must not be treated with such conservativeness.
Kirti Wadhawan, Kanpur
Stay alert
Sir — After Covid-19 and monkeypox, another viral infection has reared its ugly head. Tomato flu, an infectious disease which affects mostly children and immunocompromised adults, has already afflicted 82 people in India since the first case was reported in Kerala on May 6. According to a study published in The Lancet, the symptoms of tomato flu include high fever, rashes and excruciating joint pain, which are also characteristic of chikungunya and Covid19. The authorities must be alert and take adequate precautions before it is too late.
Khushbu Khatri, Ujjain 
Poor content
Sir — In the article, "Troubling eclipse" (Aug 20), Asim Ali investigates the reasons behind the box-office failure of the Aamir Khan-led film, Laal Singh Chaddha. Ali lists several socio-political factors that might have led to the film's dismal performance. However, another probable reason might be economic distress. Ticket prices have soared over the years and people are less enthusiastic about spending money on watching movies in theatres. Casting could also be a cause behind Laal Singh Chaddha's poor showing. While Khan has mastered the art of method acting throughout his career, it might do him good to choose more age-appropriate films. 
Anthony Henriques, Mumbai
Sir — Laal Singh Chaddha was hailed as the film that would revive the stupor that Bollywood has sunk into. But its failure has proven that Bollywood needs to focus more on content and less on big names to shoulder its films.
Shweta Mitra, Malda