In Mamata's Bengal, women are crossing age-old boundaries, so what if the personal is political?
Baisakhis, Nusrats and Shrabantis have shattered the prism through which the middle-class viewed society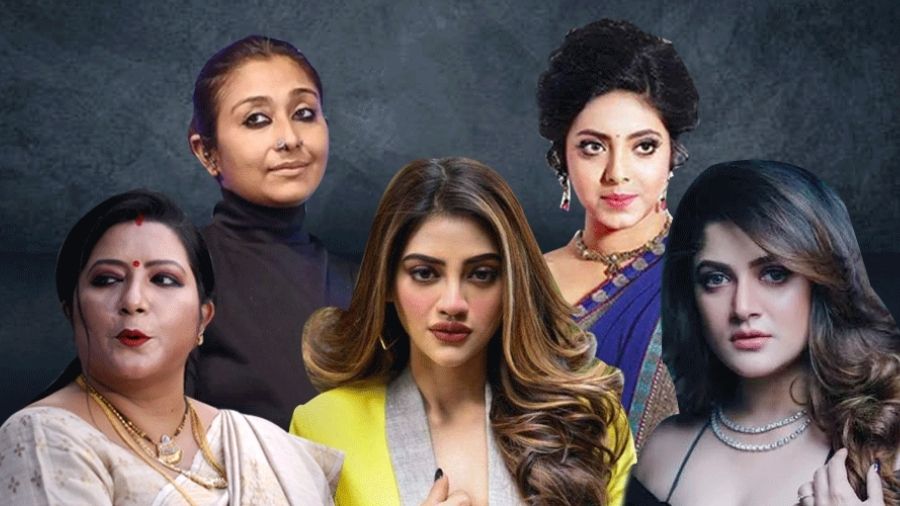 Clean or unclean, women in Calcutta are no longer ashamed to hang them out to dry.
Graphic: The Telegraph Online
---
Calcutta
|
Published 06.07.21, 01:27 PM
|
---
Linen has been around since the Egyptians and the Mesopotamians used the fabric. No one gave much thought about how and where to wash attire until a Frenchman by the name of Napoleon Bonaparte objected to the act of cleaning dirty linen being turned into a public spectacle. Decades later, Victorian Brits acknowledged Bonaparte's suggestion and soon all its colonies were following their masters till a former capital of the British empire in the present time thought otherwise.
These days, a lot of dirty linen is coming out for cleaning in Mamata Banerjee's Bengal than ever before with more and more ruling party members putting on display their private lives, leaving no question answered.  
Algernon Moncrieff in Oscar Wilde's The Importance of Being Earnest had found scandalous, "the amount of women in London who flirt with their husbands… It looks so bad. It is simply washing one's clean linen in public."
Clean or unclean, women in Calcutta are no longer ashamed to hang them out to dry.
Why else would a newly elected MLA rush to a hospital at midnight where her estranged husband was kept following his arrest by the CBI? Why would the man's live-in partner keep crying and knocking on prison doors with cameras focussed on her?  
Politics in Bengal never overlapped with the personal until now when personal allegiances opened doors to rewards or banishment. Sujata Mondal bagged the Trinamul's membership and, also a ticket to the Assembly from Hooghly's Arambagh, some 117 km from her hometown Barjora in Bankura district. Sujata Mondal lost. None of this would have happened had Sujata's husband, Saumitra Khan, not walked out of the Trinamul to join the BJP.
Infidelity, if any, in the short-married life of Khan and Mondal was strictly political, but the bedroom became the arena for settling political scores. And this is not the only instance. When he found new love, former mayor Sovan Chatterjee walked out on his wife of 23 years and two grown-up sons and ended up losing his position of power as well. During a cabinet meeting, Mamata had asked Sovan to decide which one he wanted to focus on, his role as a minister or a lover.
Sovan's estranged wife Ratna, "the wronged woman", found comfort in the unbridled support she received from the chief minister. Today, Ratna is an MLA from a seat that her husband once represented, and sees a political career ahead of her.  
Chatterjee, without the two women in his life, would have been dumped from public memory by now. How many of its former mayors can Calcutta recall every day? Since he is without a political party, Chatterjee can hardly be called an active politician.
Keeping Chatterjee fresh in the mind of city residents is his partner Baisakhi Banerjee. She posted two videos with Sovan in which he announced his decision to leave his property to her. Her Facebook profile mentions her name as Baisakhi Sovan Banerjee, a practice common in Maharashtra and some other parts of the state but unusual in Bengal.
If in other parts of India, the husband's name is seen as a sign of patriarchy, it is the reverse in Baisakhi's case. By including his name, Baisakhi has staked her claim on her life with a man that she loves. This was emulated by a media person a few weeks ago, which after a furore appears to have been reversed.  
Now, people are owning up to their relationships.
The young MP, Nusrat Jahan, flaunts her pregnancy out of wedlock. Her contemporary and friend Shrabanti Chatterjee, who contested unsuccessfully in the Assembly elections, is on the way out of her third marriage while trotting out her latest relationship. Shrabanti has not let her career, or her motherhood, come in the way of who she is. She is determined to fulfil her desires, both as a woman and an artiste.
It didn't take long for newly elected Trinamul MLA Kanchan Mullick, a name that has been doing the rounds of Calcutta's film and television industry for almost two decades, to have his domestic squabbles and personal dalliances come out in the open since being elected to the Assembly. For Mullick's actor-wife, her estrangement with him could open doors to another career.
There is something absolutely Calcuttan about this trend. Unlike other ancient cradles of civilisation burdened with centuries of tradition and morals, Calcutta was always free. Calcutta was no Benaras or Delhi. It was modern in the strictest meaning of the word. As it grew, Calcutta was creating its own idiom. Right from its inception, Calcutta was breaking social norms. Like Job Charnock taking up an Indian wife.
There are more such instances.  Catherine Werlee's -- married to an East India Company officer George Francois Grand-- alleged affair with Phillip Francis was one of the longest-running scandals of its time in the late 18th century since Francis was caught at the Grand household trying to break into the woman's bedroom, while the husband was away playing a game of cards. A divorce and a duel followed. Catherine later moved to France and found herself in Napoleon's court. As the British roots dug deeper, Calcutta's native society to found itself clinging to the moral code of its colonial masters.
Till the Mondal-Khan episode, or the triangle amoureux, involving former mayor Sovan Chatterjee, Ratna Chatterjee and Baisakhi Banerjee exploded on the living rooms of Calcutta, the city maintained a Victorian approach to scandals in politics. "There were rumours about a minister and an IAS officer in the days of the Left Front government. Nobody knew the truth. Neither spoke about it, always hush hush. Not like how it unfolds now almost every day," said a retired IAS officer.
Hush hush is passe in Mamata Banerjee's Calcutta. Love has always been around and so has lust. The two often go together, hand in hand.
A veteran Congressman in Bengal is rumoured to have forced the former husband of his wife to sign their divorce papers. The two got married and lived happily ever after.
"For good or bad, the CPM while in power kept the personal space separate from politics. They could have got the husband to file a case, give him political protection and embarrassed our party and the leader. They didn't do any of it. Nobody ever discussed this "marriage" again. There were other such instances too," said a Bengal Congress functionary. "Imagine if a leader from the BJP today decides to marry and does something similar. The entire state CID will be after him."
Even when events went beyond control in such dalliances in Calcutta and blood was spilled, the personal still remained personal.
Sometimes in the 1990s, a former councillor's partner was killed in firing. Police did not pursue the case. Same for the suicide of a daughter-in-law in a prominent political family of south Calcutta, who was allegedly involved in an extra-marital affair.  Former Lok Sabha Speaker Meira Kumar had sent CCTV footage of two Trinamul MPs "caught in the act" in the Parliament complex to Mamata. The issue was never discussed in the party.
For most of the years that Jyoti Basu was chief minister, his visits to then Great Eastern Hotel and occasionally meeting "old friend" R.P. Goenka post-Writers' Buildings, were possibly the only glimpses into what was personal in his long life. His successor Buddhadeb Bhattacharjee, on the other hand, would spend his evenings at Nandan, where the Information and Cultural Affairs department had an office, sipping black coffee and sometimes watching a film. At this same office, Bhattacharjee often met members from the film and theatre fraternity that gave rise to some salacious gossip, all of which died a natural death.
For some in the CPM family who led a colourful life, neither the party nor the Opposition raised a stink. "CPM old-timers recall that if rumours about any party member got too loud, Jyoti Basu would comment, 'Esab ki hochchhe (what's going on?'." The matter would end there.  
The past it seems was all about men. That is what has changed now. Under a woman chief minister, and a feisty one who rose from the ranks smashing patriarchy and male domination in Bengal's politics, the trend of today is centred around women claiming the right to their sexuality. The women in Calcutta are unafraid of breaking social mores.
In India, the public and the private have always been separate constructs, a colonial variant of a European idea. A politician's image had to be squeaky clean for him to engage in public service.  There has been a departure of some sorts here.
Social anthropologist and teacher at Jadavpur University Amitesh Mukhopadhyay says women's empowerment is incomplete without sexual empowerment. "By giving a sewing machine to a woman, society tells her this is what you can do. Society sets the limits for her. Women's empowerment is incomplete without sexual empowerment," says Mukhopadhyay.  
Mukhopadhyay says the prism that the middle-class viewed society through is being shattered. "The middle class created boundaries and then becomes the gate-keeper, keeping a watch on those who cross the line. What young women in public life like Nusrat Jahan have achieved is that they have crossed the boundaries that society had set for them in various roles. She has done what many of us are struggling with," says Mukhopadhyay.
History is the key to looking at the present. Like Calcutta, which grew unburdened of any legacy, neither of these women is looking for any approval from any corner. Given that the reigning deity of Calcutta is Kali, it was possibly something pre-ordained. This had to happen and happen in Calcutta. After all Kali is the free spirit, the symbol of existence, of freedom that does not need any validation.