Imposing Hindi will not bind Indians together; it will create acrimony
The BJP-led government is trying to divert attention from its failure to bring about any development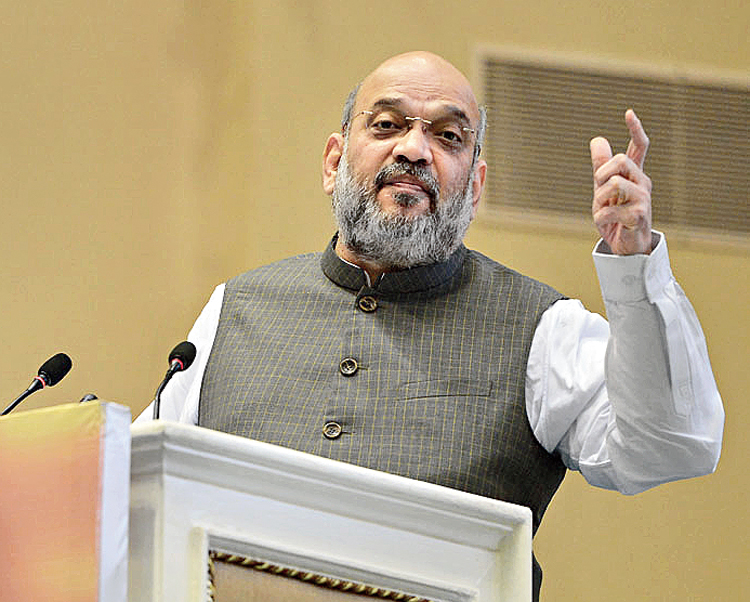 ---
---
Sir — Within days of having claimed that Hindi should be accepted as a common language by all Indians, the home minister, Amit Shah, has now said that he does not mean to impose the language on anyone. However, this is hardly believable ("Tongue twist", Sept 17). If the Bharatiya Janata Party never had the intention of pushing for Hindi as the primary language in India, then what was the need of introducing numerals on the new currency notes in Devanagari script or trying to make Hindi compulsory in schools? It seems that Shah was testing ground with his push for Hindi. His clarification is by no means a consolation.
Rishabh Dasgupta,
Calcutta
Sir — The home minister's nudge to try and establish Hindi as the common language of India is a clear attempt to impose the language on non-Hindi speakers. India is a country with a rich heritage, comprising over a thousand regional languages and dialects.
Although Shah has now offered a clarification for his remark, making such incendiary statements in the first place is a threat to the numerous indigenous languages, each of which has its place in local history. Large sections of our population are not familiar with any language other than their respective mother tongues. Therefore any effort to make Hindi India's primary language will lead to countrywide chaos, and harm our national integrity. With this episode, the BJP's attempt to polarize the people along communal lines for political gains has become all the more evident.
Ranganathan Sivakumar,
Chennai
Sir — Amit Shah needs to be reminded that the mother tongue is as integral to a person's identity as his motherland. Having resided in Faridabad since 1971, my family and I have grown to love Hindi and become fluent in it. But imposing it as a national language and putting Hindi-speakers at an advantage over others is gross discrimination. This cannot unite people. Shah's appeal to the people to promote Hindi along with their mother tongue and the indication that this would fulfil the dream of M.K. Gandhi and Vallabhbhai Patel was a shrewd attempt to manipulate them. He also tried to turn the people against English. He must not forget that English links all the states of the country, regardless of their respective regional languages.
The BJP-led government is trying to divert attention from its failure to bring about any development. But by playing with the language issue, it has made its own path of coming to power in states like West Bengal more difficult. Who can forget the backlash that the Congress government faced in the 1967 elections in Tamil Nadu after having tried to impose Hindi on its people in 1965? The mother tongue is an emotional matter, and neither the rhetorics of the prime minister, Narendra Modi, nor the organizational skills of Shah will be able to make amends if they touch that raw nerve.
Bidyut Kumar Chatterjee,
Faridabad
Sir — Imposing Hindi will not bind Indians together; instead, it will create unnecessary acrimony. The memories of bloodshed during the anti-Hindi protests in Tamil Nadu in the 1960s as well as the sacrifice of Bengalis in the neighbouring country in 1952, resisting the imposition of Urdu, should act as warning for the government. It should pay attention to the many problems plaguing the country rather than trying to create divisions among the people with controversial statements.
Sanjit Ghatak,
South 24 Parganas
Sir — Amit Shah's claim that Hindi is the only language which will unite the whole country is absurd. India is known for its 'unity in diversity'. Such comments do not befit senior cabinet members. Rather, they should encourage all citizens to work together for the development of the nation.
Satyanarayan Das,
Kharagpur
Stand together
Sir — Hundreds of journalists of the French newspaper, Le Monde, have stood up against the paper's stakeholders, two of whom reportedly refrained from signing an agreement guaranteeing editorial independence. Luckily for Le Monde, eminent writers, artists and activists — including Edward Snowden and Salman Rushdie — have extended their support. The threat to press freedom is not unknown to India either. But it is difficult to imagine too many among the current crop of journalists taking such a stance. It must be remembered that it is the job of the press to question the establishment.
Noyonika Sen,
Calcutta