An old idea about a new nation
The numbers clearly suggest that poor Bangladeshis no longer have an economic incentive to illegally enter India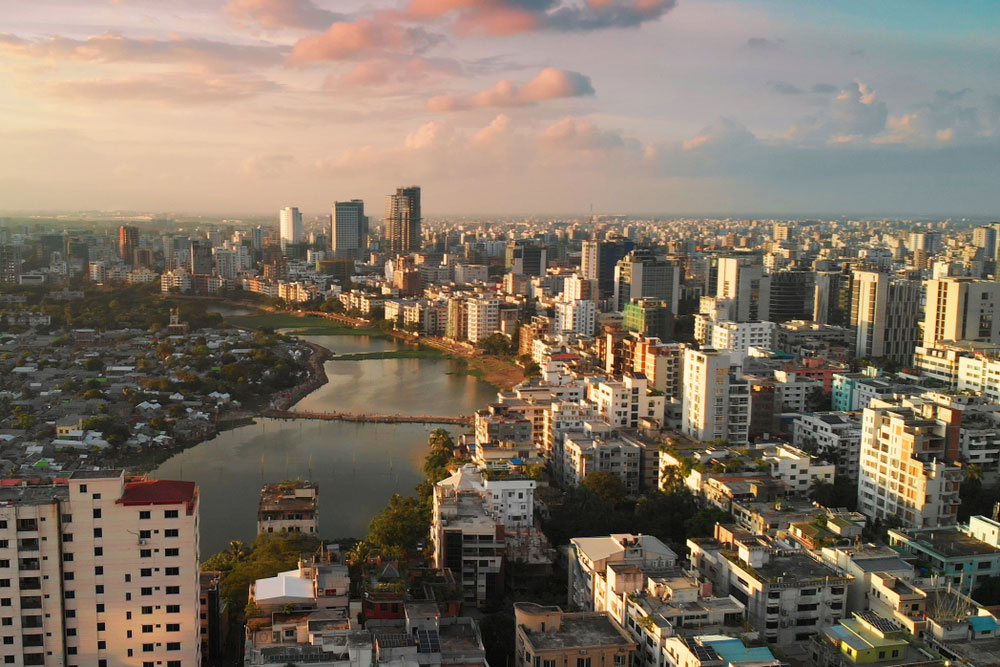 ---
---
The junior Union home minister, Nityanand Rai, recently rolled out interesting data in Parliament in response to questions on issues such as the progress in the fencing of the Indo-Bangladesh border and the volume of illegal infiltration from Bangladesh. One piece of statistics, tucked into a corner of the tables provided to parliamentarians, deserves special mention. It claims that 497 people were apprehended — 379 of them along the Bengal-Bangladesh border — while illegally crossing over into India in the first six months of 2019. According to the Union home ministry, the number of such detentions along the international borders in Bengal, Assam, Meghalaya, Mizoram and Tripura was 2,455 in 2014.
While credible data on illegal infiltration from Bangladesh are nearly impossible to collate — the minister admitted this — his answer offered an alternative in the form of the number of alleged infiltrators caught while crossing over. If these numbers are looked at against the backdrop of a narrative that hundreds of thousands of Bangladeshis are waiting on the other side of the border to sneak into India, one may wonder at the reason for the high-pitched campaign by the sangh parivar against illegal Bangladeshi immigrants and the regular threats of an NRC update across the country to drive them all out.
Now that the Opposition parties have proved their inability to prevent the passage of any bill brought in by the Narendra Modi government, a parliamentary seal of approval on any design by the Bharatiya Janata Party seems almost certain. For the sake of fairness, there is, however, a need to assess whether less privileged people from beyond the border are willing to take the risk of crossing over illegally into India.
In the absence of credible data on infiltration or infiltration attempts, I share two anecdotes to contest the claim that poor Bangladeshis are desperately seeking opportunities to cross over into India illegally.
The anecdotal evidence is based on my conversations with two hardworking men from underprivileged backgrounds who were looking for opportunities to augment their family incomes. I had met them during a recent trip to Dhaka, the capital that itself attracts migrants from across the country.
The first person was a rickshaw-puller in the upscale Gulshan area, the city's diplomatic enclave. A brief conversation over the destination and the fare was enough for the man — he was wearing a fluorescent vest that earmarked his area of operation — to figure out that his client was from Calcutta. He immediately started recalling his days in the northern fringes of the Bengal capital.
After entering India illegally around a decade ago, he had pedalled around in the Dum Dum area. But as prosperity continued to elude him, he went back to his homeland after a couple of years. The man, now in his early forties, said that although he liked Calcutta, he would never ever consider living in India to earn a livelihood.
"Ekhane kamai beshi (the income is higher here)," he said, adding that his daily earning was between 800 and 1,000 takas even if he put in just eight hours.
An Uber driver in Dhaka provided a more interesting anecdote while discussing the possibility of a poor Bangladeshi emigrating illegally to India. The driver, in his mid-thirties, said he had visited Calcutta several times on vacation or for shopping. During such visits, he had met poor people who had told him they found it difficult to earn even Rs 100 a day.
In contrast, in his village in Dinajpur in northern Bangladesh, a daily wage of 700 takas, the Uber driver said, was not enough to attract agricultural workers during the sowing or harvesting seasons. "Poor people know where the earnings would be more," he said.
The school dropout's logic echoed undergraduate textbooks in economics that link migration to the possibility of higher earnings, among other factors.
In 1971, Bangladesh had appeared on the world map as an independent nation after a nine-month war of independence that had left the country with a fragile economy, a devastated infrastructure, and millions of homeless people. As the country was heavily dependent on foreign aid during the years after independence, Henry Kissinger's label of 'bottomless basket' stuck to Bangladesh. Now that the same country is poised to grow at 8 per cent and its per capita income is expected to grow at 6.6 per cent in 2020 according to the Asian Development Bank, one has to remember that Kissinger's label can no longer apply to Bangladesh.
From the days of mass starvation in 1974, the country has achieved near self-sufficiency in food production for its 168 million-plus population. World Bank data suggest that the number of people living in extreme poverty — under $1.25 per day — in Bangladesh is only around 9 per cent, a clear indication that the country has tackled the problem of extreme poverty. These numbers clearly suggest that impoverished Bangladeshis no longer have an economic incentive to cross over illegally into India. While it is true that a section of the Hindu minority considers India a safer place because it still faces persecution in parts of Bangladesh, the percentage is minuscule.
So it's time to contest the narrative that poor Bangladeshis are itching to enter India illegally.