Sir — Durga Puja is long over, but it must be said that, even though it was celebrated with the same pomp and warmth as it is every year, this time there was far less chaos on the streets and in the pandals. The credit for this should go to the Calcutta Police, who meticulously managed the teeming crowds in pandals and the traffic on the roads. They marked walkways for pedestrians and pandal-hoppers and used road dividers for smooth movement. There were additional volunteers posted to help people in distress. We should be grateful to the Calcutta Police for their untiring efforts to make the festivities more enjoyable.
Arpita Chandak,
Howrah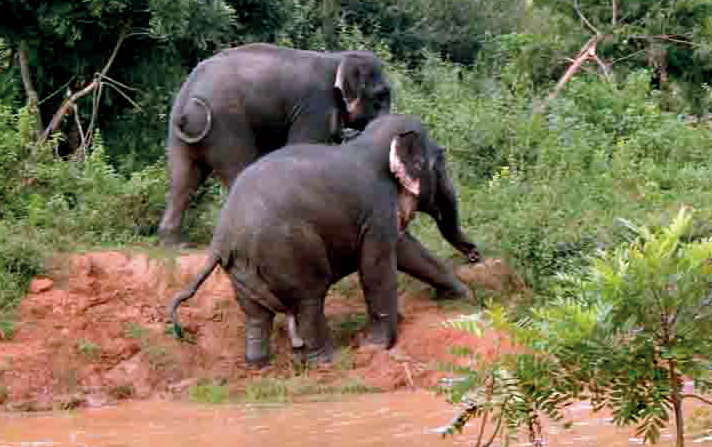 Elephants in Bhubaneswar. The tragic death of so many elephants in Dhenkanal, caused by electrocution, smacks of negligence on the part of government and forest officials. Telegraph file picture
Global graveyard
Sir — It was shocking to read that human beings have managed to wipe out 60 per cent of the planet's vertebrate population ("60% drop in global count of animals", Oct 31). These include fish, birds, amphibians, reptiles and mammals. There are, at present, around 65,000 known species of vertebrate animals. Among the groups of animals, the most affected have been those living in fresh water; they have the 'highest extinction rate' in the 20th century among vertebrates, with their numbers having reduced by about 83 per cent since 1970.
All over the world, human beings enjoy services provided by nature worth around $125 trillion annually. Preserving nature will ensure that we keep getting fresh air, clean water, food and medicine. Now, more than ever, people need to realize that nature is an 'essential' asset. Shrinking natural habitat, pollution and climate change have to be combated.
S.S. Paul,
Nadia
Sir — Scientists have confirmed that the world's sixth mass extinction — the first one to be caused entirely by humans — has begun. It is unsurprising that human beings have destroyed most of the world's vertebrate animal population. Rarely, if ever, have they been mindful of the disaster wrought by their cruelty, greed and consumerism. They do not care how the indiscriminate killing of wildlife and clearing out of forest areas have a far-reaching impact on the entire ecosystem and, ultimately, on their own lives. In fact, the death of seven elephants in Odisha on account of electrocution caused by a low-hanging live wire is an example of human beings' callousness and utter lack of regard for conservation. Unless our attitude towards our planet undergoes a sea change, we will be in deep trouble.
Shalini Jaiswal,
Calcutta
Sir — The tragic death of so many elephants in Dhenkanal, caused by electrocution, smacks of negligence on the part of government and forest officials. The wire was barely six feet above the ground, when it should have been least 17 feet above ground level ("Low wires fell seven jumbos", Oct 28).
A herd of elephants was reported to have moved out of the forest towards the nearby paddy fields when seven of them came in contact with the live wire. This is not the first time such a mishap has occurred; since last year, out of the 121 wild elephants who died in the state, 25 were electrocuted either by sagging electric lines or live wires hooked up by poachers. Government apathy and the lack of coordination between the forest department and the Central Electricity Supply Utility of Odisha are responsible for these incidents. Why has the problem of low-hanging wires not been solved even after all this time? It is the state government's job to ensure that high-tension wires are installed at safe heights. The matter must be properly investigated and the culprits brought to book.
Khokan Das,
Calcutta
Right step
Sir — It is heartening that the three-judge bench of Pakistan's Supreme Court, headed by the chief justice, Saqib Nisar, acquitted Asia Bibi, who was sentenced to death on charges of blasphemy in 2010. In the landmark verdict, the chief justice highlighted the fact that Islam is a tolerant religion.
Asia Bibi, a farm labourer belonging to a religious minority in Pakistan, had angered fellow workers when she took a sip of water from a cup that she had got for them. When they demanded that she convert, she refused, prompting allegations that she had insulted the prophet. The judge, Asif Khosa, who was a part of the Supreme Court bench, said that Asia Bibi's accusers "had no regard for the truth" and their allegations were "concoction incarnate".
Pakistan has one of the strictest blasphemy laws. It was introduced in the 1980s by the military dictator, Zia-ul-Haq, allowing extremists to misuse it.
People opposing this law have faced innumerable threats. Some have even had to pay with their lives, such as the former governor of Punjab, Salman Taseer, who was gunned down in 2011 by his own bodyguard, Mumtaz Qadri, for defending Asia Bibi and criticizing the blasphemy law. Soon after, the minority affairs minister, Shahbaz Bhatti, was shot dead for the same reasons. Radicals wilfully misinterpret the Quran for their own ends. But now, after this historic ruling, one hopes that the Pakistan government will uphold the principles of Islam and resist the demands of radical groups. The latter sully Pakistan's image in the eyes of the world.
S. Balakrishnan,
Jamshedpur