Sweet spotlight: hot chocolate bombs trend on Tiktok
American Diaries: 30 years of 'Home alone'; an unlikely New Year's Eve; 80 million people travel to celebrate holidays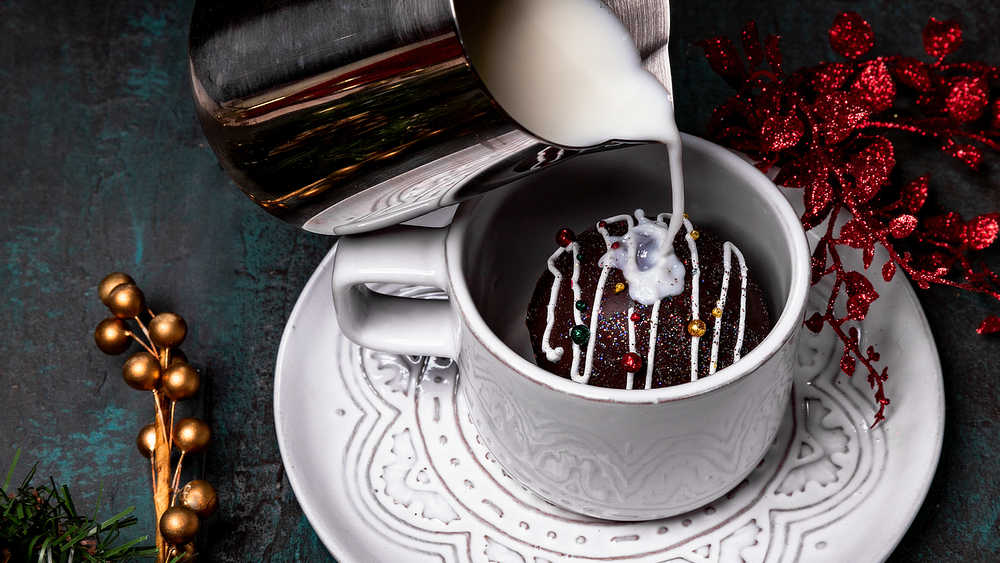 The New York Times called hot chocolate bombs the perfect metaphor for the end of the year — under pressure, we were about to crack anyway.
Shutterstock
---
Published 02.01.21, 01:15 AM
|
---
Of all the things to remember 2020 by, you would never have considered hot chocolate bombs to be one. They emerged slowly to grab attention in October on TikTok and then were everywhere on social media. These are hollow spheres of chocolate over which steamed milk is poured to melt and transform them into cups of hot chocolate. The New York Times called it the perfect metaphor for the end of the year — under pressure, we were about to crack anyway. 
Another food item that dominated TikTok in the early days of the lockdown — Google revealed it was one of the most searched-for recipes in 2020 — was the dalgona coffee, a South Korean drink in which instant coffee, sugar and milk are whipped into a foamy blend. It generated almost half a billion views. Similarly, iced coffee with whipped cream on top also dominated food videos of the year. TikTok showed that the biggest trending food in 2020, posted with 1.6 billion views, was #pancakecereal where people make tiny pancakes that can just be had in a bowl with milk. 
While TikTok food videos reveal innovation and new trends, they also show that users still rely on comfort. According to Google Trends, there was more than a 280 per cent increase in the search for "banana bread" in March.
Reel life
Last year marked the 30th anniversary of the classic Christmas movie, Home Alone — and there are many ways for people to take a walk down memory lane and pay tribute to it. In mid-December, the Graduate Evanston launched 'The King McCallister Experience', which lets guests book a room that is a replica of the room of the parents of the film's protagonist, Kevin McCallister. Guests get to eat Little Nero's cheese pizza; the mini-bar is stocked with Kevin's favourite snacks from the movie. The room comes with a movie theatre with all the Home Alone films, as well as a Polaroid camera. Ten per cent of the proceeds from each booking will be donated to Lurie Children's Hospital. 
In Dallas, Texas, an Airbnb rental also offered a limited edition Home Alone experience. The owner, Jeremy Turner, designed the space — called 'The Kevin' — to replicate some of the movie's iconic setups. To top it all, he delivered free cheese pizza to the guests. The award-winning food artist, Michelle Wibowo, was commissioned by Disney+ to create a gingerbread replica of the McCallister home. Her creation, which took over 300 hours to complete, included 63 trees, 33 windows, 14 pizza boxes and six lampposts.

Different experience
New Year's Eve in 2020 was unlike any other for everyone. The iconic Times Square celebration was not even open to the public. Instead, organizers created a global virtual New Year's Eve ball drop. The event, called VNYE (Virtual New Year's Eve), brought Times Square alive on people's devices through what was supposed to be a virtual reality/augmented reality-based experience. The live-stream event allowed people to view Times Square from different angles, watch virtual concerts, 'take' the elevator up to the dance floor and watch the ball drop when the clock struck midnight. 
There was still a way to see NYE at Times Square in person. One could rent a geodesic dome via Airbnb on the Nasdaq terrace, right under the ball, for $21, giving one direct views of Times Square. Those booking a stay also got to enjoy an indoor art lounge where they could watch the celebrations, relax in a reading corner with board games, eat snacks from a fully-stocked dining area as well as dinner prepared by a private chef and cheesecake from Junior's.

Buy less
Over Christmas, more than 80 million people travelled to celebrate the holidays. Many Americans are burdened by financial crises and delayed stimulus checks; families could barely afford Christmas presents for their children. Almost 40 per cent of Americans reportedly planned to spend less on gifts this holiday season than they did the year before. But overall, most people planned smaller gatherings. According to data from Pinterest, there has been a huge uptick in people searching for holiday movies and ways to celebrate Christmas at home. There are over 10,000 posts tagged with #CeramicChristmasTree, a vintage ornament popular in the 1970s. Real Christmas tree sales also saw an increase by retailers nationwide. Justin Bieber, Cardi B, Mariah Carey, Ariana Grande and Keith Urban took to social media on Christmas to share family photos, videos and inspiring messages. Wonder Woman 1984 and the Pixar animated film, Soul, debuted on streaming services on December 25.
Footnote
Times Square adorned billboards with funny tweets by Twitter that summarized 2020. There were six million tweets; some of the chosen ones included "Unsung hero of 2020: Athleisure" and "Can't wait until I can say that was so 2020". The initiative was a part of Twitter's 'out-of-home' campaign to showcase tweets that made people laugh during a difficult year. It is launching in other American cities as well.