Hide and seek
History, streets and their strange seductions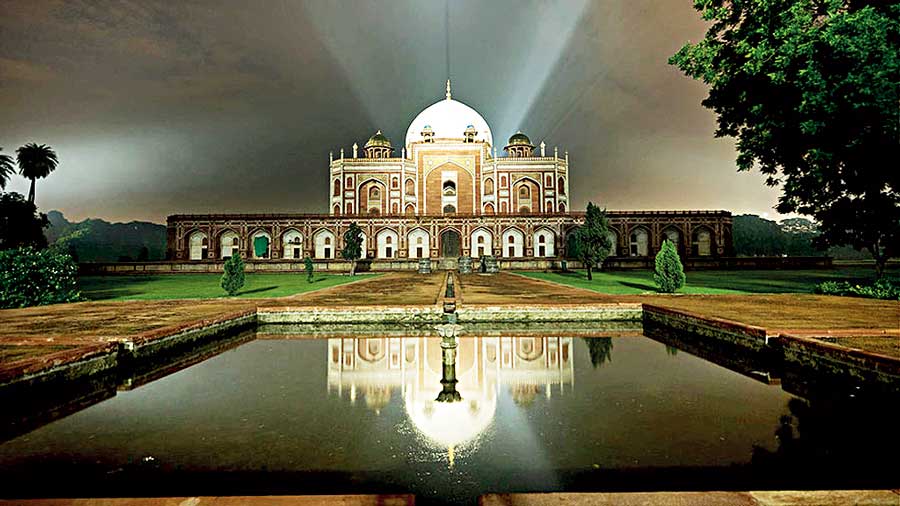 ---
Published 28.07.21, 12:24 AM
|
---
Did an Unidentified Flying Object land in the vicinity of Patparganj, East Delhi, on a rainy, deliciously pleasant night earlier this month? A wide-eyed visitor, returning and rediscovering Delhi after an eight-year absence, certainly thought so upon sighting, from a distance, an incandescent dome, with blades of light splitting open a sable night sky. But then UFOs are notoriously elusive beings; a closer, clearer view from atop Barapullah, the flyover that snakes its way towards Patparganj, identified the object to be the mausoleum of a sleeping emperor. That night, Humayun's tomb, restored magnificently through a public-private partnership involving various arms of the government, the Archaeological Survey of India, the Aga Khan Trust for Culture and the Sir Dorabji Tata Trust, materialized as a wondrous, regal and — strangely — potent symbol; as if it was, still is, a repository of power.
The seat of political power of the Republic, the Sansad Bhavan, appeared in an inexplicable light the following morning. Almost obscured by a thick haze of dust arising from a mangled Rajpath — the mutilation bearing evidence of the impending, monstrous Central Vista, allegedly a vanity project of a modern emperor — the edifice of Parliament is likely to strike an observer of the Republic and its goings-on to be markedly limpid, as if the vitality of democracy is being sapped from its veins.
This strange inversion — an ancient mausoleum appearing to be living and livelier than the chamber of a modern, sovereign institution —  assumes significance in the light of what is argued about the relationship among architecture, power and principal cities in Power and Architecture: The Construction of Capitals and the Politics of Space (edited by Michael Minkenberg). The Introduction notes that "… architecture and urban design are… a manifestation… of space in a politicized sense, that is… public space manipulated by political interests." This process of politicization is intense and, hence, most discernible in capital cities which, "in the age of the nation-state" are invested with the primary responsibility of linking — integrating — the national imagination with urban spatiality through architecture. But the integration, Minkenberg concedes, can be problematic: "In reality, underlying power struggles and tensions… obscure the message of [orchestrated?] national harmony…"
Receptivity to this stubborn, subterranean tension can be the key to comprehending — and appreciating — history and historiography and their complex relationship with urban landscapes and their transformations. The sentient, metaphorical equivalent of history's seductions, especially those of history on the street, may, arguably, be that of an itch, an irritation that is meant not to lull but awaken the senses to alternative possibilities.
Consider the many soothing tree-lined boulevards in India's capital. To the untrained eye, they may simply be spaces of shade and repose, especially in a city that gets roasted by a relentless sun well into July. Yet, history can nudge you awake from this uninformed siesta. In a report titled "Planning Policy and Landscape Architecture: Street Design in Theory and Practice", Sylvia Nieves Leon Guerrero demonstrates, quite convincingly, that interventions in urban design and development are seldom innocent; each is a calculated response to a dilemma — usually a threat — that could be political, philosophical, or both. For instance, in post-revolutionary France, as Paris was being transformed under the watchful eyes of Georges-Eugène Haussmann, the 'Baron' insisted on the incorporation of the boulevard as a bulwark against the chaos symbolized by revolution and poverty. Even the street — or the marg, if you are a Delhiwallah — evolved as an element integral to the notion of orderliness, which, in turn, is an idea that is as aesthetic as it is political. Little wonder then that the street remains the turf of enduring battles between the State and the krantikaris — be they farmers, dissenters, activists or the dispossessed. Leon Guerrero also notes, cheekily, that the barricade, ubiquitous during bandobasts and public demonstrations in the metropolis, made its maiden appearance during the French Revolution as a means — symbolic and literal — to assert State control over the street.
History's rap on the knuckles of urban design is especially hard in capital cities that, the architect, Amos Rapoport, argues, "provide a particular stage for political and cultural spectacle, drama, and rituals, and… communicate high-level meanings to… citizens". Walking around Alimuddin Street in Calcutta, a former capital now stripped of its imperial charms, a sharp-eyed pedestrian, with some luck, may yet be able to spot the escutcheon of the city's municipal corporation bearing the figure of the vanished hadgila, the Great Adjutant Stork, serving as a testament to the long history of localized extinctions that have been inflicted on Calcutta's indigenous and unique ecology. The sunny, bustling town square of distant Edinburgh, another capital, gets swallowed by a labyrinthine chamber of eerie, interconnected, underground passages with street history exposing, quite literally, the city's former underbelly of horrors such as bonded labour and crime, chronicled brilliantly by Jan-Andrew Henderson in The Town Below the Ground. The bustle of commerce and consumption around Tokyo's Nihonbashi Bridge can, suddenly, give way to the quietness and the aroma of incense that are distinct to old shrines that dot Japan's cities. Provincial capitals are not immune to history's predations on the senses. Neither is history's prick always benign. Some hours along a glistening road from Ahmedabad will lead you to the fallen minaret of a mosque near the village of Delol, a stark reminder of a recent, scarring past.  
History's hide-and-seek on streets can open up intriguing lines of conjecture. Are acts of commemoration through the problematic instrument of urban redesign — the dotting of space with memorials, the renaming of vistas, the bullish push in favour of 'national' monuments — ahistorical in character? This is not implausible, since many of these spatial interventions are meant to function as anti-mnemonic measures, targeted to erase epochs that do not resonate with the ideology of political dispensations. Again, History's Wars, it is often imagined, take place within secret chambers peopled by ill-informed ideologues lopping off passages from textbooks. This is not always the case. The battles within, and against, history are public, even playful, episodes, unfolding in familiar neighbourhoods, nooks and corners, turning them — such as Delhi's Rajpath — unrecognizable.