Hasina is right: It is imprudent to mix sports and politics
In these times of nationalistic muscle-flexing, Bengalis on both sides of the border should take a leaf out of her book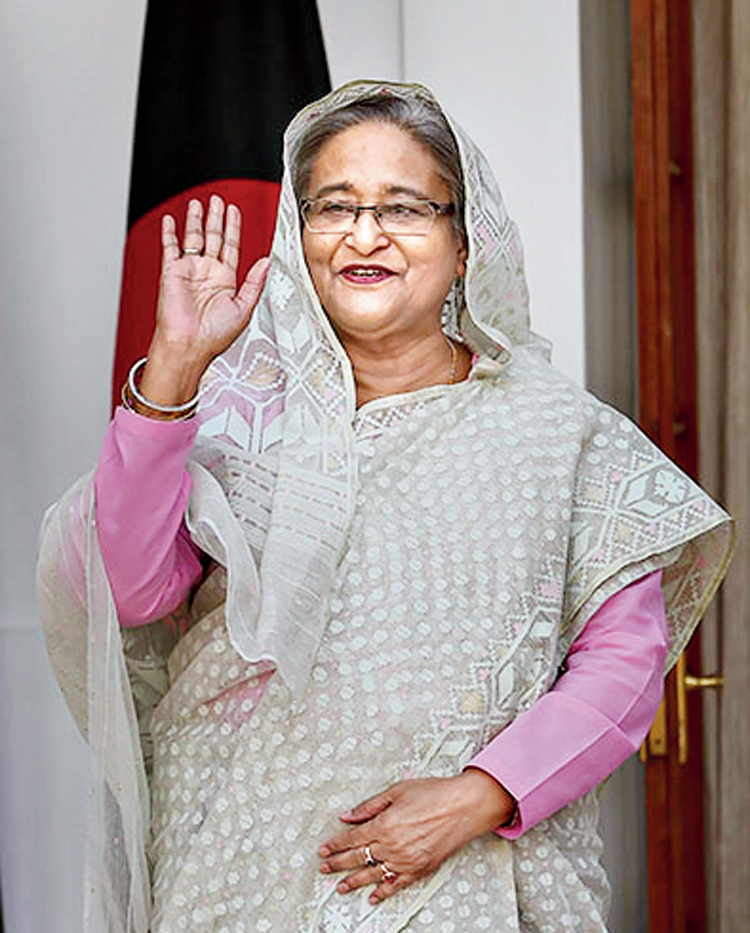 ---
---
Sir — It was heartening to read that the prime minister of Bangladesh, Sheikh Hasina Wajed, promptly accepted the invitation extended to her by the president of the Board of Control for Cricket in India, Sourav Ganguly, to be present at the Eden Gardens to watch the first day and night Test match between India and Bangladesh. She rose above all tensions between the two nations on the subject of sharing the waters of the Teesta river, and said that this was a case of "a Bengali inviting another Bengali for a cricket match" ("Don't mix cricket with Teesta", Oct 30).
In these times of nationalistic muscle-flexing in the name of 'patriotism', Bengalis on both sides of the border should take a leaf out of Wajed's book. They should focus on their shared Bengali identity and the secularism that has always been a part of it, instead of allowing the divides of nation and religion to keep them apart. Religious disharmony and fanaticism are being encouraged at the national level; the Bengali community should resist these influences by drawing inspiration from the humanitarianism of Lalon Fakir, Rabindranath Tagore, Nazrul Islam and Syed Mujtaba Ali.
Kajal Chatterjee,
Calcutta
Sir — Sheikh Hasina Wajed's comment, that the matter involving the Teesta waters should not be linked to the fact that she has accepted Sourav Ganguly's invitation to attend the Eden Test, is justified. It is imprudent to mix sports with politics.
Wajed's recent trip to India, during which she signed bilateral agreements, was criticized by her domestic opponents as a 'sell-out' to India. Internal political rivalry should not stand in the way of an international agreement. But the Teesta fiasco has certainly been a major foreign policy failure. If India does not share the Teesta waters soon, it will lose a trusted ally.
S.S. Paul,
Nadia
Sir — It was heartwarming to read that Sheikh Hasina Wajed said that she would be at the upcoming Eden Test not as a guest of the prime minister or the Bengal chief minister, but on the invitation of a Bengali to another Bengali. This refusal to allow political differences between the two nations to overshadow an undeniable shared identity is inspirational, and completely opposed to the divisive politics endorsed by the Hindutva brigade. One hopes that the secular, inclusive message sent out by Wajed's comment is heeded by people on both sides of the border, and certainly by the rest of India.
Ishika Bose,
Calcutta
New lows
Sir — It was with a heightening sense of alarm that I read about a bunch of young people in a Bangalore movie theatre who were heckled and hounded out by a group led by a rising film star for not standing during the national anthem ("Anthem row in Bangalore", Oct 30). People cannot be forced to 'show' respect. They also do not deserve to be attacked if their way of showing respect does not match that of the majority, more so if they are not causing anyone any harm.
In 2018, after a growing number of complaints and reports that even senior citizens and differently-abled people were being verbally and physically assaulted for not standing during the national anthem, the Supreme Court modified its 2016 order to say that playing the national anthem before a film would be 'optional'. It is high time that those harassing fellow citizens for choosing not to stand for the anthem at the movies are severely punished.
Sonia Singh,
Bangalore
Sir — As an Indian, I felt ashamed when I read that a group in a Bangalore cinema hall — led by an actor, no less — called another set of movie-goers "Pakistani terrorists" simply because they remained seated during the national anthem. The lows to which the socio-political discourse in India has sunk are unfathomable. How are people able to speak in that manner to their fellow citizens? Moreover, the mob made the targeted group leave the theatre. Is this not a violation of the latter's rights?
Nowadays, whenever I stand for the national anthem in a movie hall, I do it out of fear of assault, not out of a sense of respect. But that, perhaps, is what the Indian government and its violent supporters want; they could not care less about respect, they just want to rule by fear.
Priyanka Bhattacharya,
Mumbai
Sir — Earlier, I used to voluntarily stand with pride when the national anthem was played, whether during Independence Day, Republic Day or even in a movie hall. Now, when inside a cinema, I stand out of a fear for my safety.
Sana Salim,
Calcutta
Bird watch
Sir — It was interesting to read about Mysore's 'bird atlas' — a-first-of-its-kind compilation in India — that has been put together over three years by the city's avid birders. The 'atlas' documents 192 species of birds seen in Mysore. It bears testimony not just to the richness of the city in terms of avifauna but also the commitment of the people towards educating others about it — a practice that can contribute greatly towards conservation efforts. Calcutta, too, could boast of being home to many interesting bird varieties, although a lot of them have disappeared now. Can a similar 'bird atlas' be put together for our city's birds?
Rajeshwari Wahi,
Calcutta