Get a tatoo in New York, help Ukraine
AMERICAN DIARIES: Rihanna's bold maternity outfits on Women's History Month of March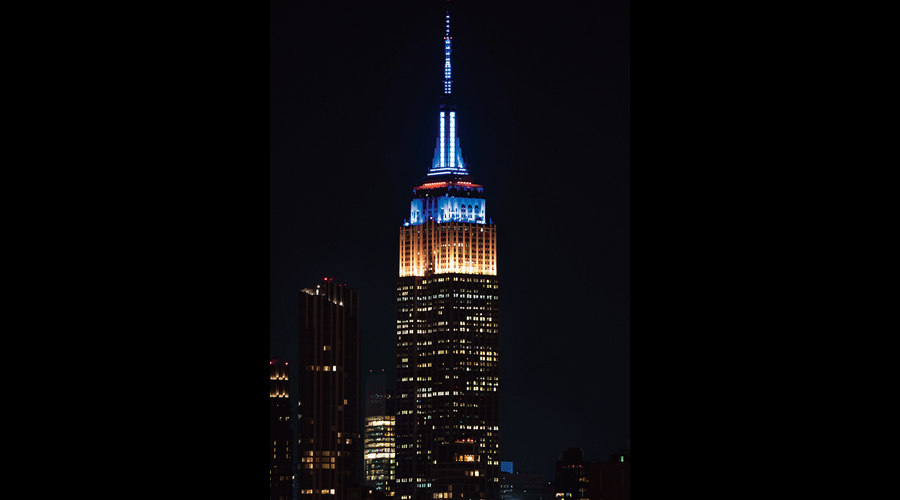 The Empire State Building is illuminated in the colors of the Ukrainian flag, late Friday, March 4, 2022, in New York.
AP/PTI
---
Published 12.03.22, 12:48 AM
|
---
Stand together
As Russia continues to wage war on Ukraine, several businesses and organizations in the United States of America are trying to make an impact in their own way, whether through shutting off operations in the country or by raising funds for Ukrainians living in the US.
In New York City, the Ukrainian tattoo artist, Koral Ladna, who works at Inked NYC, was offering raffle tickets to raise money for Ukrainian refugees. The proceeds will go to a Ukrainian non-profit organization called Razom. The winner can exchange the raffle ticket for a tattoo worth between $1,000 to $3,000.
Many NYC buildings have displayed lights in the colours of the Ukrainian flag in a show of support. On March 4, the Empire State Building lit up in yellow and blue. Even the Kennedy Center in Washington and the San Francisco City Hall were lit up in solidarity.
In Chicago, Lighthouse Immersive is bringing a show called Immersive Shevchenko: Soul of Ukraine that pays tribute to the Ukrainian artist and activist, Taras Shevchenko. The money raised from the ticket sales will be donated to the Red Cross and the National Bank of Ukraine Fund.
Many businesses have shut down stores and access to their products and services in Russia. Apple has halted its product sales and limited the use of Apple Pay; Burberry and other luxury brands have suspended operations; and payment systems like Mastercard, Visa and PayPal can no longer be accessed in Russia.
Bold choice
The celebrated musician, Rihanna, who is pregnant with her first child, has caught the eye of the media and the public with her bold maternity outfits. She announced her pregnancy in January with a photoshoot where she wore a hot pink Chanel coat along with ripped blue jeans and showed off her stomach. Last month, she was seen in a black jacket and a Jean Paul Gaultier top with criss-cross black straps over her baby bump. She was also spotted in a lacy fishnet outfit and knee-high leather boots.
"I'm enjoying not having to worry about covering up my tummy. If I feel a little chubby, it's like, whatever! It's a baby," Rihanna said to People magazine. She added that a little lipstick can help you transform — if you look good, you feel good.
Rihanna is being applauded for glamourizing maternity wear, which typically involves oversized, baggy and dull clothes. The singer has chosen not to hide the baby bump but rather to flaunt it. 
The decision has definitely ignited conversations around the expectations of beauty during pregnancy and the typical maternity clothes that we see on the racks. Rihanna is proudly showing off her baby bump and fans are appreciating her for it.

Celebratory mood
March is Women's History Month. It is an occasion to acknowledge the achievements and contributions of women throughout history. The theme for this year, as put forth by the National Women's History Alliance, is "Women Providing Healing, Promoting Hope". The theme also weaves in the impact of the pandemic on gender parity.
The Smithsonian Museum is celebrating the month with an exhibit titled #IfThenSheCan — The Exhibit, which features 120 life-size 3D statues of women who have excelled in STEM subjects. According to the museum, it is the largest collection of statues of women in one place.
Pinterest announced a programme, Pinterest Elevates, which promises to fund and "uplift business owners of color, with disabilities, or part of the LGBTQ+ community". It has selected a handful of women-owned businesses that will receive funding.
Coincidentally, the US women's soccer team won their years-long equal pay lawsuit a few days ago. The US Soccer Federation will pay $24 million as settlement, acknowledging the existence of a pay gap between men and women's teams.

Back on the road
The pandemic seems to be on the wane. As there are fewer restrictions in place, people can finally travel again. The World Travel & Tourism Council, travel rentals and other research organizations have shared their predictions for the top travel trends for Americans in 2022.
The number of bookings is expected to increase to pre-pandemic levels. But Americans may choose local travel over international trips. Longer trips between two to six weeks will be popular as many are still working remotely. Research sites have found that there will be an increase in multi-generational travel. Americans are focusing on spending time with their families, with bookings for more than six people. People want to reunite with their families after being apart for the last two years.
There is also a rise in wellness tourism with a focus on the outdoors and holistic health. Luxury cruises and beach resorts in countries close to the US like Puerto Rico, Aruba and the Dominican Republic are popular choices as well.
Footnote
The new movie, The Batman, made $134 million in the opening weekend, just behind Spider-Man: No Way Home. Currently, major movie theatres are experimenting with ticket price surges. Many of them silently implemented the increase with Spider-Man but AMC made a public announcement. Flexible pricing is common in Europe but it is being introduced for the first time in the US. Hollywood executives are waiting to see if the higher prices will actually hamper sales.