Flawed design: Central Vista
The categorization of the Central Vista project as essential service during a deadly second wave of Covid-19 defies logic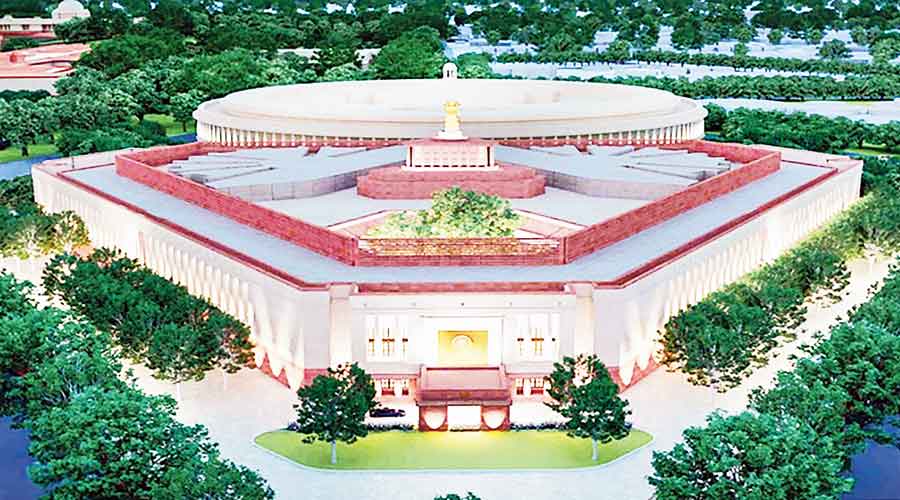 Representational image.
File picture
---
Published 30.04.21, 02:12 AM
|
---
In the middle of India's worst-ever health crisis, with hospitals in the country reeling under an acute shortage of medical oxygen and beds and with the death toll climbing steadily, the Narendra Modi government has, in an astounding feat, still found the time to focus on the redevelopment of the ambitious Central Vista project. Such is the dedication of the Centre to get the job done that the project has even been termed an 'essential service' because, as the Central Public Works Department informed the Delhi Police, the initiative is "of time bound nature". This zeal would be admirable if the classification of the project as an 'essential service' were not so puzzling. Essential services are those functions that are absolutely necessary for the welfare of citizens even during a pandemic: these include healthcare, food, fire and police protection, clean water, basic sanitation, gas and electricity, and banking. Does the Central Vista project fulfil any of these conditions pertaining to public service? Its categorization as such a service during a deadly second wave of Covid-19 defies logic. But then reason has not been the hallmark of Mr Modi's whimsical reign.
Leaders of the Opposition have been critical of the initiative, terming it yet another instance of the government's 'misplaced priorities'. Their reservations cannot be brushed away; a sum of Rs 20,000 crore has been sunk into the project to upgrade the area that houses, among other edifices, the Parliament complex. It is perfectly reasonable to argue that the funds should have been used to plug the gaping holes that plague India's healthcare services. There are other, equally relevant, questions. The infection rate in the national capital is rising rapidly — Delhi reported 25,986 new cases on Wednesday. The CPWD's request to the police to permit the ferrying of "workers to and fro from their labour camp", thereby raising the chances of the spread of infection, is yet another manifestation of the government's lack of empathy for public welfare. This myopia, of course, can only be the sign of the hubris of an elected regime that seems unable — unwilling? — to care for greater public good. History has borne witness to such folly. Totalitarian regimes around the world have reposed their faith in this kind of towering symbolism in order to deify themselves and conceal their administrative ineptitude. India is now dotted with symbols of the government's monumental lapses, the Central Vista Project and the Statue of Unity being two examples. The real concern lies with the moral turpitude of this government. No amount of public suffering or criticism — India's courts have held the governments at the Centre and some states accountable — seems to make a difference to the powers that be.