Priceless family jewel
An FIR cannot suppress the absurdity of huge monuments when the country's economy is losing strength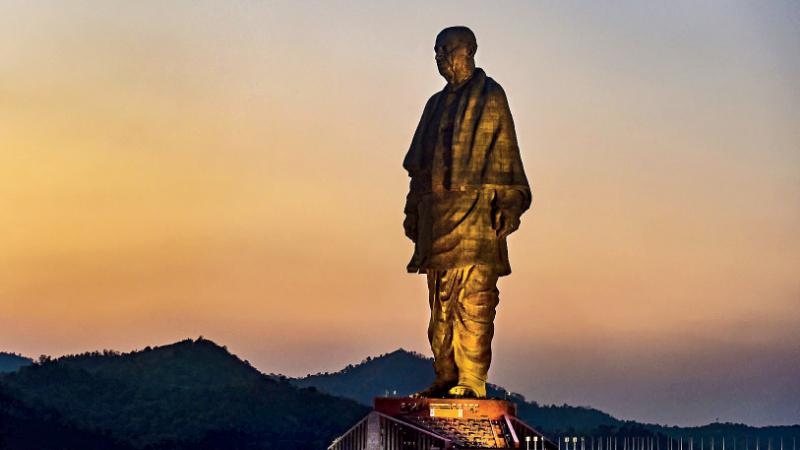 ---
---
The gentle art of laughter is a mark of a civilized society. Laughter itself is not gentle; it can be quite savage on occasion. But the art is of the gentler kind, born of balance and sensitiveness to proportion. Not at all the offspring of the kind of society imagined in a poem by Sukumar Ray, in which no one could write poetry or look hither and thither, or even sneeze or complain of toothache without the king's soldiers rushing forth to inflict unique and painful punishments. Something rather similar happened when a first information report was lodged against an unknown person in Gujarat, who had put an online advertisement on OLX to sell the Statue of Unity in the Narmada district for Rs 30,000 crore. The anonymous seller had an excellent reason for putting the 182-metre tall statue of Vallabhbhai Patel on sale. The money would be used by the government to ramp up the medical infrastructure in the fight against Covid-19.
Who greets this with an FIR? It is just funny; the imagination is tickled by the incongruity in the idea of a huge statue put on a sales platform. Not even a moron would think this is serious. But the comic contains within it irreverence and criticism. That is precisely why the present Indian State or, in this case, the state of Gujarat, needs to suppress it with the weight of the law. Unquestioning compliance, unceasing paeans of praise and genuflections of gratitude are the only permitted expressions nowadays, not a tongue-in-cheek click of the mouse that shows up the absurdity of huge monuments when the country's economy is losing strength, when the determination to build up an icon as an imagined alternative to the more usual ones results in a competition for the dubious honour of possessing the tallest statue, when it causes grave ecological damage by its positioning — among other excesses. The heaviness of the baton that squashed the little bit of fun shows that humourlessness is an inextricable part of self-important regimes — a case of cheating and forgery was registered under the Indian Penal Code, the Epidemic Diseases Act and the Information Technology Act. The person has no authority to sell government property, and is defaming the government and misleading the people, besides hurting the sentiments — religious are they, given this is a statue? — of the thousands who respect Patel.
Since the person is anonymous, the FIR is exemplary. Would there have been a similar reaction had the Taj Mahal, or all those "minarets" that leaders such as Yogi Adityanath consider not part of Indian culture, been put on OLX? Humour is culture-specific: no doubt certain leaders would have found that funny. So would they find the Opposition's suggestion that the making of Central Vista be put on hold so that the money can be used in this unprecedented crisis a good joke?