Fallen warriors: India's healthcare workers
The Centre's plaintive cries about the absence of data on the deaths of frontline health workers have several implications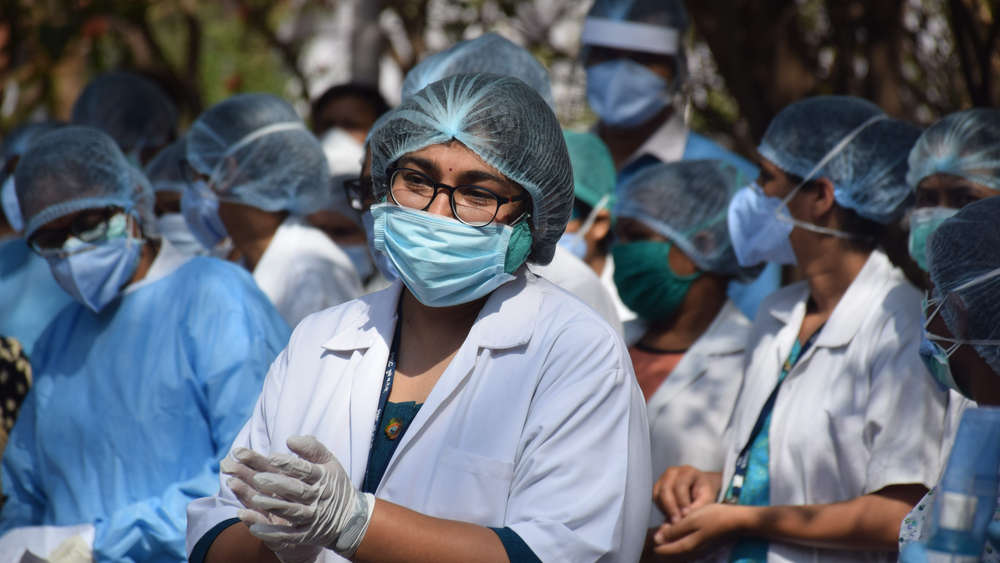 Medical staff bid farewell to patients who were discharged after undergoing Covid treatment from National Institute of Construction Management and Research in Pune, May 2020.
Shutterstock
---
Published 24.09.20, 02:33 AM
|
---
For how long can an illusion affecting the lives of millions be kept up before it collapses? The Indian Medical Association seems to have found an answer to the question when it called out the Centre's "hypocrisy" for extolling Covid-19 frontline healthcare workers as "warriors" while, at the same time, not bothering to keep track of those among them who have lost their lives to the virus. That it fell to the IMA to point out that 382 doctors have died from Covid-19 is telling, as is the fact that the Union health ministry insisted, at the time of a national-level health crisis, that health is a state subject. That the Centre has suddenly remembered to invoke the principle of federalism suggests that it will pounce on every opportunity to pass the buck to conceal its own dereliction of duty. This is not surprising. The Bharatiya Janata Party-led Central government's willingness to maintain data depends on the nature of the information. So the Centre has expressed its inability to collate data on, say, the deaths of migrant workers during the lockdown or on farmer suicides. Yet, in Uttar Pradesh, where the BJP is in power, data collection — surveillance? — has been facilitated by tracking the call records of Covid-19 patients, ostensibly for effective contact tracing.
The Centre's plaintive cries about the absence of data on the deaths of frontline health workers have several implications. The most troubling is its use of lofty rhetoric in place of meaningful interventions. The prime minister goaded the nation to honour Covid warriors by raising a frightful din with pots and pans; more recently, and on a serious note, a bill has been passed by Parliament to protect frontline workers and doctors from physical assault. But several other crippling dimensions of the crisis remain unaddressed. For instance, how serious is the shortage of protective equipment? Doctors in Bihar — the BJP is eyeing the state in the forthcoming polls — are on record saying that one of the chief reasons for deaths in the fraternity is the supply of substandard protective equipment. There have been other irregularities as well. Several hundred fake ventilators were allegedly installed in hospitals across Gujarat — the prime minister's home state — without any regulatory assessment of the faulty equipment, seriously undermining concerns of public health. Meanwhile, personnel in the lower rungs of India's Covid Warrior Force continue to labour with minimal resources. Theatrics can do little to mask the stench of death in the trenches.