Facing headwinds in the East
India's efforts to woo its eastern neighbours from Japan to the Pacific islands have met with mixed success, there are still numerous hurdles ahead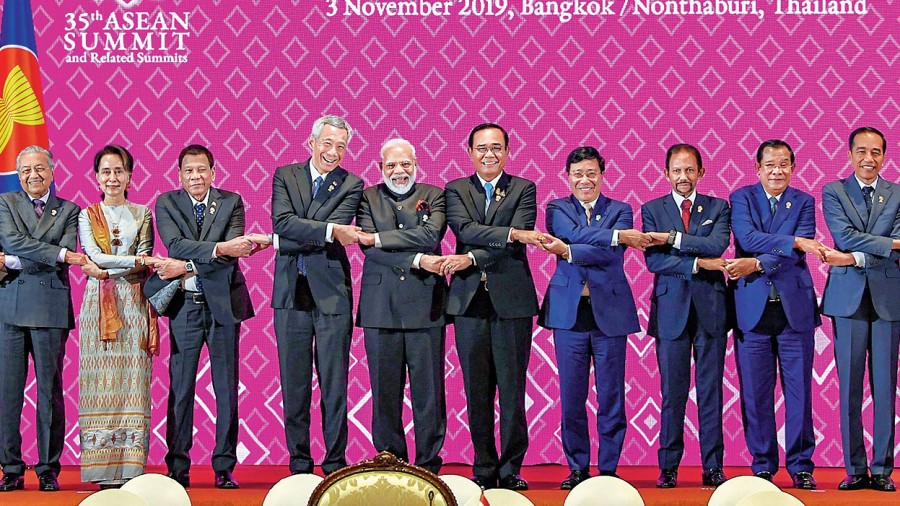 ---
---
It was back in the early 1990s that India introduced its "Look East Policy" which was transformed in 2015 into an "Act East Policy" that was meant to serve the twin purposes of stronger commercial links with the region and to create development opportunities for the Indian North East. But now it may be necessary to finetune that Act East Policy to ensure that it brings about the desired results.
India has made steady progress in its ties with the ASEAN and its related frameworks as also with countries further East, including Japan, South Korea, Australia and the Pacific islands. This has even been extended to the Russian Far East for which the slogan "Act Far East" was coined.
Progress, however, has faced headwinds over the last few years, and Covid-19 has brought about a need for reprioritisation and reorientation. From the Western Pacific, Australia and Japan to the South China Sea, and the Line of Actual Control on the Indo-Chinese border, the Indo-Pacific is facing the brunt of China's aggressive policies, unjustified territorial claims and policies aimed at cornering resources.
China has continued with occupation and artificial creation of islands, and their militarisation in disputed waters of the South China Sea; and incidents of denial of fishing, passage and drilling in territorial waters claimed by countries like Vietnam, Indonesia, Malaysia, and Philippines have intensified.
Territorial claims advanced by China on specious grounds have been emboldened thanks to Covid-19. China has used intensive outreach to neutralise growing unease by assisting selected Asean countries in the ongoing Covid 19 pandemic.
It has also advanced subsidised 5G telecommunications networks and established a dependency wherever possible. In infrastructure, China has a formidable presence in many countries of the region through its BRI (Belt and Road Initiative) policies. Countries in the region have responded with a mixture of protests, trepidation, appeasement, balancing, and helplessness.
China has ensured a lack of consensus within Asean on Chinese actions. Given the lack of adequate resources and funding available in the world today, most countries in the Asean and the Pacific Islands still view China as an economic opportunity. As US influence and interest in the region wanes, Chinese power will rise.
The Asean India FTA in goods has been in force for some years, but due to its growing trade deficit with Asean, India has sought a full review before the end of the year to ensure the strengthening of the Rules of Origin provisions, removal of non–tariff barriers and provision of better market access. Although Asean finally completed ratification of the services and investment FTA with India in 2019, no country has issued notifications and no sectoral mutual recognition agreements have been initiated between India and Asean.
The promise of a boom in bilateral trade and investments between India and Asean is fading, especially since India pulled out of the RCEP negotiations in 2019, mainly due to Chinese intransigence on strengthening the Rules of Origin provisions, and a time-bound dispute settlement mechanism to stop it dumping in the Indian market.
The trilateral highway which will connect India, Myanmar and Thailand, is also languishing. A $1-billion credit line announced by Prime Minister Narendra Modi in 2015 to enhance digital and infrastructure connectivity with Asean is lying unused.
Clear guidelines for deploying these funds and utilising the fund for feasibility studies on selected projects need to be developed and discussed with Asean countries in a time-bound manner. Some $77 million was committed towards developing manufacturing hubs in the CMLV countries (Cambodia, Myanmar, Laos and Vietnam) but progress has been dilatory.
Costs for completing the Kaladan multi-modal transport project, linking Calcutta to Sittwe port in Myanmar, extending into Mizoram by the river and land routes are escalating due to delays. It is for this reason that Foreign Secretary Harsh Shringla sought to move towards functionality for this project during his visit to Myanmar on October 5
India's desire for developing port infrastructure in Sabang (in Indonesia's Aceh province) is significant but requires financing. Sea links are vital between the eastern seaboard of India including the ports of Ennore and Chennai to CMLV countries and there is need for improving trans-shipment links with partners like Malaysia, Singapore, Indonesia and Thailand.
For these proposals to succeed, India and Asean have to create shipping joint ventures, and agree on related concessions through an agreement on maritime transport. An Asean India air-services agreement which would benefit trade, investments and tourism is on the back-burner due to the pandemic. India still needs, though, to ensure that the North East states are ready with export capability and the wherewithal to attract investments when the connectivity projects with Asean fructify.
The silver lining is that India has been active in setting up coastal surveillance networks and has been steadily enhancing the capacity for shared Maritime Domain Awareness and has strengthened defence arrangements at a bilateral level with countries like Singapore, Vietnam, Indonesia, Malaysia, Philippines, Myanmar and Thailand.
India has also stepped up maritime exercises with Asean countries and the Indian navy conducts the Milan exercise with the navies of the Indian ocean region around the Andaman and Nicobar Islands.
In September 2020, India and Asean reviewed progress in implementation of the Asean India Plan of Action 2016-20 and adopted a new plan of action for the next five years. The review focused on maritime cooperation, connectivity, education and capacity building, cooperation in fighting the pandemic and people-to-people contacts.
At their joint committee meeting in June 2020. Asean and India looked at ways to improve the utilisation of the Asean India Fund and Asean India Green Fund, to finance joint projects. Health emergency and medicine, environment, education and skills development, energy, smart cities, and digital connectivity projects focusing on financial structure and e-governance as well as cyber security have emerged as the new priority focus areas.
India must fix its credibility erosion with Asean by focusing on its strengths in generic medicine, pharmaceuticals and vaccine development, as well as strengthening the digital infrastructure between India and Asean through concrete, quick impact and timebound projects. New Delhi's focus needs to narrow down, instead of being spread across an unmanageable "desired" list.
An indication of the likely shifts in the post-Covid global economic order in the region is visible from the Resilient Supply Chain Initiative (RSCI) proposal mooted jointly by Australia, India and Japan. However, this initiative would require putting into place financial incentives for these shifts. It would also require the participants to agree on preferential investment rules, key tariffs specific to these supply chains, quality standards, rules of origin for determining value addition, cross-border data-flow rules, and dispute-settlement mechanisms.
India must quickly restart FTA negotiations with Australia, release the CII Australia Economic Strategy Report at the Ministerial level, and undertake a major, time-bound effort with all countries involved.
It is imperative to flesh out concrete steps under the seven pillars of the Indo Pacific Oceans Initiative, announced by Prime Minister Narendra Modi last November at the Thailand Summit with Asean. The idea is that one or two countries could take the lead in driving work on a particular pillar, thus creating a cooperative network.
India should also work with Quad countries on infrastructure projects as an alternative to the Chinese BRI by pooling resources. This could include Japanese FDI in Asean, ADBs Leading Asia's private Sector Infrastructure Fund (LEAP) created with JICA; the US $60-billion funding - through the (BUILD) Act and the $1.5-billion appropriation per year up to five years via the US (ARIA) Act; and an Infrastructure Initiative by Australia worth AUS $2 billion aimed at the Pacific.
India provides $200,000 each year on a rollover basis to each of the 14 island states which are members of FIPIC (Forum for India-Pacific Islands Cooperation) for developmental projects. This is in addition to the Asean India fund, the Asean India Green fund as well as the $1 billion credit facility announced for digital and infrastructure connectivity in 2015.
All these resources can be pooled for a few model projects that can serve as capability demonstrators. India should also join the Blue Dot Initiative (the US-led counter to China's BRI) which aims at quality Infrastructure, provided it is not confined to certification and actually works out a concrete corpus for funding projects.
India's Act East policy now requires a strong strategic focus. India will have to be nimble and quick in completing its connectivity projects with Asean. New Delhi will also have to focus on creating lasting defence and economic interdependencies with countries of the region, thus ensuring a stable and peaceful external environment for its own economic development.
The writer is a former Secretary (East) in the Ministry of External Affairs, and has served as Ambassador to Italy, Thailand, Oman and Poland.