Critical situation: Reporting on India's Covid resurgence from the UK
Eye on England: 'Britain's biggest miscarriage of justice'; David Loshak passes away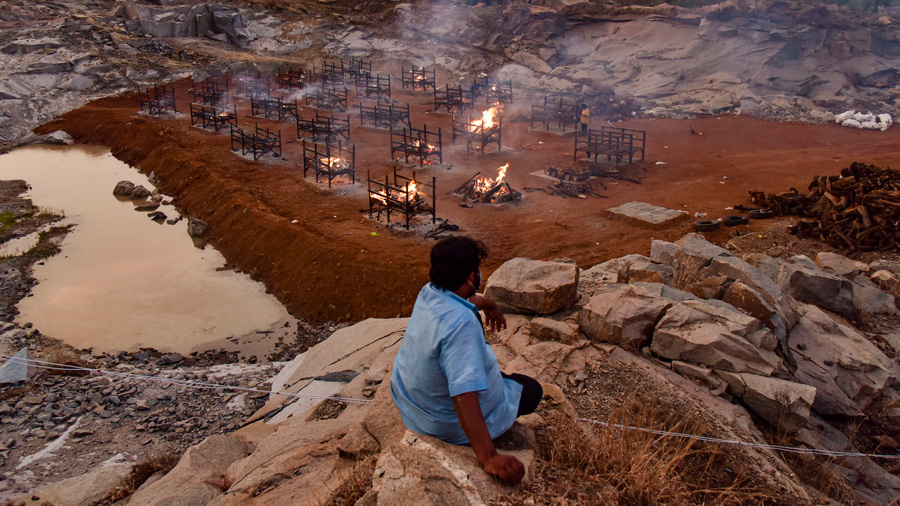 A man looks on during mass cremation of COVID-19 victims at a crematorium, on the outskirts of Bengaluru, Friday, April 30, 2021.
PTI
---
Published 01.05.21, 03:05 AM
|
---
How is India's Covid nightmare — the images from the cremation grounds will haunt us for a long time — being reported in the UK? Journalists have relied on Indian consultants in the NHS and now their counterparts in India to tell us what's been going on. Dr Zarir Udwadia from Mumbai told Mishal Husain on BBC Radio 4: "The situation is beyond crisis point... This virus has a country of 1.4 billion firmly in a stranglehold. And it's really exposed our threadbare healthcare system and our failure of leadership, hasn't it?... ward after ward full of patients struggling to breathe. I see younger patients afflicted... We're in the mess we are just now because of complacency from the government."
From Calcutta, critical care specialist, Dr Saswati Sinha, was equally eloquent: "It's an unprecedented scenario in... hospitals across the... country... Our critical care beds are completely occupied. We are completely feeling a sense of despair. And seeing the healthcare system totally crippled gives us a sense of desperation, a feeling of helplessness, not being able to help people who are reaching out to us." And from Delhi, Dr Sumit Ray, medical superintendent, Holy Family Hospital, said bluntly: "We are running out of oxygen, the whole country is running out of oxygen... If oxygen runs out there is no leeway for many patients — they will die."
The Financial Times focused on another strand: "India reported more than 354,000 new infections on Monday alone, along with 2,800 deaths. Experts believe the true toll is being vastly undercounted..." "In the Jamnagar district in Gujarat, 100 people died of Covid-19 but only one Covid death was reported."
Justice at last
Seema Misra, who worked as a subpostmaster in West Byfleet, Surrey, is a victim of what is being called 'Britain's biggest miscarriage of justice' in recent decades. In 2010, when she was eight weeks pregnant, she was jailed for 15 months for stealing £74,609 from the Post Office's takings. Seema, who collapsed in court, said: "I would definitely have killed myself if I hadn't been pregnant." Her taxi driver husband, Davinder, revealed: "I was beaten up and called a 'f***ing P*ki', coming to this country and stealing old people's money."
The Post Office CEO at the time, Paula Vennells, and her senior team, deliberately suppressed evidence to further their "malicious prosecution".  Now, it turns out Seema's protestations of innocence were true. The shortfall was caused by a glitch in Horizon, a Japanese computer system by Fujitsu, which the Post Office had introduced. Last week, the Court of Appeal quashed the convictions of 39 former subpostmasters, including Seema. She thinks racism was partly to blame for her conviction at the hands of an all-white jury. "The court documents read, 'The Queen vs Seema Misra.' It played with people's emotions. Why would people believe the Asian lady over the Queen?" she pointed out.
Home is where the virus is not 
Indians in the UK, especially the first generation, think fondly of India as the "mother country". The early arrivals even spoke of "returning" after a few years in England. For me, one comment stood out from an Indian who had managed to get back to Heathrow before the 4 am deadline on April 23 when India was put on the UK's Covid "red list".
After landing at Heathrow, he expressed his joy: "I feel like kissing the ground." The remark made me wonder. Are these Indians — especially the ones who could afford private jets — akin to rats fleeing a sinking ship or just ordinary folk mightily relieved to be coming "home"?
Farewell, friend
A few old timers may remember David Loshak, who was The Daily Telegraph's correspondent in India from 1969-72 and anticipated the secession of East Pakistan in his book, Pakistan Crisis. By the time I joined the paper, David, a man of great charm, had switched to medical journalism. David died on April 5, aged 87. Tagore's "Farewell My Friends", recorded by one of his grandchildren, was played at the service. Although born Jewish and a professed "lifelong non-believer", David arranged for his funeral to be held in St Peter and St Paul's Church in Yattendon, Berkshire. This is where he chose to be buried so he could "lie in the same space where my beloved (wife) Maggi will be".
In a piece, "My funeral", written in 2013, David explained why he did not wish to be cremated: "My parents were cremated. My first wife, Mollie, was cremated. Ashes were scattered, their locations neglected, unvisited or even forgotten. I have learnt, from coming here in past years to be with Maggi at her parents' graves and at her brother Roy's grave, that there is something which can be moving, even spiritual, in graveside contemplation. And then, there is this church, this beautiful little church. It too provides a balm that, I feel, no crematorium, no secular hall or room, however decked out with flowers, can match."
Footnote
An inquiry conducted by the Commonwealth War Graves Commission shocked many last week by revealing that the 30,000 Indian soldiers who gave their lives for Britain in World War I were buried in unmarked mass graves in Mesopotamia — and their names were not recorded on stone memorials as invariably happened with their white compatriots. There was apparently "not enough fuel" to cremate Hindus and Sikhs. Once they were buried, they were conveniently relegated to the ranks of "missing".