Rich pickings: Wisden 2021
Eye on England: Priyanka Chopra on The Sunday Times Style cover; BBC TV's 'Death in Bollywood'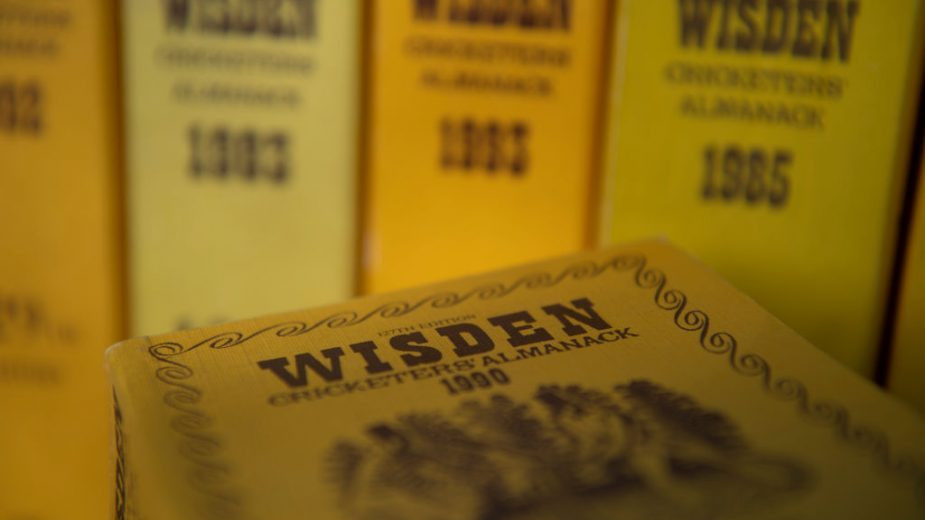 The cricketers' bible, rich in statistics and match reports, is now brought out by Bloomsbury — Wisden 2020 cost £55.
Getty Images
---
Published 23.01.21, 01:59 AM
|
---
Wisden 2021 will be a collector's item. For a cool assessment of the just concluded India-Australia series, I turned to Lawrence Booth, editor of Wisden Cricketers' Almanack. "The 2021 edition comes out in early April," he tells me. "I am still editing it." He will be grateful that the "thrilling" India-Australia series has provided him with so much drama in a year notoriously short of first-class cricket. The cricketers' bible, rich in statistics and match reports, is now brought out by Bloomsbury — Wisden 2020 cost £55. Still, I suspect the 2021 edition will become a collector's item for Indians to be bequeathed as a family heirloom to be savoured by generations. I still have an evocative photograph that I took of the late Dicky Rutnagur, doyen of cricket writers, with shelves packed with past copies of Wisden.
"I thought India's win was one of the most remarkable in Test history," Booth sums up. "They were completely written off after being bowled out for 36 in Adelaide, especially with Virat Kohli going home on paternity leave. And they then suffered a miserable run of luck with injuries, not to mention the racial abuse from spectators in Sydney. To then chase 328 at Brisbane, where Australia had not lost since 1988-89, was nothing short of miraculous. Hats off to them!"
I expressed surprise that Steve Smith was not banned again for roughing up Rishabh Pant's guard on the final day of the Sydney Test but Booth is more relaxed: "I wasn't greatly bothered by what Smith did. I think it was more of a nervous tic than anything, though he'd be better off not attracting any kind of adverse attention after the sandpaper fiasco."
Role model
Priyanka Chopra, now famous for being famous, has come a long way since 2000 when the 18-year-old won the Miss World beauty pageant at the Millennium Dome in London — I know because I was there and interviewed her the following morning. Earlier this month, The Sunday Times Style magazine put her on the cover: "The Power of Priyanka. Can the former Miss World change the face of Hollywood? (Yes, she can!)"
No wonder British Indian girls see her as a role model. Incidentally, it was alleged in a separate news story that PC had broken Covid-19 rules in London by going to a hair salon but she convinced the police that getting her hair done was essential "work" before filming.

What not to wear
Dicky Rutnagur once told me that for the first day of the Lord's Test, he would pay due reverence to the status of the game and the hallowed turf at the "home of cricket" by putting on his best suit and tie. I mention this because the BBC's cricket correspondent, Jonathan Agnew provided "live commentary" of the England-Sri Lanka series from the attic of his home in Belvoir, Leicestershire. That he was doing so for Test Match Special on Radio 4 in his dressing gown itself became a talking point. "Lord Reith," said an outraged listener, referring to the BBC's very first director-general, "will be turning in his grave."
At 4.15 am on a bitterly cold and dark morning in England, Agnew did not pretend he was in warmer climes: "We are scattered here and there bringing you commentary of this series from Galle but not in Galle because all media have been banned from travelling there... and naturally I am here in the Belvoir. We do, of course, have pictures from Galle — we can bring you all the news of what's going on there." Here is Lawrence Booth on sartorial trends: "I hope broadcasting from bedrooms is not the future, and I suspect it won't be, if and when the world returns to some kind of normality."

Risky waters
The United Kingdom is lucrative territory for Bollywood, where the Hindi film industry is promoted as glamorous and seductive. Unsurprisingly, many young British Indian girls dream of making it big in Bollywood. Assisted by her mother Rabiya Khan, London girl, Nafisa Rizvi Khan, taking the name Jiah Khan, got her first break in her late teens, and soon after starred opposite Amitabh Bachchan in Nishabd. 
A harrowing three-part drama on BBC TV, Death in Bollywood, ponders whether her death in 2013 was suicide or murder. Rabiya blamed Jiah's boyfriend, Sooraj Pancholi: "My daughter has been killed — my first suspect has been Sooraj Pancholi." Sooraj insisted he was innocent, revealing that Jiah had told him she had been raped in London when she was a teenager. Paul Cheston, Evening Standard's court reporter, confirmed that the case came to the Old Bailey, where her alleged assailant, "the son of a very, very wealthy business mogul", was acquitted after the defence produced letters written by Nafisa, indicating "there was a relationship" between the couple.The programme showed what appeared to be a newspaper report: "Soon afterwards, she slashed her wrists. She attempted suicide again by taking pills, and had to be taken to hospital to be resuscitated."
What the documentary did establish is that British Indian parents should discourage children, especially girls as vulnerable as Jiah who are not backed by dynasty heavyweights, from taking risks in Bollywood.

Footnote
Even Churchill College, Cambridge, which is named after Britain's great wartime prime minister, has launched a "year-long programme... to engage with the facts surrounding Sir Winston Churchill's words, views and actions relating to empire and race". Many British people fear his reputation is being shredded by his academic enemies. On February 11, there is an invitation to "[j]oin Professor Priya Gopal in discussion with Professor Kehinde Andrews, Dr Madhusree Mukerjee and Dr Onyeka Nubia".