Lessons in the storm: Tress lost in Britain, 1987
Eye on England: Geoffrey Boycott stepping down as BBC Radio commentator; Isa Guha, the first India-origin cricketer to join England women's team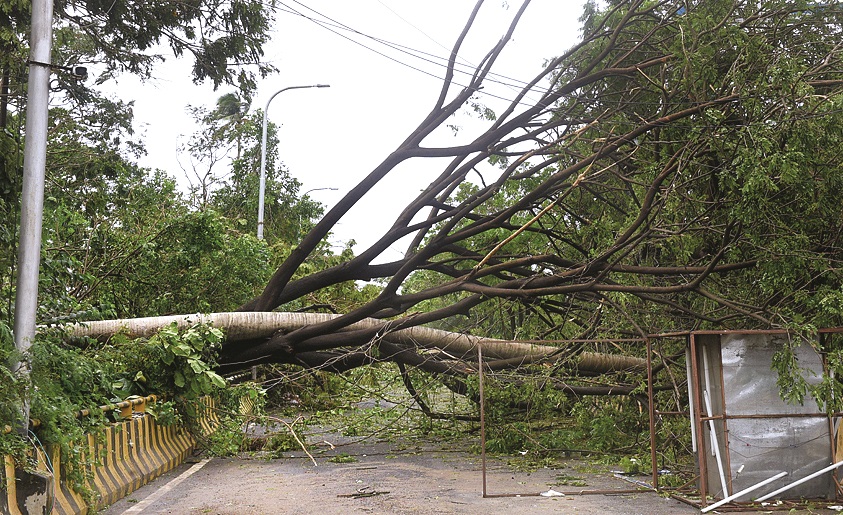 Trees uprooted by Cyclone Amphan block a road in Bengal.
PTI
---
Published 12.06.20, 05:03 PM
|
---
From family members I hear of neighbourhood trees that fell during Cyclone Amphan. Quite apart from the human toll, it was also very sad to read about the countless birds that lost their homes or even lives after some 6,000 trees were blown over in Calcutta alone. But there is life after a storm, as we discovered in 1987, when a 'weather bomb' with wind speeds of 135 miles per hour hit Britain. We realized something had happened on the morning of October 16 when we found our garden fence gone. Across the United Kingdom, a staggering 15 million trees were uprooted in "the great storm of 1987".

London, like Calcutta, was especially hard hit, with crushed cars and collapsed buildings. But some useful lessons emerged. Forest managers agree that "the 1987 storm did a good job of thinning out many distinguished old trees that were nearing the ends of their lives, but which owners were reluctant to cut down for sentimental reasons". Some believe that the life expectancy of oaks increased by the "natural pollarding" effect of having had their tops blown out. The storm's beneficial effects were felt at Bedgebury Pinetum in Kent, where the curator, Chris Reynolds, maintained that the loss of some 30 per cent of the collection allowed him to plan afresh for the 21st century. The storm also taught practical lessons about the importance of having a mixture of different trees of varying ages. Shelter belts now incorporate gaps to filter the wind, rather than simply creating a barrier over which wind races.
Edward Barham summed up the experience for private garden owners: "We did lose some beautiful trees, which is always sad, but trees, like humans, have a finite life. When a tree goes down it provides an opportunity for the future."One mistake people made was to leap into action with the chainsaw and cut up felled trees. It caused a glut in the timber market, which meant that a lot of good wood was simply burnt. "If only we'd waited a year, the timber would still have been good," reflected Barham.
Different picture
Why is Geoffrey Boycott stepping down as a commentator on BBC Radio's Test Match Special after 14 years? In an official announcement, he said that at 79, having survived throat cancer and undergone a quadruple heart bypass, he had to be "realistic" and not take any further health risks. "Covid-19 has made the decision for both of us," he admitted.
But then the Daily Telegraph ran an article by Boycott, tagged on page one as "the real reason I left Test Match Special after 14 years", which painted a very different picture: "My mind is as sharp as ever. Nothing has changed except the political climate and my age." The headline, "You need to have felt the heat of Test cricket to be an expert analyst", more than hinted that he had been pushed out. He also said that "while this may be the end of an era with TMS, this does not mean I am retiring from commentating on the game I have loved for over 70 years."
The Yorkshireman's bluntness is not to everyone's taste. Here is an example why: "You have to know the pressure, emotions and technique required and I do not believe you can learn that from reading a book or because you played club cricket, second XI cricket or, with great respect, women's cricket. As good as the women are at their game, it bears no resemblance to the power and pace of men's cricket.
"There is room for women commentating, fronting as presenters and reporting... But as an expert summariser in men's cricket you need to have been out in the middle."
Bright star
In 2002, someone at Lord's gave me a tip. The story in the Daily Telegraph, "England pick a girl who bowls it like Botham", was the first on Isa Guha: "A 17-year-old schoolgirl will this week become the first cricketer of Indian origin to join the England women's team." Instead of pursuing her PhD in biochemistry, Isa, now 35, is "'the new face of cricket' on the BBC after a succession of middle-aged, white male presenters" (The Times). The Guardian reported last week on Boycott's departure and added: "The evening Test highlights show on terrestrial television returns to BBC Two this year as part of English cricket's new broadcast deal until 2024, with Isa Guha named as lead presenter and Alastair Cook among the pundits."
Night prowler
Nirmal Sethia, who owns Newby Tea, says that although his plant in Calcutta has been damaged by Amphan, he hasn't let go of any of his 5,000 employees. He has also donated millions to charity in memory of his late wife, Chitra. But Nirmal Babu, described as a "billionaire" by the Mail, has been in the news for another reason. A leopard, cheetah or a large wild cat — species Savannah or a more ferocious Serval — has been spotted in the garden of his home in north London. The 25 police officers, who descended on his property found nothing; the creature, which has been photographed, is still causing fear in the neighbourhood.
Footnote
I am grateful to the 24-year-old artist, Maya Chakrabarti-Sako, for allowing me to use the portrait she made of her father, Sir Suma Chakrabarti, who steps down on July 2 after eight years as president of the European Bank for Reconstruction and Development. Suma tells me his immediate plan is to come to Calcutta and collect his parents: Hirendranath, who was once "curator of the Victoria Memorial in Calcutta and a history professor at Presidency College", and Gayatri, who was a teacher.