Historic event: Britain's National Theatre to reopen
Eye on England: Tanika Gupta's new play 'The Overseas Student'; 'Epic Iran' at the Victoria & Albert Museum; Hafsa Zayyan's 'We Are All Birds of Uganda'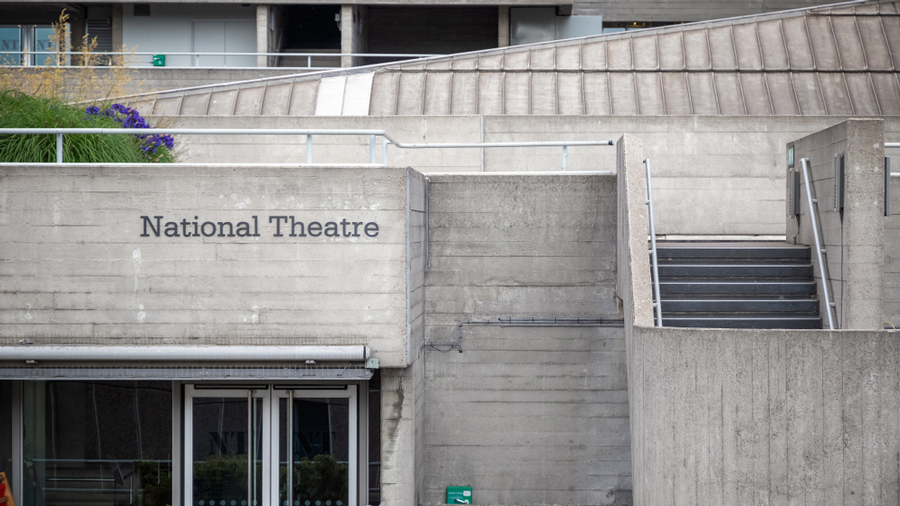 ---
---
Britain's National Theatre has been shut since March 2020 but last week its artistic director, Rufus Norris, announced his programme for the next few months, including The Father and the Assassin, a play about Nathuram Godse which will open in the Olivier Theatre in early 2022.
Norris said: "This extraordinary new work has been written by Anupama Chandrasekhar. The play tells how a man called Nathuram Godse was radicalised through the fight for Indian independence from being a devout follower of Gandhi to his eventual assassin in 1948."
When I asked for more details, Norris replied that the Chennai-based "Anupama Chandrasekhar is a wonderful writer known to many London audiences. So we invited her to be writer in residence here back in 2016. And this was the idea she wanted to develop.
"It's fascinating because it's a little known history. There is actually not that much known about Godse (in the UK), but what there is she has drawn from. There's a real prescience in the play. It examines the rise of the disenfranchised, right wing in ways that we can see parallels to in the world if we look around it at the moment. So like many history plays, its value is going to be what it reflects back to us about this time."
Incidentally, Gandhi's secretary, Venkataram Kalyanam, who died on May 4, aged 98 — he was present when Gandhi was assassinated — merited substantial obituaries in The Times and The Daily Telegraph.
Growing up
Tanika Gupta is full of laughter as she tells me of her new play, The Overseas Student, which covers Gandhi's life in London from 1888, when he arrived there as an 18-year-old, to 1891, when he sailed back home, having been called to the Bar at the Inner Temple. The 45-minute, one-man play, with the talented actor, Esh Alladi, cast as a young Mohandas, opens at the Lyric Hammersmith in west London in June.
The play begins with Gandhi setting out from Bombay in a white dinner jacket. He has promised his mother, "I will not touch meat, women, or alcohol," and vowed to "learn to speak English as the Queen does, to learn French, to ballroom dance and to be able to play the fiddle. I think the violin is such a beautiful instrument."
Tanika reckons he struggled with all his vows. "It's much more a coming of age story. I was much more interested in his journey as a teenager. He meets Annie Besant and Madam Blavatsky. He was very active in the Theosophical Society and became president of the Vegetarian Society. He would have gone to hear Dadabhai Naoroji. He read a translation of the Gita by [Edwin] Arnold. England made him an Indian because when he turns up, he just wants to be English." Tanika, whose parents established The Tagoreans in London and who herself read modern history at Oxford, says: "Most of this stuff comes from my family, from their typical Bengali way of looking at everything slightly upside down or turning it around or asking questions. It's a living history as opposed to learning about it in university."
Strong bonds
One of my first outings post lockdown was to the Victoria & Albert Museum to see its fabulous Epic Iran exhibition covering 5,000 years of Iranian history. From associate curator, Ina Sarikhani Sandmann, whose family has loaned some of the 300 artworks on display, I hear about how the ancestors of Ratan Tata and Adar Poonawalla found refuge in India. A poster, "Zoroastrian Religion", explains: "To avoid persecution after the Islamic conquest of Iran, many Iranian Zoroastrians fled to India, where their descendants are known as Parsis. Today in Iran, Zoroastrianism is still practised, with the fire temple located in Yazd."
As a country Iran gets a very bad press in the West. But I am encouraged "to look beyond the headlines", as Ina puts it. Maintaining that "there is an enormous amount in common between the two cultures", Iranian and Indian, she points out: "When the Zoroastrians left and went to live in India, they took their food with them."
Paradise lost
One of the best novels I have read in a long time is Hafsa Zayyan's We Are All Birds of Uganda, which tells the migration story of one of the families, the Saeeds, from the 30,000 Indians who arrived in Britain in 1972 as refugees after the entire Asian population of Uganda was expelled by its erratic president, Idi Amin. "I'm kind of related to the story via my marriage," Hafsa says of her debut novel. Hafsa and her husband, Riaz, were both born in the United Kingdom. She is the daughter of a Nigerian father and a Pakistani mother who met at school in Nigeria. Riaz's Indian family was among those expelled from Uganda.
The protagonists are Kampala-born, Hasan Saeed, who writes cathartic letters to his late first wife, Amira, and his UK-born grandson, Sameer Saeed, who returns to Uganda to marry Maryam, the great granddaughter of Abdullah, an African servant boy. Hasan feels betrayed: "We are not natives and we are not Europeans. India has disowned us; Nehru calls us 'guests' of Africa. We are not guests. We are Africans of Asian origin."
Footnote
Malala Yousafzai, inspirational champion for girls' education, has been glammed up "in a red Stella McCartney headscarf and matching red lips" for the cover of the British Vogue, barely recognizable as the 15-year-old girl who was airlifted to the Queen Elizabeth Hospital in Birmingham after being shot in the head by the Taliban. She is now 23, an Oxford graduate and Nobel Prize winner and about to start making programmes for America's Apple TV.