Narendra Modi: wrong image
Eye on England: Alan Rusbridger's 'News: And How to Use It'; Narindar Saroop obituary; Rini Kakatipasses away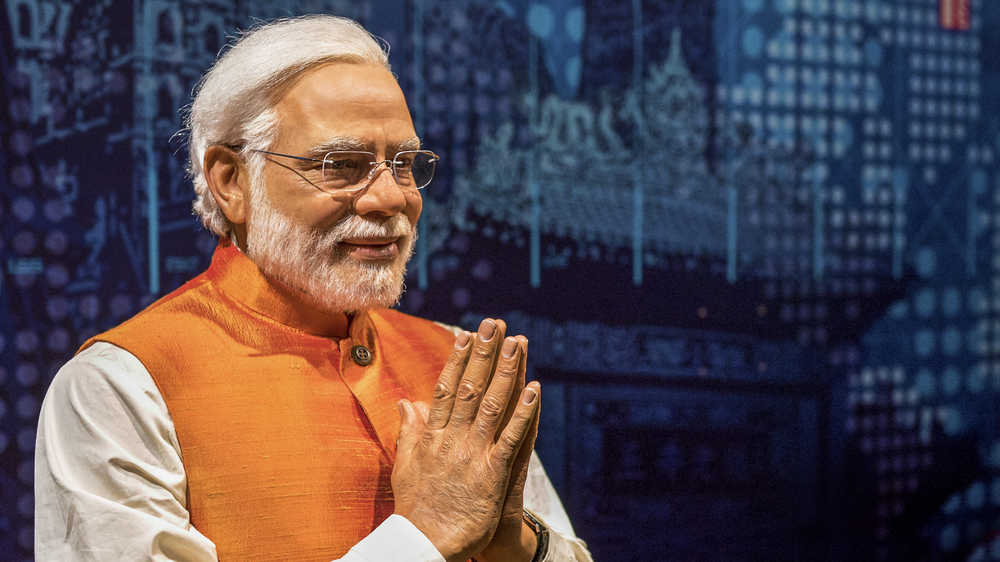 Narendra Modi wax figure in Madame Tussaud Museum, London.
Shutterstock
---
Published 09.01.21, 01:56 AM
|
---
Narendra Modi's supporters should be aware that the Indian prime minister's reputation is being eroded by seemingly casual references in the Western media. Take, for example, Pick of the Week, on BBC Radio 4, in which various presenters choose their personal highlights from the previous seven days. On Sunday, I caught Brian Eno, described as a "musician, thinker, artist and all round good egghead", suggesting that there was much that could be learnt from 2020: "For a start we have discovered that women tend to run countries better than men do. All of the countries that did really well in this pandemic were run by women. And all of the ones that did really badly were run by very macho men — England, USA, Brazil, Philippines, India — all of those are models of kind of male style government. They really made a mess of dealing with the pandemic. So it would be good if we learnt that lesson that we don't need macho men any longer to run things — we need people who can cooperate and who are humble in the face of the evidence, who don't think they can beat it just by being 'He Men'."
All in one
Alan Rusbridger, who was editor-in-chief of The Guardian from 1995-2015, has written an A to Z of journalism which will amuse, entertain and instruct online readers of the newspaper — especially journalists in India. In News: And How to Use It, Rusbridger, now principal of Lady Margaret Hall, Oxford, offers his reflections, picking A for accuracy, B for bias, bribery and also Brexit on which he suggests the debate was skewed: "[P]ublic opinion had been shaped over decades of being starved of any positive reasons to belong in Europe." He is spot on. When you listen to talk radio, you hear members of the public reproducing parrot fashion — "we want to get our sovereignty back" — what they have read in tabloids.
The book has C for celebrity, cliché and clickbait; E for experts; F for fact-checkers, fake news and Robert Fisk (some of his contemporaries claim he often made up his stuff); M for mistakes and Rupert Murdoch; P for power without responsibility; and so on through to Z for generation Z or zoomers.
On R for royal reporting — and there is fascination with Britain's royal family across the world — Rusbridger points out: "Out of any beat, royal reporting is a world almost devoid of open or named sources... we have to take it on trust that here are legions of 'aides', 'palace insiders', 'friends' and 'senior courtiers' constantly WhatsApping their favourite reporters with the latest gossip."
Although journalism has become an issue of trust, newspapers still remain a powerful medium for shaping public opinion. Rusbridger suggests "journalists need to look into the mirror a bit more and try to see themselves as others see them. The best of journalism will thrive. Maybe we needed a pandemic to wake us up to its importance."
Home is where the heart is
Narindar Saroop's favoured newspaper, The Daily Telegraph, did him proud by devoting generous space to his obituary, pointing out that he had described himself as "an Englishman of Punjabi extraction". Actually, the full quote, which Narindar had jokingly given me, was: "I am an Englishman of Punjabi extraction who sits on a tiger skin rug, wearing a monocle, eating chicken tandoori and humming God Save the Queen — gentlemen always hum, they never whistle."
After leaving the Indian army in 1952 with the rank of major, Narindar moved to Calcutta to join Yule Catto. This eventually brought him to England. It was rare in those days for an Indian be a serious Conservative parliamentary candidate but he stood in a London constituency — Greenwich — in the 1979 general election. After he got 12,133 votes to Labour's winning 18,975, Margaret Thatcher, Britain's first woman prime minister, commended him for putting up "such a good fight against the odds".
She thanked him for setting up the Anglo-Asian Conservative Society, as well as the Durbar Club where cabinet ministers dined with wealthy Asian businessmen. He did the groundwork for the close links that exist today between the Conservative Party and Indian voters, who helped put Boris Johnson in power. Narindar died, aged 91, on December 19. I wish the Tories had given him what he desperately wanted — a seat in the House of Lords.

Foreign shores
Among friends lost in 2020 is Rini Kakati, who was a sort of unofficial ambassador for Assam in London. She promoted Bihu dance, the plight of rhinos in Kaziranga, and encouraged people to visit Assam and see its lush beauty. Her great triumph was to get Bhupen Hazarika to perform in London in 1999. Rini died suddenly, a septuagenarian, at Gauhati Medical College and Hospital on December 27. Warm tributes were paid to her in a Zoom gathering organized from London by Lalit Mohan Joshi, director of South Asian Cinema Foundation. The BBC's former Asia editor, Rita Payne, who is herself from Assam, recalled how the Assamese were and perhaps still are marginalized in India. "Rini put Assam on the map here in the UK."

Footnote
Imran Khan's ex-wife, Jemima Khan, stars in the new issue of Tatler, the "British society bible", for holding the "Best Parties" in country homes. The daughter of the late billionaire, Sir James Goldsmith, bought a £15m mansion, Kiddington Hall, in Oxfordshire, where she hosts "legendary" parties. "Cocktails flow as freely from the enormous bar as the guests (Jeremy Clarkson, Mick Jagger, Gillian Anderson) flow between rooms, burgers in hand," reports Tatler.