Emerging patterns
The changing media landscape across the world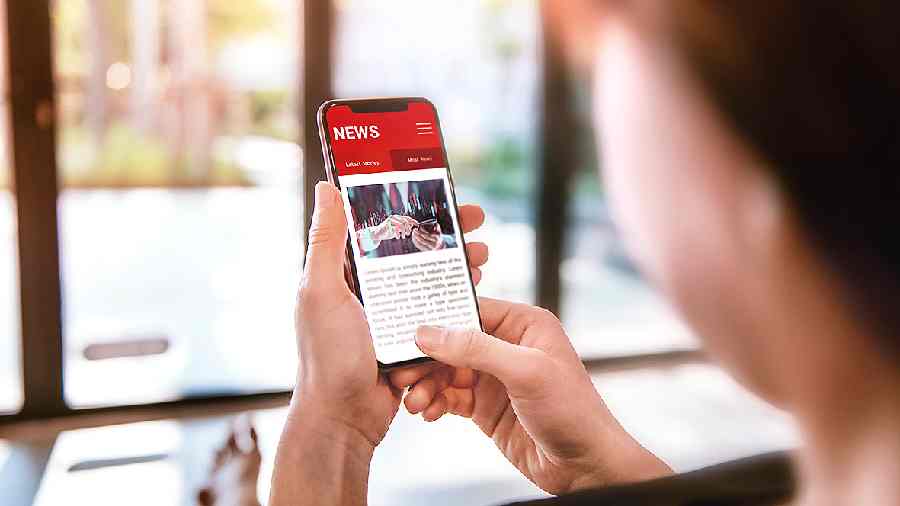 Today, journalists are facing many challenges and mainstream media itself is struggling due to the evolution of new media.
Representational picture
---
Published 30.06.22, 03:09 AM
|
---
Working in the media has not been easy for many journalists around the world in recent years. There are many reasons for this — from political polarisation to online trolling, from some media outlets normalising hate speech to authoritarian leaders expecting complete pliancy. The media landscape has, thus, changed globally. Journalists who try to do their jobs — reporting facts and analysing issues critically — face the brunt for doing their work in an ethical manner. The recent arrest of the co-founder of Alt News, Mohammed Zubair, in India for a tweet from 2018, critics of the Narendra Modi government allege, is yet another instance of authoritarianism and of the Bharatiya Janata Party's policy of silencing those who stand up to power. In India, Twitter has withheld several handles of journalists, including that of Rana Ayyub, due to objections raised by the Indian government and local laws. It is quite appalling that Indian journalists who are reporting facts, confronting fake news, and are brave enough to challenge an authoritarian government are being punished for their work. But this is not something that should be surprising given the fact that authoritarian regimes and populist leaders around the world see the media in black-and-white terms: 'with us or against us'. If you do not support a regime or its leaders, you will be called a 'sell-out', 'paid tout', 'agent', 'traitor', 'fake news' (Donald Trump's much-loved rhetoric for all media organisations he disliked) and much more.
We have seen this in Pakistan as well. On the one hand, social media has given voice to many marginalised communities but on the other, it has also weaponised hate and misinformation. Fake news is not a genuine mistake by a journalist but a lie that is spread intentionally and systematically. Mostly, our leaders repeat lies and hammer it so confidently and repeatedly that their supporters genuinely start believing those lies. This has led to political polarisation to a level that we had not seen before. The media are no different and have been a victim of these changing societal and technological trends.
Today, journalists are facing many challenges and mainstream media itself is struggling due to the evolution of new media. At a recent media conference organised by the Centre for Excellence in Journalism in Karachi, some issues were discussed about the current media landscape, whether we need media regulations or not, censorship, digital media and such other related topics. One interesting thing that was highlighted was how mainstream media is not understanding the rise of digital media and what it entails. I gave an analogy of digital media being the Twenty20 format of cricket. A lot of cricketers and cricket fans say that Test cricket is the purest form of cricket. This reminds me of print media, which is also considered the most responsible and purest form of journalism. T20 cricket was criticised when it was introduced but is now one of the most-watched formats of the game because it is short and highly unpredictable. It keeps the audience entertained. The ICC Men's T20 World Cup had record viewership globally, with the match between India and Pakistan being the "most viewed T20I match in history" as per the International Cricket Council. According to the ICC, the T20 World Cup "broke viewership records in several regions, including garnering a record television reach of 167 million". But it does not take away from the fact that Test cricket is, indeed, the pinnacle of cricket and shows the real skills of a cricketer. We have seen how the media around the world, including those in Pakistan, are evolving from print journalism to television and now — slowly but gradually — to digital as well. Digital is the future — some say the present too.
Digital News Report 2022 by Reuters Institute for the Study of Journalism has some very interesting insights when it comes to new media: trust in news has fallen in almost half the countries in the 46 markets it surveyed and risen in just seven. It says that interest in news has fallen sharply across markets, from 63 per cent in 2017 to 51 per cent in 2022. Trends have changed across all markets, with less than a quarter (23 per cent) of respondents preferring to start their news journeys with a website or app, down nine points since 2018. Reuters Institute says that "those aged 18-24 have an even weaker connection with websites and apps, preferring to access news via side-door routes such as social media, search, and mobile aggregators". While Facebook remains the most-used social media platform, "the youngest generation has switched much of its attention to more visual networks over the last three years", which seems to be why TikTok has become the fastest growing network in this year's survey, reaching 40 per cent of 18-24 year-olds, with 15 per cent using the platform for news. But the report says that even though the profile of many digital journalists has increased, the most well-known journalists are still TV anchors and presenters in most countries. On the question of why younger audiences avoid news, the report says that younger audiences (under 35) say news has a negative effect on their mood. Some people are put off by the repetitiveness of the news agenda, especially political news and Covid19 coverage. Some say that they feel worn out, while there is a small segment that says news is too hard to understand.
There is no doubt that the global pandemic has also changed the trends of news consumption. Most of us remember that even though we had to consume news related to Covid all the time, a lot of us realised that the stories that people were reading the most at that time were related to entertainment or other 'lighter' topics. Digital media has also made it easy for audiences to consume news, especially for the younger audience that wants more visual content than just text-heavy stuff. It is important for the media to understand what the audience is saying so as to package the news in ways that will be more appealing to the audience. We also have to navigate how to cover news credibly and ethically. That said, the challenges for journalists — whether print, TV or digital — remain the same in a world increasingly shifting to regressive politics.
Mehmal Sarfraz is a journalist based in Lahore; mehmal.s@gmail.com