Editorial: Welcome to the new show
The rise of alternative platforms has raised hopes of revolutionizing cinematic content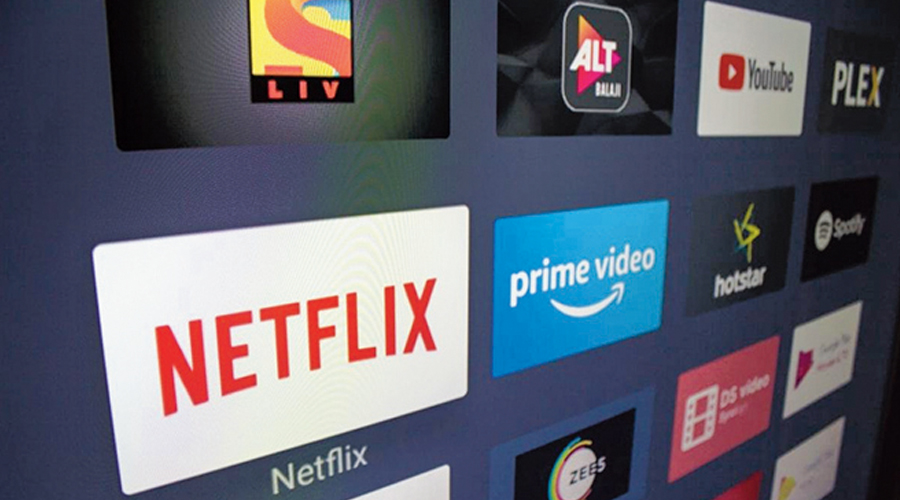 Representational image.
Shutterstock
---
Published 13.03.22, 01:00 AM
|
---
The magic of the silver screen has been replaced by the glow of Amoled display. The pandemic has significantly altered the entertainment landscape in the country and around the world, with the silver screen receding to the background and over the top platforms taking centre stage. Interestingly, the transition has led to alterations in cinematic content: OTT platforms make it easier for writers, directors and producers to conceive — at long last — plots that could transcend the hackneyed formula of macho, beefy, ageing men on missions to set right humongous wrongs and, in their free time, prance with nubile women around trees. The tale, thus, acquired a twist. For instance, what was the hero's mother doing when she was not making ghee-soaked rotis for him in the kitchen?
As cinematic entertainment began to fit on palm-sized gadgets, thereby shedding its larger-than-life avatar, the cinematic gaze too began to widen, noticing and, then, entering unexplored, seemingly mundane spaces like the kitchen and even the bathroom. With capital complementing creativity, the focus of films shifted from the fantastical to the relatable. In the process, alternative platforms, including OTTs, began to cleanse the template of mainstream films of some of its ugly warts — ageism, sexism and homophobia — that have, for long, plagued dream factories, be they in Mumbai or Chennai or Calcutta. The years, 2020 and 2021, not only saw a rise in the number of films with women in their lead, but also gave erstwhile leading ladies — Sushmita Sen, Madhuri Dixit, Raveena Tandon — a chance to shine under the spotlight, once again, without being relegated to the role of the benign aunt or mother. In a country that has normalized the shaming of free women as vixens, digital content allowed women to be portrayed doing what they should be able to do: date, drink, smoke, mess up, marry, divorce, have sex and so on. OTTs also helped unlock darker spaces, facilitating a dialogue on child sexual abuse, domestic violence and the sexual assault of women. There is more to this evolving plot. Gone are the days when everything revolved around the urban populace. A report by the Confederation of Indian Industry showed that the growth rate of new OTT users in Tier-II, III and IV towns was 1.5 times that of the growth rate in Tier I cities during the pandemic. The hinterland, with its aspirations and contradictions, refreshingly, managed considerable screen time.
But maintaining this progressive momentum is contingent upon a number of challenges. Pricing, access to reliable internet, cultural orthodoxy towards radical content, policing by an increasingly conservative State, pandering to existing stereotypes, formulaic ideas of success are some of these impediments. Yet, the stakeholders — producers, directors, artists and, most important, viewers — should ensure that the new show goes on.