Editorial: Three cheers
The Trinamul would choose the path of arrogance and intimidation — something that it has been guilty of in the past — at its own peril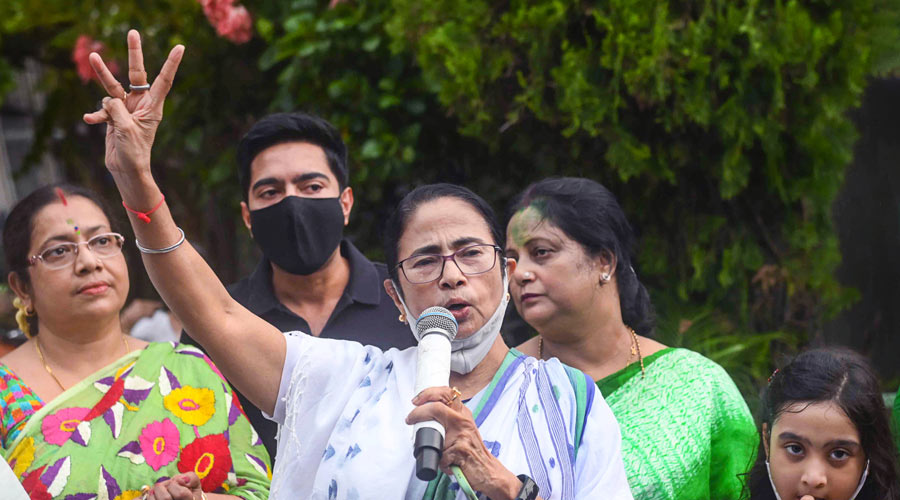 West Bengal Chief Minister and TMC candidate from Bhowanipore contituency Mamata Banerjee after her victory in by-polls, at her Kalighat residence in Calcutta, Sunday, Oct. 3, 2021.
PTI Photo
---
Published 04.10.21, 01:00 AM
|
---
The outcome of the by-election in Bhowanipore in which the chief minister, Mamata Banerjee, was a contestant was a foregone conclusion. The talk within the Trinamul Congress centred on the margin of her victory. The impressive electoral mandate for Ms Banerjee — she won by a record margin of over 58,000 votes — and the TMC's victory in two other seats — Samserganj and Jangipur — have sweetened the deal for the ruling party. These results certainly signify the TMC's unprecedented electoral dominance in the state. Ms Banerjee's rivals appear to be in a shambles. The Bharatiya Janata Party, which had boasted of winning 200 seats in the assembly elections, has tasted a dose of its own bitter medicine since: the TMC's triumph in Bengal has been followed by defections in the BJP's rank and file. There is a possibility that the BJP's presence in the Vidhan Sabha would shrink further if the party fails to check the slide. The less said about the Congress — it did not contest Bhowanipore — and the Left Front — its candidate in this constituency performed miserably — the better.
By-election results seldom create upsets. Yet, these polls have two important lessons. First, the TMC's tally — 213 in a House of 294 — is likely to climb since Ms Banerjee's party is expected to hold on to the momentum in the forthcoming by-elections in four other seats. It would be interesting to see what kind of impact this political dominance would have on the TMC. It would choose the path of arrogance and intimidation — something that it has been guilty of in the past — at its own peril. The TMC's aggression in the last panchayat polls had paved the way for the BJP's rise in the state in 2019. It is important for the TMC — this is the second lesson to be drawn — not to alienate itself from Bengal for another reason. Ms Banerjee seems to have set her eyes on a pan-India presence for her party. The TMC's forays into Tripura and Goa are indicative of this ambition. But for the TMC to spread wings, it needs to be rooted firmly in the ground of its base — Bengal.