Editorial: Poisoned water
Pharmaceutical effluents are adding to concerns about river pollution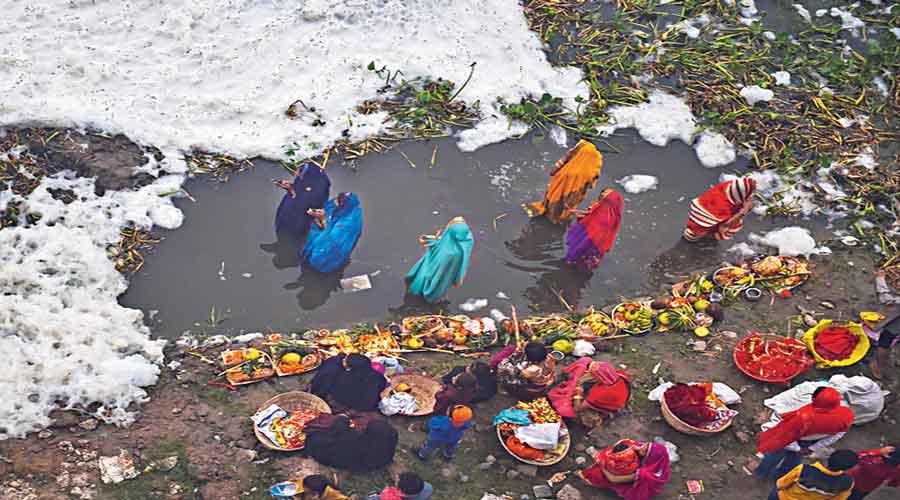 Devotees offer prayers as toxic foam floats on the Yamuna river during the Chhath Puja in New Delhi.
PTI photo
---
Published 07.03.22, 12:57 AM
|
---
The deteriorating quality of India's rivers has been a long-standing concern. An estimated 40 million litres of wastewater enter rivers and other waterbodies every day of which only 37 per cent is adequately treated. A report by the Central Pollution Control Board found that critically polluted river stretches have increased from 302 in 2015 to 351 in 2018. According to the CPCB, over 50 per cent of wastewater treatment plants releasing its effluents into the Ganga fail to comply with discharge norms. Sections of the Yamuna are coated with toxic foam and river banks across the country are lined with plastic waste. But there are other dimensions to the problem that need to be examined. A new study by Toxics Link reveals that traces of antibiotics, such as ofloxacin, sulfamethoxazole and norfloxacin, are present in the water samples of the Yamuna, Gomti, Zuari and Cooum. Analyses of surface water concentrations show that although pharmaceutical effluents are diluted when they are discharged, the concentration levels are still two to five times higher than the notified limits.
In India, thousands of deaths every year can be attributed to contaminated water. The presence of antibiotics in rivers is an additional concern — indirect consumption of antibiotics could lead to antimicrobial resistance. There are already laws in place to battle the menace. The Water (Prevention and Control of Pollution) Cess (Amendment) Act, 2003 has laid down regulations for the disposal of industrial waste in rivers. Voluntary contamination of public water sources is a punishable offence under the Indian Penal Code. But an overemphasis on sewage treatment fails to take into account the overall hydrological health of rivers. For instance, Namami Gange, the national programme to clean the Ganga, focuses on treatment and beautification rather than the quality and quantity of river flow. Studies show that contamination levels have increased in several areas in the Ganga since 2013. There is also a tendency to view India's natural resources as industrial capital. Be it cleanliness drives or developmental projects — experts have raised concerns about the Ken-Betwa river-linking project — they take precedence over environmental needs. These environmental needs are evolving: rising pharmaceutical waste in water is an example. Unless political calculations are divorced from environmental projects, it will be impossible to resolve the crisis.