Editorial: Drop it
Centre's rejection of R-Day tableaux puzzling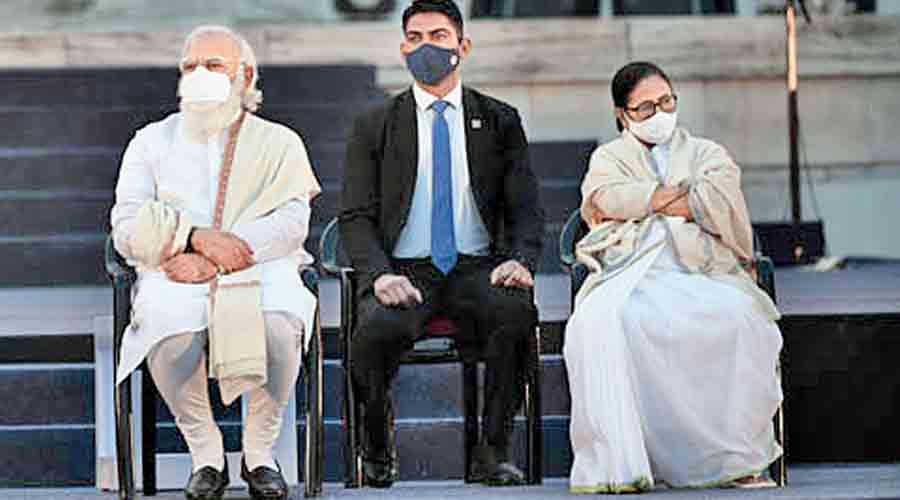 Narendra Modi & Mamata Banerjee at the Parakram Divas function celebrating Subhas Chandra Bose's birth anniversary last year.
File photo.
---
Published 18.01.22, 12:21 AM
|
---
Politeness is hardly the Centre's strong point. Expert committees may sit and earnest discussions be undertaken to select and reject tableaux for the Republic Day parade, but that does not mean that states whose tableaux are rejected will be given reasons for the decision. This is the experience of West Bengal, which has had its proposal rejected for the second time without being told why. Apart from remarks about time limits for the parade, Bengal — or Kerala, which has had its tableau rejected too — has heard nothing. If, in 2020, Narendra Modi's government, or its committee, was not willing to let Bengal show off Mamata Banerjee's programmes in the state, such as Kanyashree, the reasons this time are more mysterious. West Bengal had proposed to honour Subhash Chandra Bose on his 125th birth anniversary, together with other pioneers and leaders of the independence struggle, especially from the state. The Centre's rejection becomes even more puzzling in light of the fact that Bose's birthday on January 23 was supposed to be the beginning of the Republic Day celebrations, with the birthday being commemorated as Parakram Diwas. That the naming, too, was unilaterally decided upon by the Centre, which ignored names such as Desh Nayak Diwas proposed by the state, indicated the Modi government's eagerness to claim Bose.

This eagerness — predictably — reached a peak in the long build-up to the West Bengal assembly elections in 2021. Bose's differences with the Congress offered the Bharatiya Janata Party a convenient route for appropriation; it had tried to claim the legacy of Vallabhbhai Patel, for example, in the same way. It is not as though the Modi government is at all confused about what it wants, it is merely opportunistic. Anything that will get it the popular vote in a particular region will do. Its approach to history, like everything else, is divisive; the legacies must be divided up and one glorified at the cost of another. But the government is disarmingly frank too. Far from being an area of interest now, West Bengal may be perceived as a major Opposition state. The Centre's rejection of the Republic Day tableau could well be interpreted as a put-down to the state leadership and people. At least nothing has been said so far to soften the impact.