Editorial: Claiming Clio
The claim that a nation born out of blood cannot comprehend the message of healing in 'Abide With Me' is an insult to national intelligence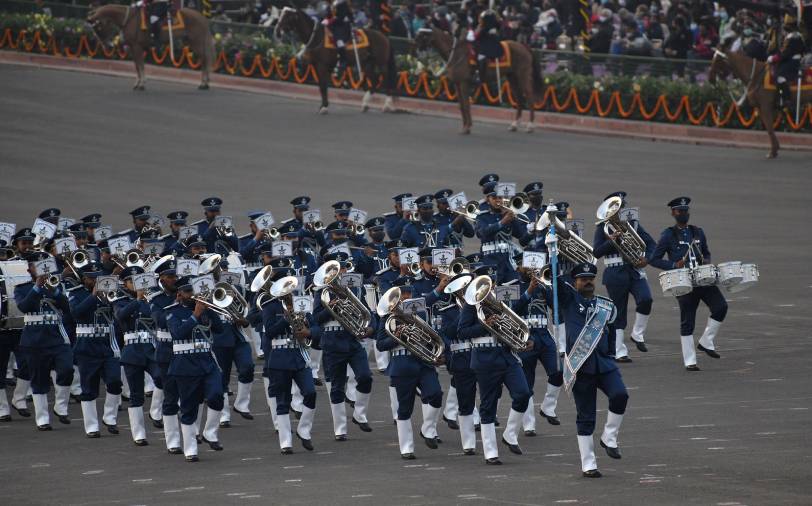 Beating Retreat Ceremony.
Twitter/@PCMohanMP
---
Published 25.01.22, 12:43 AM
|
---
Each of the three recent attempts by Narendra Modi and his government to correct 'imbalances' in history has been challenged on the grounds of creating new asymmetries. While unveiling the hologram of Subhas Chandra Bose at the India Gate, the prime minister alleged that the contributions of several luminaries — including those of Bose? — towards the freedom struggle have not been given due recognition. He has, apparently, righted the wrong. This comes after the Centre rejected Bengal's tableau, which would have focused on Bose on his 125th birth anniversary, for the Republic Day celebrations. The hypocrisy has only sharpened allegations of political opportunism and pettiness against Mr Modi's regime. It is pertinent to mention that the ideals being pursued by the Bharatiya Janata Party are very much antithetical to the ones — secularism, pluralism, harmonious religious co-existence — held high by Bose. Equally mischievous is the argument, in defence of the Centre's decision to relocate the Amar Jawan Jyoti to the National War Memorial, that the immortal flame was an embodiment of colonial legacy since it honoured — quite correctly — Indians who served in the British Indian army. This cherry-picking of sacrifice of Indian soldiers is a regressive reading of history. Finally, the government's rationale for removing "Abide With Me" — Mahatma Gandhi's favourite hymn — from the tunes in the Beating Retreat ceremony has been revealing too: few Indians, it said, relate to the hymn. The claim that a nation born out of blood cannot comprehend the song's plea for healing is an insult to national intelligence.

These attempts at 'correction' are not disjointed; they fit neatly with Mr Modi's ambition of curating the nation's history in a mould that is favourable to the BJP's troubling, divisive ideological template. Hearteningly, the war over history is not a one-sided conflict. There is spirited opposition to the rewriting of India's inclusive history as well as to the BJP's attempt to co-opt icons: the Bengal chief minister has led the political charge against this conjuring of an ahistorical tradition. In fact, the political tussle would, hopefully, be an occasion for citizens to foster a greater engagement with bona fide historical narratives. Indeed, this learning could even be a 'duty', something that Mr Modi waxes eloquent on. An informed public, knowledgeable about history's trajectories and the real ideological inclinations of public figures being poached by the sangh parivar, could be sufficient insurance against Mr Modi the history teacher.