Editorial: Drowned
Bengal, Jharkhand and the Centre must establish a better template of communication to prevent what appears to be a fatal lapse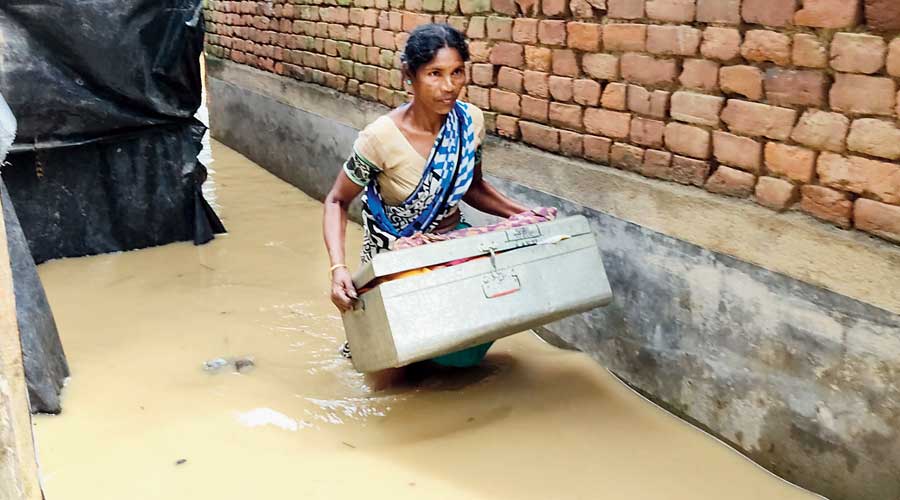 A woman with a trunk in flooded Arambagh.
Picture by Ananda Adhikari
---
Published 05.10.21, 12:34 AM
|
---
Semantics can be illuminating. Bengal's chief minister has described the devastation caused by floods in several districts in the southern part of the state — Bankura, Birbhum, Hooghly, West Burdwan, West Midnapore have been adversely affected — as a "man-made" disaster. State leaders of the Bharatiya Janata Party have christened the tragedy differently: they insist this is a "she-made" deluge. The causal analyses between the political rivals, expectedly, differ. Mamata Banerjee has pointed an accusing finger at the Damodar Valley Corporation — a Central entity — for releasing unmanageable quantities of water without adequate intimation to her government. This, she argued, led to the flooding. She has also stated that she would write to the prime minister, urging him to intervene and resolve the issue. The chief minister's claim has been refuted by the DVC that said that the customary warning had been sent to Bengal's irrigation department; Bengal, in turn, has disputed the DVC's charge by alleging that the quantum of water to be released had not been specified. The BJP, keen to fish in troubled waters, has alleged that the floods are a result of Ms Banerjee's preoccupation with her by-election campaign as well as the administration's inability to initiate repair work of weak embankments.
The truth of the matter must lie somewhere in between. But the shrill political noise would not be enough to drown the miseries of the common people: 22 lakh have been victims of the flooding. The loss of property and the damage to agriculture are substantial. The rehabilitation of the affected population must be undertaken immediately by the Centre in coordination with the state. A natural disaster of this magnitude during a pandemic is cause for additional concern. Bengal, Jharkhand and the Centre must establish a better template of communication to prevent what appears to be a fatal lapse. This should not be too difficult, given that the Damodar Valley Reservoir Regulation Committee — it advises the DVC on the release of water — has representation from Bengal, Jharkhand and the Central Water Commission. The desilting and modernization of dams should be undertaken soon.