Earnest efforts
Texas A&M University of Performing Arts and Odissi Dance Company presented Kelucharan Guna Keertanam at Gyan Manch recently. Led by the Odissi exponent, Aparupa Chatterjee, a disciple of Ratikant Mohapatra and the founder of International Institute for Culture and Performing Arts Development, Texas, students from America along with dancers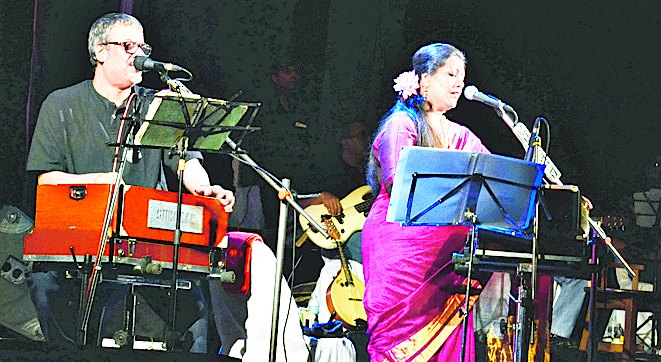 ---
Published 04.02.17, 12:00 AM
|
---
Texas A&M University of Performing Arts and Odissi Dance Company presented Kelucharan Guna Keertanam at Gyan Manch recently. Led by the Odissi exponent, Aparupa Chatterjee, a disciple of Ratikant Mohapatra and the founder of International Institute for Culture and Performing Arts Development, Texas, students from America along with dancers from Calcutta and Bangalore performed at the event. The evening began with an invocation, Swagatam Krishna, by Swati Yarlagadda of the Odissi Dance Company, followed by Vakratunda Mahakaya, a prayer to Lord Ganesh, choreographed by Mohapatra and performed by Rajib Bhattacharya. The recital by Rajashri Praharaj, Mohapatra's student and a repertory dancer of Srijan, was notable. Divya Srinivasa's presentation of Jaya Mahesha was confident, while Vande Mataram, performed by the students of the Odissi Dance Company, was lively.
Next came pallavi, based on Raga Hamsadhwani. This choreography of Kelucharan Mohapatra was staged by Divya Chowdhury, who was earnest in her presentation. The music was composed by Bhubaneshwar Mishra. Madhulita Mohapatra, a student of Gangadhar Pradhan and Aruna Mohanty, selected an ashtapadi abhinaya for her recital and did a commendable job. Rajneeta Mehra created a tapestry of rhythm and movement with her yugmadwanda pallavi. The show ended with botu nritya, based on Raga Bhopali and taal ektali.
The theme was serious, the presentation novel and the performers brilliant. Belgharia Shankhamala presented Ondhokar Lekhaguchho, written by Srijato, at Kalamandir to protest against the emerging fundamentalism across the globe through poetry, music and theatre. The theme of anti-terrorism was effectively explored by Srijato, Bratati Bandyopadhyay, Srikanto Acharya, Sumantra Sengupta and other artists from Shankhamala. Acharya's "Sabey boley Lalan Fakir" was soulful. Angshuman Bhowmik wrote a compact script and stage and light settings and direction were done by Debesh Chattopadhyay.