Demand for poetry books soars — thanks to Instagram
Instapoets seem to be challenging foundational ideas about poetry while expanding its horizons for amateur poets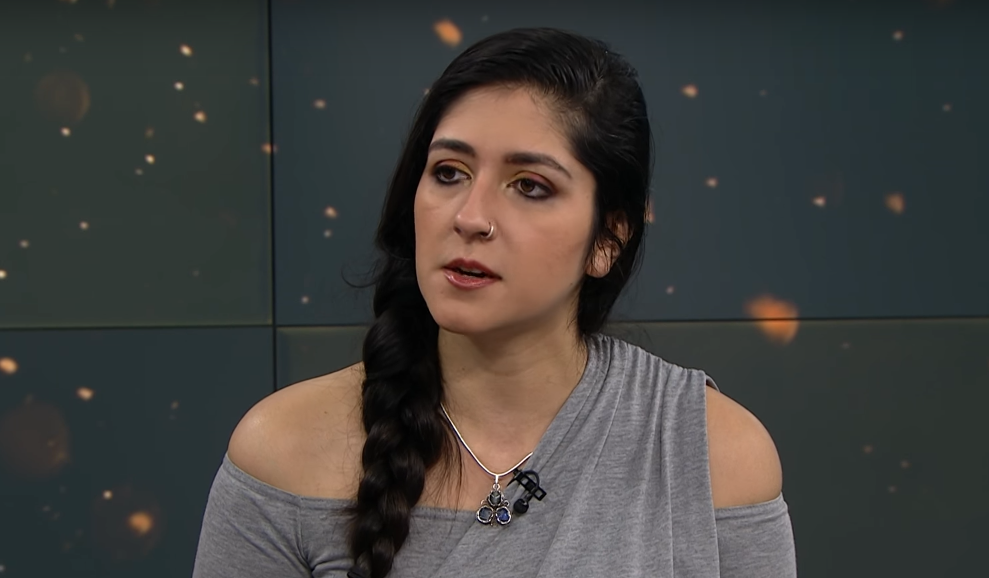 The works of Nikita Gill, one of the most successful 'Instapoets' with around 500,000 followers, were rejected no less than 137 times by publishers
Still from interview on Your Morning, published on YouTube on June 7, 2018
---
Published 21.02.19, 01:18 PM
|
---
Sir — The sale of poetry books has witnessed a surge of 66 per cent in the last five years — all because of Instagram! The social networking site is reported to be paving the way for poetry whose verses are easier to interpret. The works of Nikita Gill, one of the most successful 'Instapoets' who has around 500,000 followers, were rejected no less than 137 times by publishers. Instapoets seem to be challenging the foundational ideas concerning poetry while expanding the horizons of this literary genre for amateur poets. Hopefully, the publishing industry will take note of these transformations and make publishing equally representative.
Shalini Roy,
Calcutta
Fire and brimstone
Sir — The fire that broke out in a hotel in Karol Bagh in central Delhi, killing at least 17 people, highlights the laxity with which building by-laws are enforced in India ("Delhi hotel fire kills 17", Feb 13). The fire is reported to have started in a shaft that contained the wiring of the building. This incident is one of the worst fire tragedies in the national capital since the 1997 Uphaar cinema blaze that killed 59 people.
Violation of building rules and unauthorized extensions are commonplace in cities. The two topmost floors of the hotel in question were constructed illegally. Moreover, carelessness regarding electrical wiring and illegal tapping of electricity render most buildings quite dangerous. It is time that civic authorities and law enforcement officials took serious action against those who flout laws. Fire departments ought to conduct regular audits for all high-rise buildings across cities. Further, all hotels must have a policy for such emergencies; a manual should be given to each employee to follow in times of crisis.
Khokan Das,
Calcutta
Sir — It was heartbreaking to read about the massive fire that broke out in a hotel in Delhi. This incident seems to be a result of inadequate safety mechanisms at the hotel. According to a fire officer, guests were unable to use corridors to escape because of wooden panelling. Additionally, the hotel did not have proper fire escapes.
The Delhi government has taken action to bring to book those responsible for this tragedy. The punishment meted out to them should be an eye-opener for those who are still running their hotels without proper safety arrangements.
M.Z. Ansari,
Calcutta
Sir — The fire incident in Delhi that killed around 17 people is saddening. People generally prefer hotels for hosting parties. This allows them to enjoy with their families without shouldering the responsibility of arranging things. But unfortunately, as the Delhi incident showed, this could end up costing them their lives. It is crucial that hotel authorities pay attention to safety norms so that people can have fun without having to worry about being in harm's way.
Muhammad Zaid,
Ramanagara, Karnataka
Sir — The massive inferno at a hotel in Delhi that has claimed about 17 lives and left many others injured raises one big question — when are we going to learn from past mistakes? Every time when an incident of this sort occurs, people raise a hue and cry about it, organizing campaigns and so on. But this outrage is often short-lived. No follow-up action is taken and people wake up only after another such tragedy has taken place.
Lack of preparedness to tackle fires at public places and awareness about the absence of fire-safety mechanisms make people vulnerable to such incidents. Guests at hotels may not be aware of the fire escape routes, but the staff should be prepared to rescue or at least guide them to safety. Moreover, buildings should have specific passageways that are clearly marked as fire exits; this will allow people to identify them in times of crisis. The safety mechanism should be checked regularly. Hotel staff should take part in emergency drills in order to prepare themselves for exigent situations.
Schools and colleges should also include lessons on managing fires in their physical education curriculum so that the upcoming generation can be taught exactly how to deal with such an emergency.
M. Pradyu Thalikavu,
Kannur
Sir — The casualties at the Karol Bagh hotel could have been avoided if the institution had followed fire-safety norms. The first floor sparked a fire which spread to the other floors. The government has ordered a magisterial probe in this case and action is being taken against those found guilty. However, one of the deceased from Kerala is my friend and I am deeply saddened by his demise. No action can compensate for the loss of lives.
T.K. Nandanan,
Kochi