Dear Hardik Pandya, here's why you needn't apologise to us
But the family and KJo might want an explanation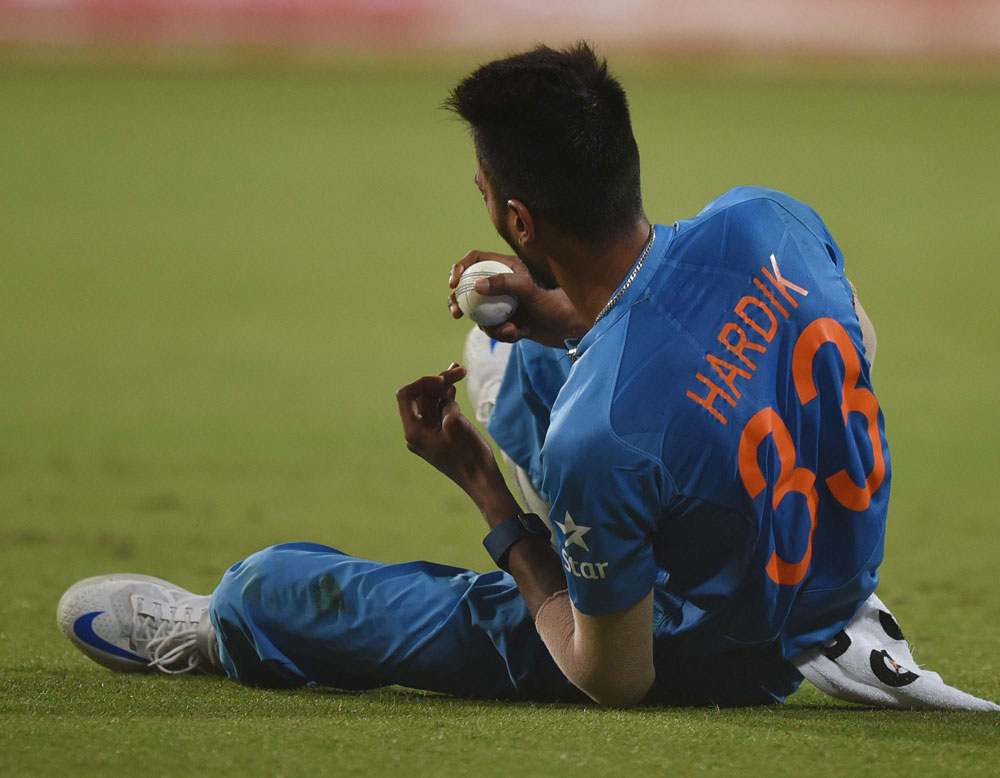 Hardik Pandya has been suspended by the BCCI for his derogatory comments about women on the TV programme "Koffee with Karan"
The Telegraph picture
---
Published 13.01.19, 10:04 AM
|
---
Everyone in Team India goes by a nickname in the locker room. Hardik Pandya's is Hairy, something to do with his funky hairstyles, it seems. Well, Hairy, looks like there are going to be some bad hair days stretching ahead of you. The talk show with Karan Johar, in which Hardik appeared with K.L. Rahul, has elicited a lot of outrage. The Board of Control for Cricket in India or BCCI decided that the two of them will not be playing the three-match ODI series against Australia, which began on Saturday. Of course, who can say what would have happened if Diana Edulji, who is on the Committee of Administrators, had not prodded the BCCI — you see, the BCCI's legal team reportedly did not dub the interview a violation of its code of conduct.

Say what?
And now more action is expected to follow. The BCCI is all hot and bothered and busy trying to find out whether or not the two cricketers sought permission to appear on the chat show. If yes, who? If no, how? Team India captain Virat Kohli said, "We as the Indian cricket team and responsible cricketers don't align with those views, those were individual opinions." Rahul has been quiet thus far, the infamous video of the show has gone missing from Hotstar, and Hardik, in the meantime, has issued an apology. It goes: "I would like to apologise to everyone concerned who I may have hurt in any way…Honestly, I got a bit carried away with the nature of the show. In no way did I mean to disrespect or hurt anyone's sentiments. Respect."
Kuch Kuch Hota Hai
In supposedly cool banter with KJo, Hardik spoke about his active sex life; how he went ahead and announced to his very cool set of parents the day he lost his virginity; and how at a party the family had him point out to them all the women he had been intimate with — applauded him on his multiple conquests thereafter. Johar then proceeded to ask the two men what happens if two cricketers like the same girl. They could have passed, but they didn't disappoint their host.
Bored of Control for Cricket
The thing, dear Hardik, is this. You do not owe anyone an apology but yourself and your family (though we have only your word for it) and perhaps Karan Johar too, for exposing your collective crassness and your utter poverty of thought, expression and perception. It also reveals what you think of us — cricket lovers, TV viewers, regular men and women — but we will let that be. And while one must grant that Mr Johar is smart to peddle weddings on the big screen and confessions of beddings on the small one, it is unfair of you to blame the nature of the show before you have condemned your own. Ludicrous as they may sound, priorities differ and priorities are getting narrower and narrower — BCCI must get on with its whodunit and the entire Indian cricket team cannot afford to be crying over the odd testosterone spill. But you know, sometimes a good old-fashioned hollering from those who can to those who need it goes a long way.