Cut off: Editorial on NCERT's smart snipping in textbooks
Through the deletions, schools will ensure that students do not learn about the making of the democracy or about people's movements such as Chipko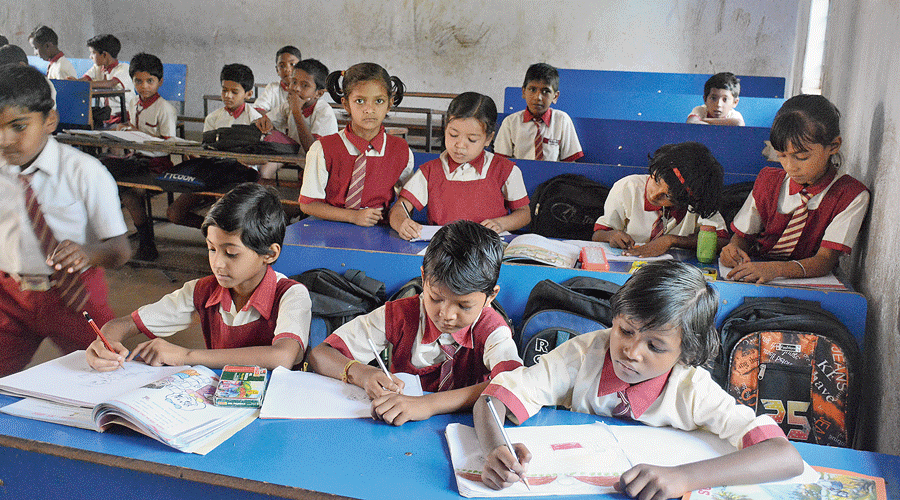 These students will grow up with that inimitable blend of ignorance, prejudice, credulity and myopia that suits the BJP best.
File Picture
---
Published 22.06.22, 03:41 AM
|
---
It is a multi-pronged programme, executed meticulously down to the last detail. The National Council of Educational Research and Training has laid out the map of new knowledge through the extensive changes it has made in textbooks for classes VI to XII. This is the third time alterations have been made since 2017 — usually deletions of sentences, passages or whole chapters — and the Central government has explained the 'rationalisation' by referring to the need students have to recover quickly from the learning gap caused by the pandemic. This heartwarming sympathy for students has led to the NCERT's smart snipping in history, political science and sociology chapters. Although it has said that science and mathematics chapters have been lightened too, the vision of India's present rulers is best inferred from what they want said about political and cultural processes and structures, the role of religion in these and about their favourite hobby horse, the past.
Through the deletions, schools will ensure that students do not learn about the making of the democracy or about people's movements such as Chipko. People's leadership, their protests and discontent, farmers and workers, should all become invisible. Inequalities caused by caste and faith would vanish too, as though there is no discrimination, so that the new generation can help perpetuate exploitation while internalising an upper-caste, majoritarian point of view. Some changes may appear intriguing. Dropping the Gujarat riots of 2002, with the balanced and necessary glimpse into sectarian violence under every political party, is not difficult to understand, but the Emergency, too, has suffered a similar fate. Is that because what happened during that time — the loss of civil liberties, arrests and detentions, the takeover of law-making by the government and so on — is too much like what is happening now although no Emergency has been declared? Is the triumph of the people's verdict that ended it unnerving too? But there is nothing intriguing about the diminution of everything relating to Islamic rulers, particularly the Mughals: apparently the Bharatiya Janata Party alone is truly patriotic, willing to change the ineradicable past of a country in order to glorify Hindu rulers and prove that India is a 'Hindu' country. These students will grow up with that inimitable blend of ignorance, prejudice, credulity and myopia that suits the BJP best.