Curry with noodles: China boycott feasible?
Over the years, China has gradually increased its economic footprint in India, tapping into the nation's vast consumer base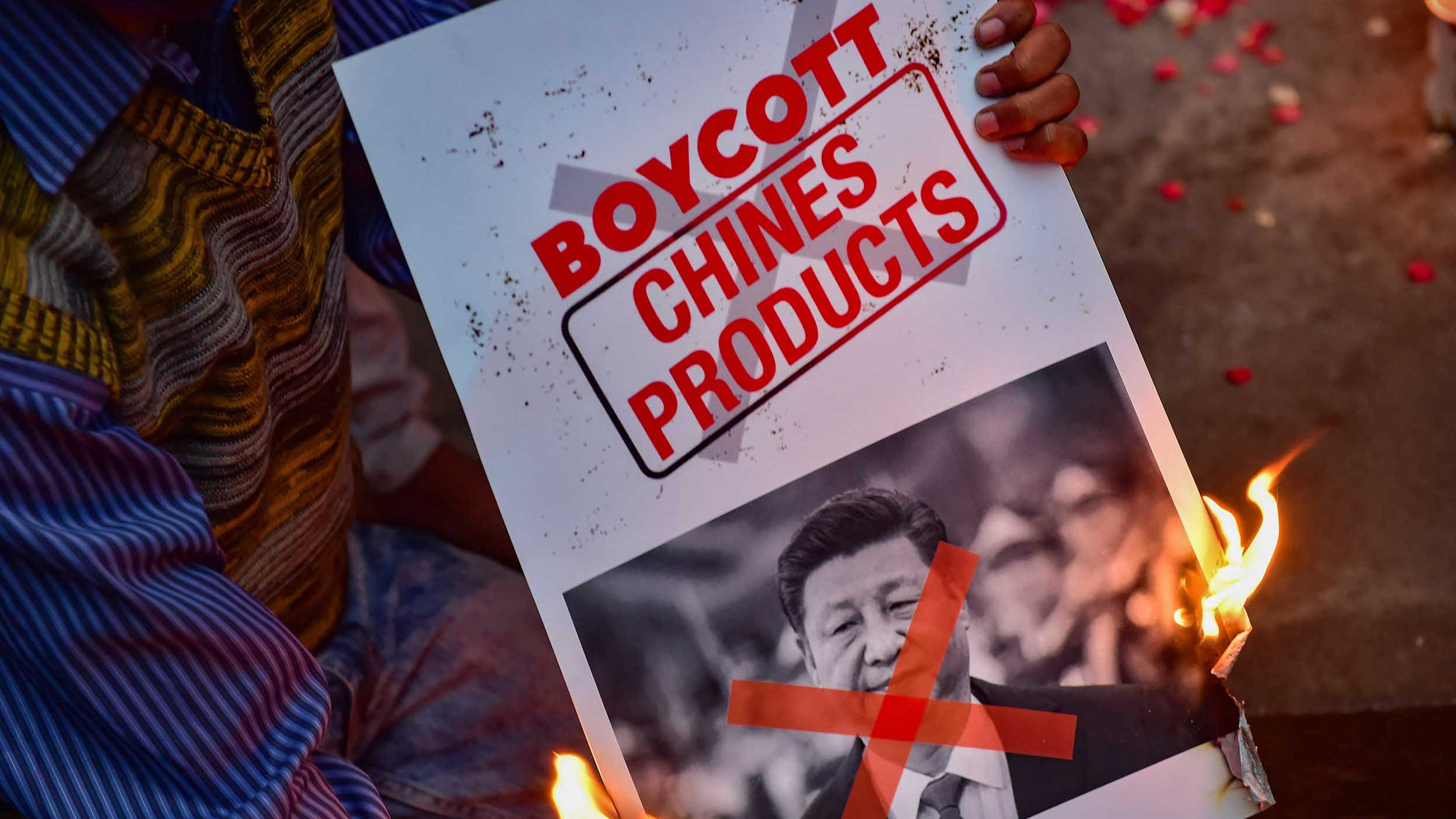 A man burns a poster of Chinese President Xi Jinping in Bangalore.
PTI file photo
---
Published 28.07.20, 12:57 AM
|
---
The finance minister's 'stimulus package' had been couched in the nationalistic fabric of the Atmanirbhar Bharat Abhiyaan. Self-reliance is pragmatic and protects the foundations of the economy from international oscillations. But getting there takes decades of effort.
However, the recent geopolitical developments between India and China have added a swadeshi twist to the Atmanirbhar Bharat Abhiyaan. Social media is swarming with posts demanding the boycott of Chinese goods. The Government of India has already banned several Chinese apps. But how feasible is the demand for such a boycott? 
Over the years, China has gradually increased its economic footprint in India, tapping into the nation's vast consumer base. Chinese investments in India have primarily been in Indian start-ups. Amongst others, the Alibaba Group, Tencent Holdings Limited, Steadview Capital and ByteDance have invested nearly $4 billion in Indian start-ups, which include 60 per cent of Indian unicorns. Primarily invested in Indian technology companies, Chinese venture capitalists and technology behemoths have been the bellwether of international investments. Companies like Flipkart, BigBasket, Ola, OYO, Paytm and Swiggy have not only generated income opportunity for lakhs of Indians but also played an instrumental role in increasing per capita earning. The contribution of Chinese venture capitalists in India's economic growth story cannot be denied. Chinese companies have also invested in sectors like fast moving consumer goods, consumer durables, construction, pharmaceuticals, capital goods, automobile and ancillaries and — the most visible of all segments — electronics. A big-ticket Chinese investment in India has been the Gland Pharma acquisition, which in itself was a billion-dollar deal. The Oppo plant in Greater Noida employs over 3,000 Indians. China's MG Motors has seized an early-mover advantage in the electric mobility segment. Chinese companies like BYD have plans of converting India into a strategic hub for the Southeast Asia region. 
In the last half a century, China's socialist market economy philosophy has propelled the evolution of a formidable business ecosystem, creating an unparalleled advantage of low-cost skilled labour. In January 2020, Shenzhen, the electronics hub of China, maintained a minimum hourly wage of $2.91. In September 2019, an astounding 92 per cent of Apple's products were made in China.
Does Make in India's merit lie in manufacturing in India or is it time to rise up in the value chain? Would it be judicious to compete with China in the manufacturing space or would it be better to use this pre-eminence to build Indian brands that compete globally? 
About a decade and a half ago, Bajaj Auto entered the African two-wheeler market, which was then dominated by Chinese motorcycles. Today Bajaj Auto and TVS Motor share close to 50 per cent of Africa's two-wheeler market share.
India's economic and strategic advantage lies not in 'boycotting' Chinese goods but in accepting it's superior manufacturing capability and using it to New Delhi's advantage. China is the largest exporter to India, accounting roughly 14 per cent of Indian imports. This is about three times of what India's exports to China are; the widening trade deficit is a matter of concern. But while protectionism, tariffs and sanctions may help narrowing the balance of trade, they will also hurt Sino-India ties, a platform that India could use to become an economic powerhouse in the future.