Cult over cricket
The master of a different kind of game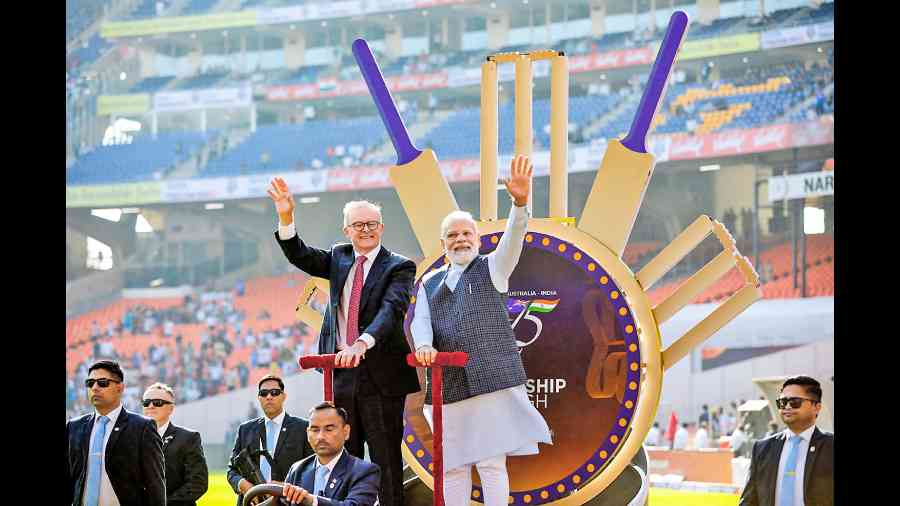 ---
Published 12.03.23, 04:17 AM
|
---
It isn't unusual for prime ministers of cricket-mad nations to sidle into the frame, to photobomb the cricket. During a Commonwealth heads of government meeting in Harare in 1991, the Pakistani prime minister, Nawaz Sharif, got the Pakistani mission there to organise a charity cricket match featuring Britain's John Major, Australia's Bob Hawke, Maumoon Abdul Gayoom from the Maldives and himself. They turned out in whites and with some help from Clive Lloyd, Dave Houghton and Graeme Hick put up a show. A wonderful account of the match on ESPNCricinfo has Sharif using his feet and lofting a ball for six.
John Howard, the conservative Australian prime minister, was so keen on cricket that after retiring from politics, he nearly became Australia's representative to the ICC. He would, in course of time, have become ICC president, succeeding Sharad Pawar, but his candidacy was shot down by South Asian cricket boards unenthusiastic about being led by a rampaging neocon. Howard genuinely loved the game: he was that irritating creature, a cricket 'tragic', who managed, when he was prime minister, to find himself in England whenever an Ashes series was being played there. 
Jawaharlal Nehru was a fan. E.P. Thompson, the historian, remembered meeting Nehru as a boy and being quizzed about his batting technique. There are photographs of him padded up, walking into bat for his side in an intra-parliamentary cricket match. I try to imagine Narendra Modi in whites and it's hard: they wouldn't be able to contain his sense of consequence.
It's worth remembering that the practice of lining up national cricket teams and having them shake the hand of a prime minister has always been a political business. Politicians, who are in the business of wooing the public, are fascinated by sporting charisma, by the seeming effortlessness with which sportsmen get people to love them. Modi is no slouch in the charisma stakes; he is India's most successful politician and his public worships him, but a politician's pull is premised on power. The unconditional affection that athletes inspire both fascinates and eludes politicians.
The then president of the republic inaugurated the Narendra Modi stadium in Ahmedabad when it was renamed. Modi has used it before as a brand-building venue, most famously for his 'Namaste Trump' rally in February 2020, when it was still called the Motera stadium. For a populist like Modi, a stadium is a political arena. The Trump love-in was watched by a bussed-in audience and newspaper reports before the fourth Test suggested that the local chapter of the Bharatiya Janata Party had purchased a large chunk of the day's tickets to make sure that the prime minister had an audience.
The difference between Modi in a cricket stadium and, say, Howard or, indeed, any other politician is that Modi's presence is pharaonic. The stadium in Ahmedabad is best understood as Modi's Mar-a-Lago. It is a monument to him and so animated by his aura that his actual presence in it reduces everyone else — spectators, players and visiting dignitaries alike — to extras bulking out a giant crowd scene. 
We saw this in the fact that players were exiled to practice pitches elsewhere, the start of the match was delayed, and giant screens featured the faces of Modi and Anthony Albanese. Albanese wasn't there because he wanted to be in on the cricket like Howard. His game is rugby league and the only reason he submitted himself to this circus was to keep India onside in the containment of China. 
There was a remarkable scene when both prime ministers mounted a buggy that looked like a homemade, landlocked motorboat, and were driven like portable deities around the ground to accept the homage of a borrowed crowd. For Modi, used to curated, custom-made spectacle organised around his person, this was routine. For Albanese, making a guest appearance in a set designed for someone else must have been a novel experience.
Indian cricket has been a political arena since before Modi. As the money invested in the game has grown exponentially, so has its oversight by netas. Politicians from every political party have fought for and won posts as administrators in Indian cricket's regional and central bodies. Modi himself was once president of the Gujarat Cricket Association. The secretary of the Board of Control for Cricket in India is, of course, Jay Shah, the son of India's home minister, Amit Shah. The nexus between cricket and politicians is business as usual in India. What was new in this instance was the appropriation of a Test match in a way that made the contest incidental, that treated cricket as wallpaper for a photo-op.
The Modi-Albanese show was marked by a heroic lack of self-consciousness. The strangeness of two grown men being ferried about in a gimcrack rath doesn't seem to have struck the organisers. After the event, journalists wrote about other leaders who had had stadia named after them during their time in office, amongst them, Recep Erdogan, Saddam Hussein and Kim Jong-un. What these figures from very dissimilar places and political systems had in common was a talent for dissolving the autonomy of institutions in the service of a cult of personality. 
Modi's visage stares down at Indians from every streetcorner, generally flanked by a smaller portrait of an ideological accomplice like Amit Shah or Yogi Adityanath. In a move beyond parody, Jay Shah presented Modi and Albanese with portraits of themselves. Thus, Narendra Modi posed for the cameras holding a photograph of Narendra Modi in Ahmedabad's Narendra Modi stadium. The next time round, they could go one better: Shah could have Modi holding a photo of Modi holding a photo of Modi and so on in unending regress till the spectators in the stadium and rapt television audiences elsewhere lose themselves in this bottomless sinkhole of North Korean narcissism. 
It isn't hard to see this tableau being repeated with a rotating cast of visiting politicians from cricket-playing nations. It wouldn't matter who the visiting dignitary was; the point of the exercise would be the cult of Modi. I can think of only one exception. In the event of Imran Khan being re-elected Pakistan's prime minister, it's unlikely that he'd ever be invited to the Narendra Modi Stadium in Motera to double-up on the buggy. Imran's past might break the spell and remind us that the first day of a Test match ought to be about cricket.
mukulkesavan@hotmail.com