Real danger: Crimes against Asian Americans
American Diaries: Trump wax statue taken down; exhibition in honour of Breonna Taylor; post-Covid work life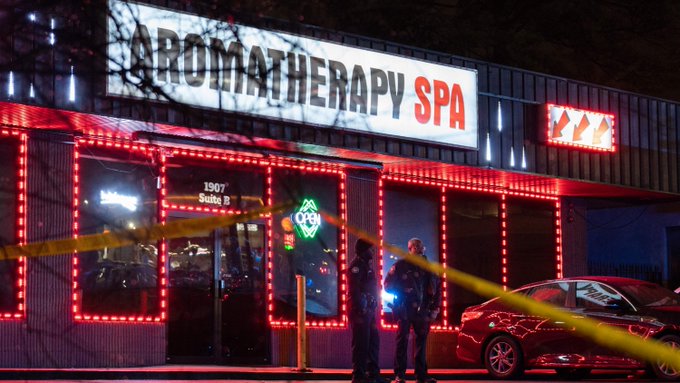 Eight people, six of them Asian women, were shot to death by a white gunman at three spas in Georgia.
File picture
---
Published 27.03.21, 01:54 AM
|
---
A little over a week ago, the United States of America had to witness yet another hate crime. Eight people, six of them Asian women, were shot to death by a white gunman at three spas in Georgia. The former US president, Donald Trump, had openly referred to the coronavirus as the 'China virus' or the 'kung flu', perpetuating xenophobia. Ever since March 2020, when Covid-19 gripped the US, there has been a rise in crimes against Asian Americans. Early last year, the #IAmNotAVirus campaign was created to spread awareness. After the Atlanta attacks, hundreds of protesters took to the streets  with signs saying 'Stop Asian Hate'. Activists once again called for stricter gun control.
According to the Stop AAPI Hate National Report, 3,800 hate crimes against Asian Americans were reported in 2020 — much higher than the 2,600 cases in 2019. According to the data, women report hate incidents 2.3 times more than men do.
Other research also indicates that hate crimes against Asians have gone up significantly alongside the rise in Covid-19 cases. Several other Conservatives followed Trump's example and spewed hate on public broadcast networks, making people associate the coronavirus with Asian Americans. The Covid-19 Hate Crimes Act was introduced to address this discrimination. It increases oversight in Covid19-induced hate crimes and makes such information more accessible to Asian American communities.
Land a punch
While Donald Trump is enjoying post-presidency life in his Mar-a-Lago estate in Florida, thousands of miles away, in San Antonio, Texas, a wax statue of him had to be taken down after people kept punching it. The Louis Tussaud's Waxworks in San Antonio had put up a wax statue of Trump in between the wax displays of Vladimir Putin and Kim Jong-un. However, museum visitors punched and scratched the wax statue so many times that the authorities  had to temporarily remove it from public view.
The intentional destruction of a wax statue, especially that of a political figure, by museum goers is not unheard of. Wax statues of George W Bush and Barack Obama have also been attacked by members of the public in the San Antonio museum, including past incidents where the ears were ripped off Obama's replica according to San Antonio Express-News. A Pew Research Center survey found that a total of 68 per cent of Americans said they did not want Trump to be a major political figure after he left the White House. It is unclear when, or if, the museum will re-display the Trump statue.
On the other side of the world, Trump has also been cast not in wax but in ceramic, resembling the Buddha. A Chinese artist created a statue of the former president draped in robes, cross-legged, with his eyes gently closed as if in a meditative state. The statues are sold online, along with the description, "Make your company great again!"
Do not forget
The Speed Art Museum in Louisville, Kentucky is hosting an exhibition on April 7 in honour of Breonna Taylor, the 26-year-old ER technician who was shot to death by the police raiding her apartment last year. The show, called Promise, Witness, Remembrance, will feature a portrait by the painter, Amy Sherald, and work by several other painters and photographers who captured the protests that took place after Taylor's death.
The show will span five galleries and will also reflect the Black Lives Matter demonstrations that took place following the death of Taylor and other Black Americans at the hands of the police. The exhibition will explore "the dualities between a personal, local story and the nation's reflection on the promise, witness, and remembrance of too many Black lives lost to gun violence". Currently, there is an outdoor memorial with murals, posters and artwork in Taylor's honour at Jefferson Square Park in Louisville.
Life changes
As people are getting vaccinated, businesses are starting to formulate the post-pandemic work situation. Last year saw many people transform their living rooms into offices, with no idea about when things would return to 'normal'. Now, people are considering what life would look like in a world without Covid-19. Many prefer to continue remote working. While people miss out on the social work environment or popping into the boss's office to ask a quick question, the pros outweigh the cons. Remotely, people can cut out the two-hour daily commute. They can run quick errands or pop in at the laundry in the middle of a workday.
There is also the class divide to consider. Medium to higher income earners can afford to work from home. You need to be employed at a job that requires nothing more than a computer, steady WiFi, space and privacy. According to the Pew Research Center, "those in upper-income families and... with a bachelor's degree or more education... are more likely than those with middle or lower incomes and... without a bachelor's degree to say they have more flexibility to choose their hours and that they feel less connected to their co-workers". At the same time, if you are working from home you are always working. Tech companies like Twitter, Square, Spotify, Shopify and Amazon are adopting extended WFH policies, including allowing employees to live in different geographic regions.
Footnote
The National Collegiate Athletic Association came under fire again for blatant sexism and discrimination evident in its weight room amenities for the women's team as compared to the facilities for the men. Viral pictures showed the men's fitness area resembling a commercial gym while the women's room had a couple of weights and yoga mats. The women's food, 'swag' bags and even Covid-19 antigen tests were subpar in comparison.