Cricket fans are proud of Rohit Sharma
Virat Kohli is right to say that Sharma is the best batsman in one-day internationals in the world today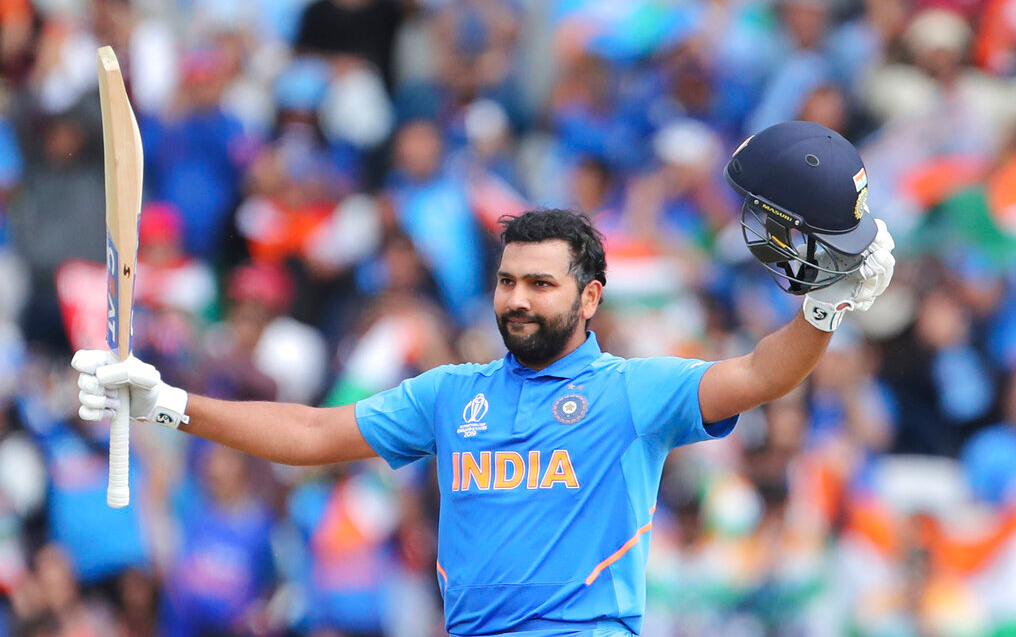 Rohit Sharma raises his bat and helmet to celebrate a century during the Cricket World Cup match between India and Sri Lanka at Headingley in Leeds, England, Saturday, July 6, 2019.
(AP)
---
Published 11.07.19, 12:44 PM
|
---
Sir — Rohit Sharma's record-breaking spree in this World Cup, at least till India reached the semi-final — from making five centuries in the tournament to becoming the second Indian batsman to receive four Man of the Match awards in a single World Cup — has made him the one to watch out for. Virat Kohli has, thus, aptly said that Sharma is the best batsman in one-day internationals in the world today. Sharma's batting is the perfect combination of classic strokes and power-packed shots.
After winning the match against Sri Lanka, Sharma said that his job is to win games for his team and not go after milestones; this shows his selflessness, commitment and dedication to the team and the nation.
M. Pradyu,
Kannur, Kerala
Sir — As an Indian cricket lover, I am proud of Rohit Sharma's smashing performance against Sri Lanka. Popularly known as the 'Hitman', Sharma has done wonders in limited overs cricket. In the ongoing World Cup, he has scored five centuries, eclipsing the record of the Sri Lankan player, Kumar Sangakkara, who made four centuries in the 2015 World Cup. He is also the only player in the history of cricket to score three double hundreds in ODIs. With his unique brand of cricket, Sharma has become the heart-throb of the nation. To watch Sharma's innings is usually as fulfilling and entertaining as watching a great film or reading a good book. He is truly a cricket wizard who entertains countless fans, not just in India but also across the world, with his mesmerizing form.
Haran Chandra Mandal,
Barrackpore
Refresher course
Sir — Parents in the United States of America are reportedly hiring coaches to learn ways to raise 'phone-free children'. It is encouraging that parents have recognized the importance of limiting screen time for their kids. Yet, it is surprising that they have to hire tutors for this. Have parents forgotten how children were raised before smartphones were around or even their own childhoods? Encouraging children to read, draw or take part in physical activities like sports for recreation can go a long way in keeping children away from gadgets. This will also ensure they have active lifestyles.
Solanki Roy,
Calcutta
On shaky ground
Sir — There has been a slew of resignations from the Young Turks within the Congress since Rahul Gandhi resigned from the post of party president. Many of these leaders are known to be close to Rahul Gandhi. It remains to be seen whether a change of guard at the top affects the fortunes of the likes of Jyotiraditya Scindia, Milind Deora, Nitin Raut and Rajesh Lilothia; they are likely to be side-tracked once a new Congress president is elected.
Reportedly, the meetings held to discuss the way forward in the aftermath of Rahul Gandhi's resignation have involved only Congress veterans such as Ahmed Patel, Ghulam Nabi Azad, Motilal Vora, Anand Sharma and none of the younger leaders. With Rahul Gandhi saying that he will not be part of the selection process for the next Congress president, the young brigade is clearly feeling wary about the future. The Congress Working Committee, which has the final say in this matter, mostly comprises senior members.
Although the Punjab chief minister and party veteran, Amarinder Singh, batted for a young person as Rahul Gandhi's successor, it is uncertain if his idea will be taken seriously. The veterans must not forget that these leaders have significant followings in their respective states. If they are snubbed and they leave the Grand Old Party, its fate will be sealed. Further, it is time there is fresh blood at the helm of the Congress.
Khokan Das,
Calcutta
Sir — It is shocking that Rahul Gandhi loyalists like Jyotiraditya Scindia and Milind Deora have resigned from their posts. Both Scindia and Deora are well-educated, hardworking and pillars of the Congress; they may have the vision required to take the party forward. In fact, they are both eligible candidates to fill the post of the party president. Perhaps they would be able to stop the Congress from becoming obsolete.
It would be foolish of the Grand Old Party to hold such enterprising young leaders responsible for a debacle that was largely the making of the Nehru-Gandhi family.
T.S.B. Chander,
Chennai
Sir — The more things change, the more they remain the same. While taking responsibility for the poll debacle is admirable, resigning and leaving the Congress in a disarray at such a crucial juncture is unwise. Once again, these leaders are thinking of little but their own image. Is not sticking by the party, taking stock of mistakes and setting about rectifying them a better way to take responsibility for what happened? One hopes these hasty resignations do not sound the death knell for the Grand Old Party.
Kaveri Raj,
Ernakulam, Kerala