Costly promise
Bengal, despite the 'success' of sixth Global Business Summit, still being ruled by syndicates, extortionists and middlemen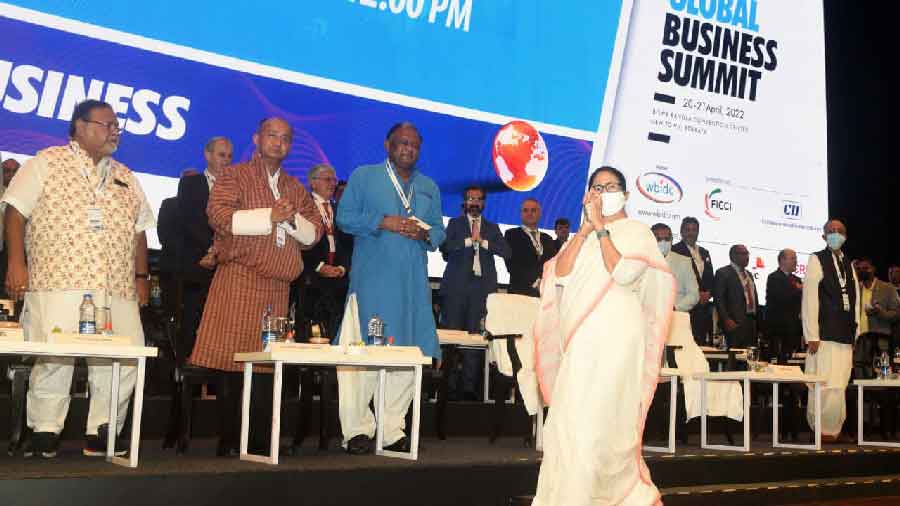 Bengal CM Mamata Banerjee at the sixth Global Business Summit
File picture
---
Published 29.04.22, 02:56 AM
|
---
Decades ago, when we were vastly entertained by "The Way of the World", William Congreve's Restoration drama satirizing London society, little did I realize that the ways of the world are not always as captivating.
Over the past few days, despite basking in the glow of success surrounding the sixth Bengal Global Business Summit, the ways (read prevailing system) of the world we live in have delivered home truths that are unpalatable. We know of "syndicates" and extortionists thriving around us and an elected legislator of the ruling party had to petition the police as two syndicate gangs clashed outside his home in a respectable South Calcutta residential locality.
The very next day, another serene neighbourhood was rocked by bomb blasts triggered by factional feud over land. People with firearms are now seen in public, seizure of bombs and guns are routine. But then, we do live in a civilized state. The grand business summit, graced by top industrialists and representatives of over 40 countries, generated investment proposals worth Rs 3.42 lakh crore, we were told. Aren't 40 lakh jobs about to materialize?
Can this be the same state that was recently rocked by gangrapes and brutal killings before our collective conscience swept the dregs of such "insignificant incidents" under the carpet to welcome the lure of lucre? Where groveling sycophants fawned and investors heaped praise on the joys of bringing their business to Bengal? It is when the underbelly of Bengal is exposed that we realize why the industrialists and delegates resort to blarney so blatantly and make promises to invest, smile and dine (at whose expense, one wonders) but nobody is quite sure of how many of these memoranda of understanding, signed with such fanfare, will ever see the light of day.
Existing business tycoons are used to dealing with syndicates and extortionists, not to mention paying the "cuts" middlemen and their "protectors" claim, but a potential investor needs to decipher the comfort zones. In the civilized state we inhabit, even the middle class is not spared. A neighbour who is adding a floor to her house had trucks deliver sand and bricks. Within minutes of their arrival, a group of goons appeared at her gate, demanding a substantial amount (of extortion 'tax') per truck.
This practice is so rampant that most victims suffer in silence and pay up. Another person facing a similar dilemma had approached the local police station. No sooner had he returned than the extortionists landed up at his house and hollered that going to the police would be counter-productive since they "have muri on the same platter as the powers that be".
If it isn't being hounded by hoodlums, there are the dalals. Whether it is for renting an apartment or buying one, those who manage to bypass the "broker" are besieged by threats and intimidation. Buy a plot of land and before you can barely complete the registration process, sundry unsavoury groups will arrive and each demand two per cent of the purchase price, "or else…" They can effortlessly put Emilio Barzini in The Godfather to shame.
But Bengal is a civilized state, whose 'heritage' and 'tradition' are legendary. Surely such occurrences must be fake news? Despite five previous global business summits, there is hardly any industry to speak of. In the scramble for easy earnings, the syndicates rule. The nexus of corruption is so strong that protests are silenced. "To survive here we must go with the flow," rued a realtor.
On Wednesday, the chief minister instructed the police and the district administration to "take action" against extortionists and corrupt individuals, regardless of their "political affiliation". Can the common man, the hapless electorate, cling on to this glimmer of hope? Or will these assurances ring hollow, as in the past?