A distant dream
Corporate India reflects embedded social inequities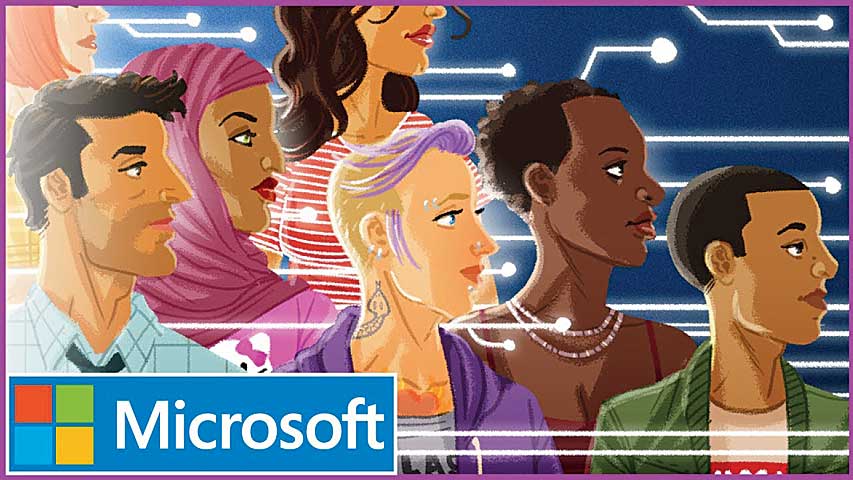 Representational image.
Twitter/@Microsoft
---
Published 26.11.21, 02:11 AM
|
---
Many American multinational corporations have adopted an ambitious racial justice and inclusion programme. In 2020, Apple filled 43 per cent of open leadership roles and 29 per cent of research and development roles with people from under-represented communities — Female, Black, Hispanic/Latinx, Multiracial and Indigenous peoples. URCs comprise over 50 per cent of the US workforce of Apple and Microsoft as per the latest diversity and inclusion report released by the two tech giants. Black and African-American employees alone represent 5.7 per cent of Microsoft's US workforce. Can any major Indian corporation make a claim that 50 per cent of its workforce is from the scheduled castes, scheduled tribes, other backward classes, minorities and women? Microsoft recently announced that it would double its number of Black and African-American managers and senior employees by 2025. Twitter has set a goal to have at least 25 per cent of URCs in its US workforce by 2025. Have we ever heard an Indian CEO setting a similar target of appointing Dalits or members from other socially disadvantaged groups in senior executive positions?
Over 48 per cent of the workforce of the tech company, Cisco, is from URCs. Out of 11 directors on the board of General Electric, five are from under-represented identities. There is increasingly an acute consciousness in much of the corporate world in the United States of America that racial discrimination is systemic, widespread and insidious, which disadvantages Blacks and ethnic minorities at every step of the corporate ladder. In the wake of the Black Lives Matter movement, major American firms have further accelerated affirmative action in hiring and promotion policies. Many US multinationals have adopted 'commitment to social justice' among their core beliefs. They are taking aggressive measures to fight racism and make their executive leadership more diverse.
Contrastingly, corporate India continues to be insular to the social inequities in the country. For most of the Indian private sector, caste-based affirmative action is synonymous with anti-meritocracy. The argument goes that private enterprises, unlike government ones, thrive on talent and merit and by actively hiring and promoting Dalits and marginalized sections of the population, the private sector will lose out on productivity, profitability and competitiveness. The moot question is this: does the Indian private sector provide a level-playing field to people from all castes? Is there no discrimination and prejudice in the hiring and promotion practices in private firms? Is affirmative action necessarily anti-meritocracy? Let's deal with each of these questions sequentially.
Past Studies by the economist, Ashwini Deshpande, and by the sociologists, Katherine Newman and Surinder S. Jodhka, have shown that access to productive employment and well-paying jobs remains confined to the privileged sections of society. The SCs and STs face both wage discrimination and job discrimination in the organized sector and in private employment. Dalits are either substantially excluded from decent jobs or are included on unfavourable terms. In a field experiment conducted to test the prevalence of discrimination in the private-sector hiring process, the economists, Paul A. Attewell and Sukhadeo Thorat, documented a pattern of decision-making by employers that repeatedly favoured job applicants from Hindu, higher-caste backgrounds and discriminated against low-caste and Muslim job applicants with equal qualifications. Based on a sample of the top 1,000 companies listed on the Indian stock exchange, a study done in 2010 showed that caste diversity was non-existent in the Indian corporate sector and 65 per cent of Indian corporate board members were from just one forward caste group. A study published by the Azim Premji University in 2019 found that SC/ST communities were "over-represented" in low-paying jobs and "under-represented" in high-paying ones. This massive under-representation of the marginalized sections in private sector employment couldn't have been possible without discriminatory and biased corporate HR policies.
Next comes the question whether affirmative action kills meritocracy. Massachusetts Institute of Technology, Stanford University, the University of Chicago and seven Ivy League universities believe that race-conscious admission policies enhance education standards and prepare students to assume leadership roles in an increasingly pluralistic society.  
In the friend-of-the-court brief filed this May in an American court in support of Harvard University's admission practices, 14 American corporations stated they needed workers who were diverse and who thrived in an inclusive environment. It says, "Homogeneous groups tend to resort to 'groupthink,'" whereas "differences in opinion push individuals to think critically." These 14 firms, mostly in tech and pharmaceuticals, said they need universities to supply them with recruits who have those qualities. They cited a 2018 study that found that companies in the top quarter for 'ethnic/cultural' diversity were 33 per cent more likely to outperform their peers on profitability.
Talent is not the sole preserve of any one particular caste or community. A workforce with varied socio-economic backgrounds and experiences spurs innovation, ideation, creativity and productivity. A study by the consultancy firm, Mckinsey, encompassing 15 countries and over 1,000 large companies, reaffirmed a direct relationship between diversity in executive teams and financial outperformance. Gender, ethnic and culturally diverse companies are now more likely than ever to outperform less diverse peers on profitability, found McKinsey in its 2020 report titled Diversity Wins. There is thus a strong economic and business case in support of affirmative action.
Political parties have long been votaries of reservation in the private sector. "The government is very sensitive to the issue of affirmative action including reservations in the private sector," read the Common Minimum Programme of the United Progressive Alliance. But, so far, affirmative action has remained confined to mere tokenism. In 2006, the UPA government set up a committee for 'affirmative action for SC/ST' communities to increase their representation in the private sector. In its very first meeting, the committee decided that the best course "is through voluntary action by the industry itself".
Nudged by the UPA, some corporate groups like the Tatas claimed to have adopted voluntary affirmative action policies. Industry chambers, too, started vocational training and scholarship programmes for SC and ST communities. Between 2006 and 2014, the affirmative action committee held seven meetings but not much was achieved. In 2018, in the wake of nationwide protests by Dalits over quota in jobs and promotion, Prime Minister Narendra Modi held his government's first ever meeting to discuss affirmative action in the private sector. The data presented at the meeting show that all that industry associations and corporate groups have done since 2006 amounts to mere tokenism. In a 15-year period, Assocham, CII and Ficci claimed to have provided scholarships, free education and vocational training to 1.73 lakh, 1.36 lakh and 6.5 lakh SC/ST students, respectively. Only 1.27 lakh students were given employment in the same period. There is no break-up on how many of them were employed in executive or senior positions. Nor is there any publicly available data on the caste-wise break-up of the workforce in Indian private sector corporations. It could be argued that voluntary action by the industry has failed spectacularly 15 years after the committee for affirmative action was set up. The constitutional vision of economic equality of deprived sections still looks like a distant dream.
Corporate India is doing great harm to itself and to the nation by squandering a vast pool of talent. It's time Parliament enacts a law, making it legally compulsory for the corporate world to invest in and commit to affirmative action. For this very purpose, the ambit should be broadened to include minorities as well.
To begin with, enterprises above a certain threshold (which can be decided in terms of number of employees and gross revenue) must compulsorily provide caste and community-wise break up of their entire workforce every year. Two, on the basis of the imbalance in the representation of disadvantaged communities disclosed by their own data, private enterprises must compulsorily set quantifiable targets to increase the share of SCs, STs, OBCs and minorities in their workforce. Three, they must set aside a certain percentage of their profits for training, educating and skilling historically disadvantaged sections.
Companies must be left free to decide their own targets for affirmative action, both in terms of marginalized caste representation in the workforce as well as investment in their education and training. But corporations above a certain threshold must have a plan and should be held accountable to their voluntarily-set targets under the law. Transparency and public disclosure of the above data are bound to create enough social pressure on firms to do well on inclusion and diversity metrics. In the long run, it will make good business sense as well.
Ashish Khetan is Associate Professor at Jindal Global Law School and specializes in international economic law