Walk for home
When India locked itself down and in for 21 days to duck corona, it forgot all about its migrant labouring workforce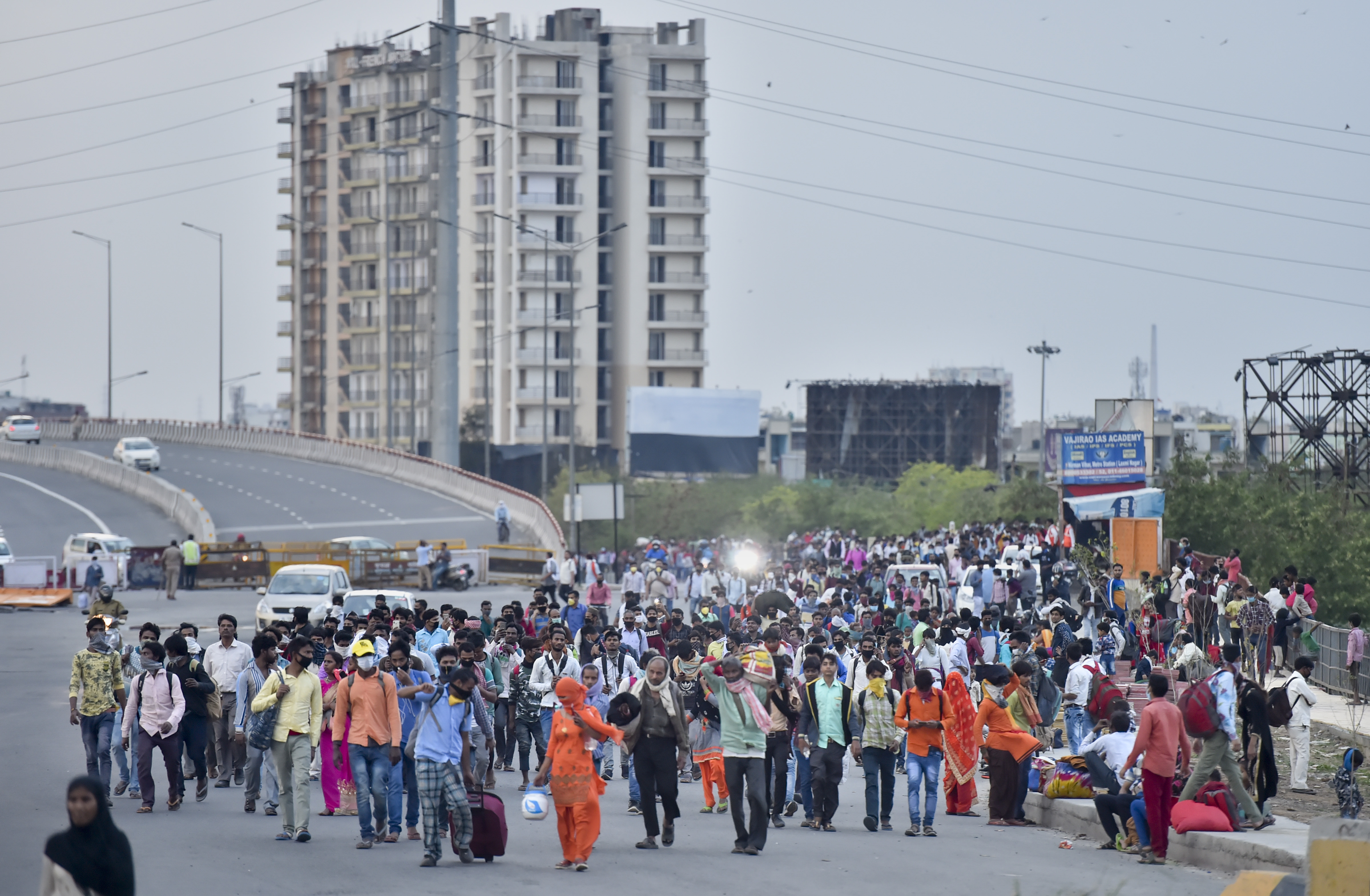 ---
---
As one part of India coped with a work-from-home situation, another part has started to walk towards home. Home to Bulandshahr, Bareilly, Jhabua, Ganjam, Champaran. Among them were Durga Prasad, Pintu Singh, Krishna, Poonam, Pankaj, Rajneesh, Ajay Kumar, Madhu. One report described the scene as "caravans of migrant labourers". When India locked itself down and in for 21 days to duck corona, it forgot all about its migrant labouring workforce. According to Census 2011, India has 139 million internal migrants. Some part of that 139 million is now walking home. One of them, a much affronted Ravinder Singh, said: "Nobody even thought of us."
The Nobodies
Nobody thought of them and this despite the fact that inter-state migration has increased in the past two decades from 11.08 per cent (Census 1991) to 12.06 per cent (Census 2011). Somebody forgot the sizeable chunk of India's migrant workers in Kerala, Maharashtra, Punjab, Andhra Pradesh, Gujarat, Tamil Nadu, Karnataka, Delhi and Haryana. Most of them from Bihar, Odisha, Madhya Pradesh, Uttarakhand and Rajasthan. According to a report in India Migration Now — a migration data, research and consultancy agency — a large number of migrants from the lower castes are medium-term and short-term migrants, which means they work in farms, transport sector, manufacturing and mining sectors. An increasing number of them are women.
Invisibility Cloak
Nobody thought of Ravinder. And somebodies like former BJP Rajya Sabha member Balbir Punj said, "Why migrants leaving Delhi? For want of money or food? NO. Just irresponsible... It's to utilise their forced 'chutti' (sic)." But can you blame the somebodies? Ravinder and his ilk, numbers notwithstanding, are after all cloaked in invisibility. The more indispensable the more invisible. Invisible to the point of being dehumanised. So invisible that one might forget they are there as head-loaders and construction workers and rajmistris when those housing societies and swanky offices shoot up from the ground. So invisible that when taps run smooth and cisterns work without glitch, the M word that comes to mind is magic, not migrant. So invisible that when manic online shopping festivals are announced, it is difficult to imagine factory-workers' contract-less lives. Yes, most of this ample migrant workforce is employed in the unorganised aka invisible sector. So so invisible that when smart-crafted advertisements seduce you into buying the first diamond or the nth, no one tells you about the man from Kendrapara who polished it for you some place in Surat.
Not by Virus
"How will we survive," asked Ravinder. His compatriot in corona, a man walking from Delhi to Bihar, broke down when some volunteers offered food packets. With the palm of his hand he rubbed away his tears and when even that was not enough he tugged at the scarf around his neck. He wept and wept as if his heart had broken, and it is safe to say, it was not corona's doing.