Caught in a difficult trap
CHINA DIARY: Lay-offs have started, of ordinary workers and also healthcare workers who have been risking their lives constantly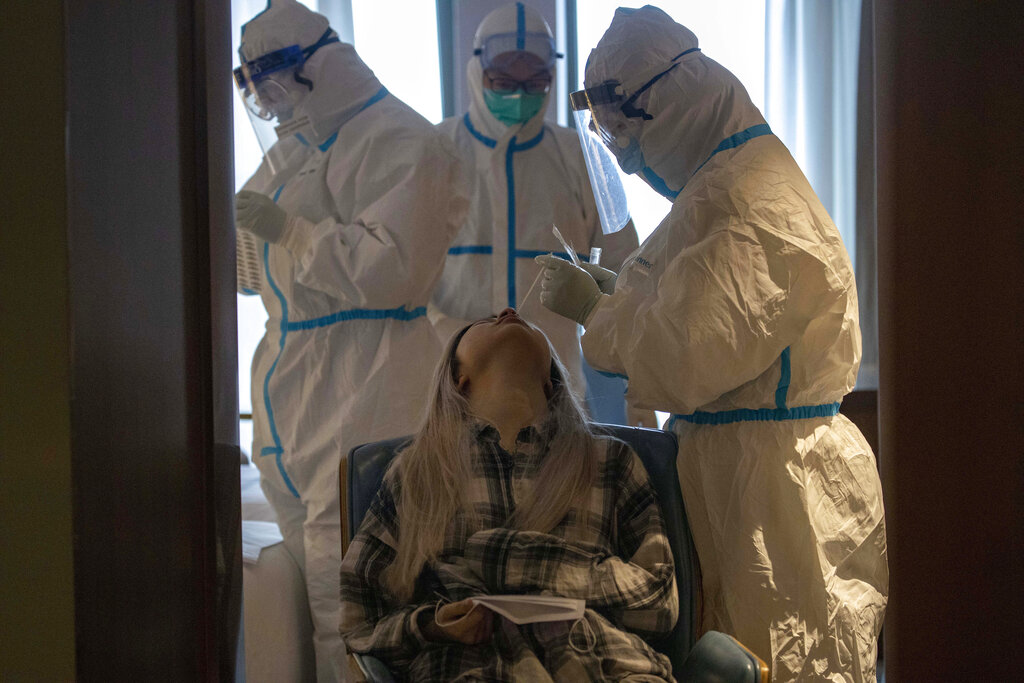 A woman takes a Covid-19 test at a quarantine hotel in Wuhan in central China's Hubei province.
AP
---
Published 04.05.20, 08:30 PM
|
---
She is the only one in the restaurant who can speak three languages with ease — Mandarin, Cantonese and English, the last learnt painstakingly by herself over the years. After working in all kinds of places as a bar girl or waitress, she finally landed the job of a restaurant supervisor in a Macau hotel, only to find that, thanks to office politics, the waiters earn more than her. With business at an all-time low, she watches them relax while she must ensure that the restaurant remains spick and span. Customers or no customers, the CCTV cameras are always on, waiting to catch staff snatching a few moments for themselves.
So 33-year-old Suyin is in no mood to renew her contract in June unless she gets a raise. That's typical of this small-town girl who was sent off to earn a living as soon as she finished middle school, although she would have loved to study all the way through college. Having learnt to fend for herself from the time she was 16 years old, Suyin has never tolerated being undervalued at work. But these are not normal times. She cannot just walk out of a job and hang around in the city till she gets another, or go home to her mother. Now, the moment she quits, she will become homeless, for home is the dormitory provided by her employers. Without a Macau resident permit, she must return to China and be quarantined for 14 days. Worse, she knows no one is hiring now. For the same reason, she is sure she won't get a raise.
Nowhere to go
Suyin is actually fortunate. All across China, lay-offs have started, not just of ordinary workers, but even of healthcare workers who have been risking their lives constantly over the past few months. When public fury forced the authorities to investigate the laying off of 40 staffers by a Xian hospital, the management said that the 'downsizing' had been planned last November itself, but had been postponed because of the pandemic.
In this Communist country, there is no union to protect these workers. But they are protesting anyway. The last two months have seen 73 protests across China, mostly demanding wage arrears, including at hospitals and quarantine centres. Taxi drivers are struggling to pay vehicle rentals; construction workers are, as usual, demanding arrears and getting beaten. The worst affected are the millions of migrant workers who had gone home for the New Year. First, they were stuck in their hometowns for two months without pay. When they returned in April to the cities which used to be full of opportunity, they found that orders had dried up in the small units where most of them worked. With wages now too low even to pay rent, they have returned home, uncertain of whether they shall be going back to the cities. Even the ultra-nationalist Global Times has published an article on the precarious situation of small businesses.
Danger lurks
At present, a five-day holiday for May Day is on in China. Tourist hotspots have restricted visitors to 30 per cent of their daily intake which, in China, still amounts to about 5,000 visitors a day. But even as the government hopes to boost travel, authorities in some cities have banned students and teachers, who have just resumed classes, from travelling. Beijing authorities have also advised residents not to leave the city. The danger still lurks, and not just in Wuhan.
A small city bordering Russia has emerged as a new hotspot, while Harbin, famous for its annual Ice Festival, has once again imposed a ban on dining out after having lifted it a month ago.
It is time to show patience, Suyin.