Over their dead bodies
Post corona, never forget Aurangabad. Forget the moon if you will, but not the bread on the track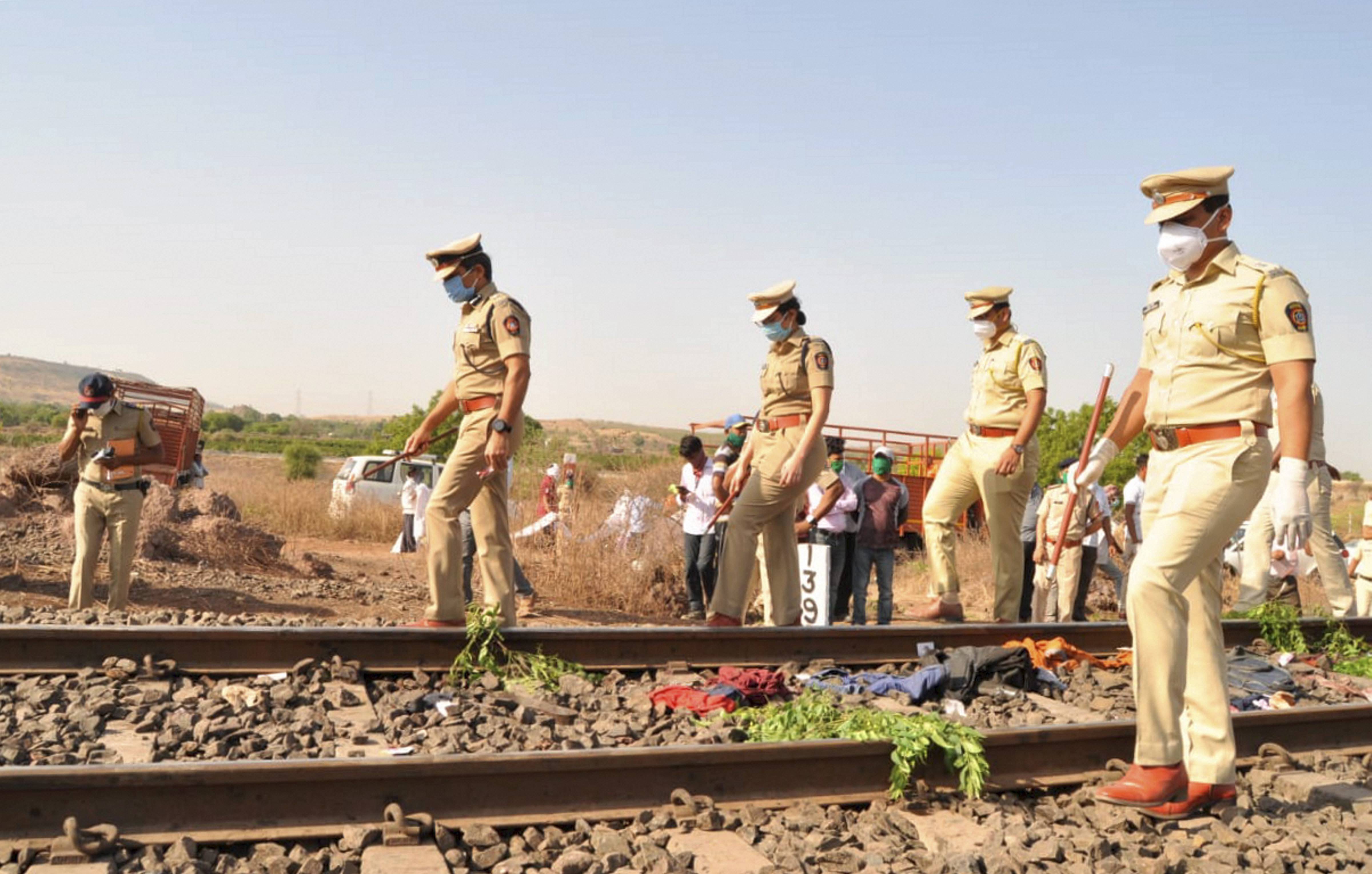 ---
---
A night of close encounters. In the skies there bloomed a swollen moon, extra bright, blistered red, all of it from swinging a bit too close to the Earth. There was perigee unravelling on ground too. Twenty men of steel from Jalna, Maharashtra, spent from walking homewards to Madhya Pradesh, lay down on a live rail track. The next morning, long after the moon had vanished from sight, the tracks loomed into view — washed with red and scattered over with rotis, more than one circular disc, moon-like, scars et al, dangerously close to the tracks. What or who killed Dhansingh Gond, Nirlesh Singh Gond, Buddharaj Singh Gond, Rabendra Singh Gond, Rajbohram Paras Singh, Dharmendra Singh Gond, Shreedayal Singh, Suresh Singh Kaul, Santosh Napit, Brijesh Bheyadin, Bigendra Singh, Pradeep Singh Gond, Nemshah Singh, Munim Singh, Acchelal Singh and one unidentified other? Was it a goods train that trundled over 16 men, or was it a nation's collective indifference? Whose shortsightedness was it really?

Strain on consciousness
The opposite of perigee is apogee. It refers to the point at which anything is the farthest away from something. March 24. PM announces nationwide lockdown. March 26. Newsflash. Police force a group of migrant workers hop like frogs on a Badaun road (in Uttar Pradesh) for "violating" lockdown orders. In the meantime, stray voices in support of the migrants. Kerala CM Pinarayi Vijayan warns against migrant eviction. Mamata Banerjee writes to chief ministers of 18 states, urging them to look after the thousands stranded from Bengal. March 27. The Centre releases its first migrant-related advisory. March 29. It asks the states to seal borders and in radio address, the twice victorious PM Narendra Modi apologises to his people for imposing hardships.
Hume aatma nirbhar banna hi padega
And then, a godsend. The Tablighi Jamaat-corona connection is discovered and for a while the migrants are forgotten. April 2. Vilas Mahto, 40, a road construction worker, collapses on the road to Patna in Dehri-on-Sone in Bihar's Rohtas district. He was walking back from Allahabad. The next day, the PM announces his darkness challenge. Around this time, welder Praveen reaches his village Chitalwana in Rajasthan, after a long walk of 120 kilometres, hitch-hiking on four trucks, one van and a motorcycle, six days after setting out from Bangalore. Still no sign of a comprehensive plan for India's labour force. In the second week of April, a study reveals that 96 per cent of a sample of lockdown-hit migrant workers did not receive any dry rations while 70 per cent lacked knowledge of or access to cooked meals. A migrant worker, Netrapal, 42, died at an Uttarakhand relief camp after he stopped eating. And on April 21, in a Chhattisgarh district, Kaleshwar Rajwade, 21, and Gulab Rajwade, 20, were run over by a freight train. They were learning how to manufacture fertilisers but their training had been suspended after the lockdown. They were walking along the railway tracks when the train crept up on them. April 24. The PM stressed the need for the country to become self-reliant and self-sufficient in all spheres. "Hume aatma nirbhar banna hi padega," he said. April 30. Thirty-six days into the lockdown the Centre decided to let migrants return to home states and shifted all onus on to the states. On Labour Day, industrialist Mukesh Ambani announces he will forego his salary. Reportedly, he earns Rs 15 crore a year. That day, the Centre allows for train service and days later when the Shramik Specials chug into action, the government remembers to ask the migrants for Rs 50 extra.
PS
Post corona, never forget Aurangabad. Forget the moon if you will, but not the bread on the track. And should you remember them together do not be tempted to poetry or apogee or whatever takes one farthest from humanity. A young Bengali poet, Sukanta Bhattacharya, once cautioned starkly: Khudhar rajye prithibi godyomoy/Purnimar chand jeno jholshano ruti. Translation: Where hunger reigns, life is prosaic/Even the full moon looks like griddled bread.