As the bell tolls, it tolls for thee
Coping with Covid-19: In India, all we can do is apparently wait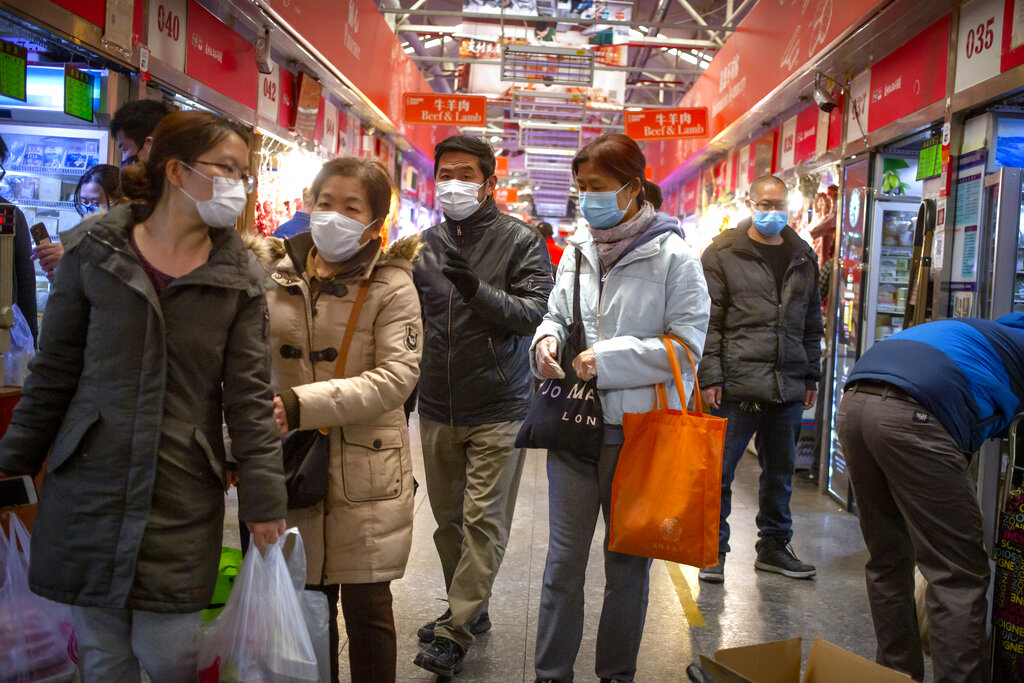 People wear face masks as they shop at a market in Beijing, Saturday, March 14, 2020.
AP
---
Published 14.03.20, 07:02 PM
|
---
Talk of our common humanity in the time of Covid-19 feels less like a deferred piety, more like a shared fate. Never have headlines in foreign newspapers published in distant continents spoken so directly to us. Never has history repeated itself in short, tight cycles in country after country before our eyes. Donne was right and more literally than he had meant to be: "Any man's death diminishes me, because I am involved in Mankind. And therefore never send to know for whom the bell tolls; it tolls for thee." Never have we experienced death in other countries with such vicarious anxiety.
This is the great global moment of our lives. The last time that human beings as a species were collectively as vulnerable was just over a century ago, in 1918 when the 'Spanish flu' infected, at a low estimate, 500 million people worldwide and killed 50 million. British India had the largest number of deaths of any single country in the world; between 10 and 20 million Indians died.
It's important to bear in mind that the 1918 flu was exceptionally malignant. Nothing like it has been seen since. The 2009 influenza pandemic which spread to more than 200 countries killed fewer than 20,000 people by the time it was declared over in 2010. Also, by way of context, seasonal flu infects three to five million people every year with 2,90,000 to 6,50,000 deaths reported globally. We don't yet know what the morbidity rates for Covid-19 are because there hasn't been enough testing to calculate the extent of the infection, but one per cent mortality would mean many millions dead if, as Angela Merkel has said of Germany, 60 to 70 per cent of a country's population is likely to be infected over time.
Given the literature on influenza pandemics and the scholarly articles written in the last couple of years on the world's preparedness (or lack thereof) for coping with one today, the response to the irruption of Covid-19 has been a lesson in human fallibility and parochialness. China suppressed reports of the new flu through December 2019 and January 2020 and a great deal has been made of this in the Western press. It's worth remembering, though, that there were no fatalities in China in this period, which might have encouraged local apparatchiks to believe that they could sweep the epidemic under the carpet. Once its deadly potential became evident by the second half of January, the Chinese government locked down Hubei, a province of 60 million people, larger than the size of the population of Spain.
Thanks to the strict social isolation and extensive testing undertaken by the Chinese government, the growth rate in infections in every Chinese province outside of Hubei was successfully flattened to the point where new cases in Chinese provinces are now hovering just above single digit figures. Despite the time bought for the world by China's fierce containing intervention, the consensus is that the United States and Europe wasted this breather by refusing to learn from the East Asian cases either because policymakers in these countries didn't take the threat seriously or they did take it seriously but believed that their political systems and societies were so different from China's that they would have to find alternative solutions to the pandemic.
So Trump suggested that concern about Covid-19 was scaremongering by his political enemies. He declared that it was no worse than seasonal flu, that people could go to work if they were sick, that the virus had been contained, that testing was available to everyone who wanted it. Not a single one of these assertions was true, but perhaps the worst of Trump's lies was the comparison with seasonal flu. Dr Anthony Fauci, the director of the National Institute of Allergy and Infectious Diseases, testified that Covid-19 was at least ten times more lethal than seasonal flu. Thanks to Trump's insouciance, Washington state threatens to become the US's Hubei with no sign of the social isolation and testing that contained the spread in the rest of China.
Similarly Boris Johnson came to the conclusion that a policy of social isolation that involved a ban on large gatherings and school closures was too draconian for a liberal society, that Great Britain would have to "strike a balance". This effectively meant that even as Ireland and Scotland, learning from the East Asian example and Italy's cautionary tale, shut their schools down and banned all gatherings over five hundred people, Johnson's government decided to 'manage' the virus's spread instead of containing it with a view to creating 'herd immunity'. The problem with this policy was that the experience of every country since the pandemic began suggested that swingeing social isolation was the only way of delaying its spread and keeping the health system from being overwhelmed. Countries and regions that tested extensively and implemented lockdowns had morbidity rates ten times lower than those that didn't because lower rates of spread allowed beleaguered health systems to provide better treatment.
Boris Johnson did a U-turn inside two days, and banned mass gatherings after civil society institutions like the Premier League suspended their competitions without waiting for the government to wake up. Trump and Johnson are symptoms of the peculiar narcissism of Western liberal democracies. Here were East Asian countries, authoritarian and democratic states alike, demonstrating what the best practice for containing this pandemic was with their hard won experience and yet Italy, France, Great Britain and the United States reacted as if preventing people from infecting each other, checking their temperature as they exited airports, testing widely and quarantining those who tested positive, amounted to desecrating the 'western way of life'. Britain and the US could have looked to the West's allies in East Asia for inspiration and a template for coping with the pandemic. Taiwan, Singapore, South Korea and Hong Kong have been models of State leadership and civil society discipline, partly because of China's proximity and example, partly because their citizens learnt the routines of self-isolation during earlier epidemics like SARS. Even the spectacle of Italy in national lockdown as it struggles to make up for earlier laxity hasn't spurred the Anglosphere into action. On other side of the Covid-19 pandemic, global governance rankings will likely be radically revised.
India's preparedness currently consists of a taped phone message encouraging us to wash our hands, a ban with some qualifications on travel into India and a proposal by the prime minister for Saarc cooperation. India has 52 testing centres for a subcontinental nation with a population of 1.3 billion. WhatsApp messages hold out hope: the heat of a sub-tropical climate is India's Maginot Line. The Delhi government has closed schools, colleges and universities in a sensible move. The Indian Premier League has postponed its tournament. Apart from this, it's business as usual, with little or no testing to determine the scale of the epidemic and no thinking at all on how person to person infection can be curtailed in India's massive cities. All we can do, apparently, is wait. This makes for a change. We don't, for once, have to strenuously embrace the world. The world's coming for us.
mukulkesavan@hotmail.com