Call of the hearth
As a civilized nation, we must force ourselves to take care of India's poor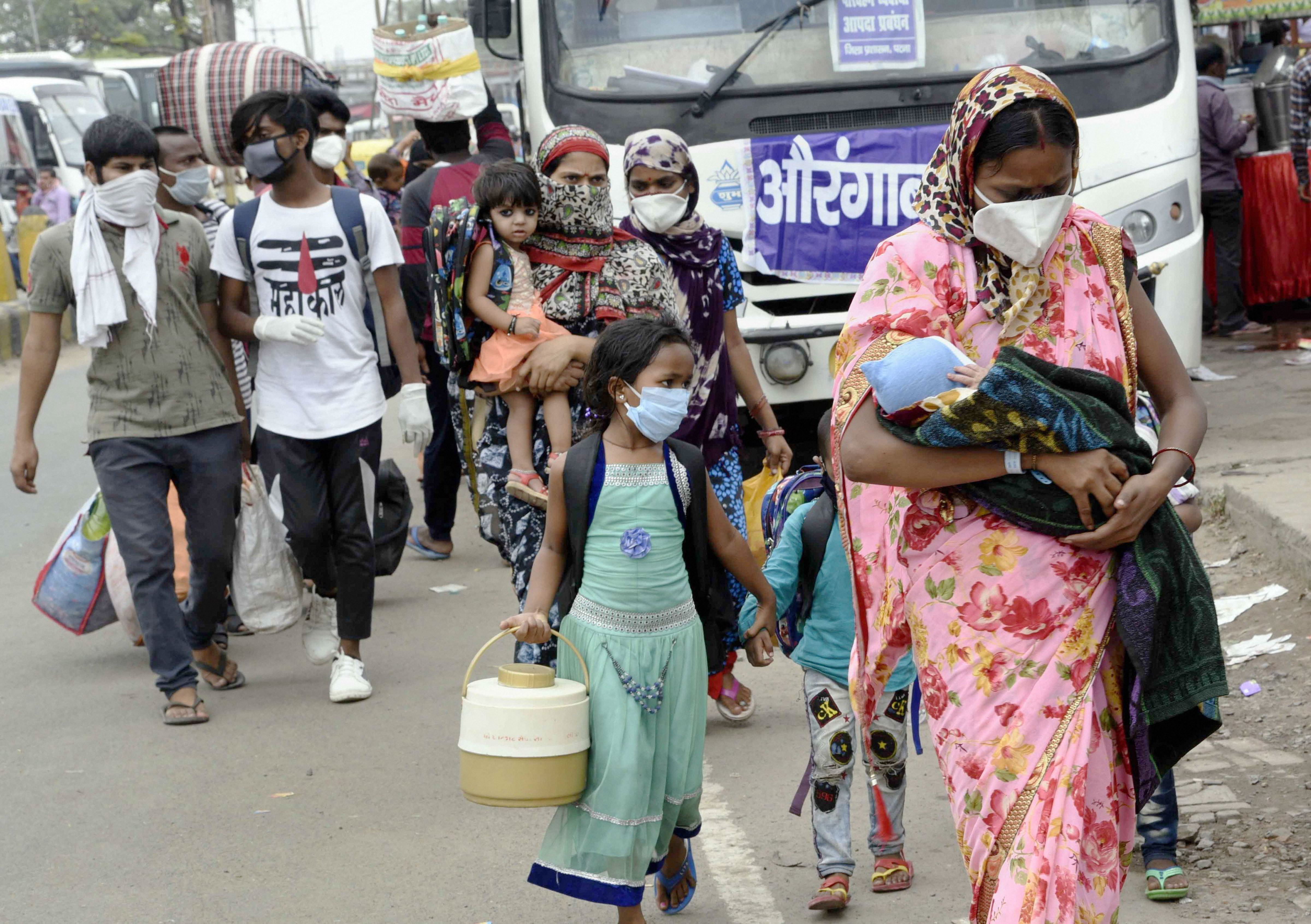 Migrants, travelling from New Delhi by a train, arrive at Danapur Station during the ongoing Covid-19 lockdown, in Patna, Thursday, May 21, 2020.
PTI
---
Published 21.05.20, 05:40 PM
|
---
The Covid-19 Pandemic is forcing humankind to think of several inconvenient issues, which have been lurking in its subconscious.
In course of the lockdown some of these issues have started to surface, exposing the extent of not only our ignorance but our indifference as well regarding the fate of several millions of our own country folks.
Yes, I am referring to the unprecedented tragedy, of the plight of the millions of Indian daily wage employees, following the sudden announcement of the lockdown by the Prime Minister on March 24, 2020. Many of us may also be unaware that they are the largest segment in what is officially defined in all the statistics as being "employed"!
Possibly no one even realised that following the announcement of the sudden lockdown of India, the largest segment of the Indian working population will become destitute overnight, along with their families and other dependents.
In 2016, a similar episode had been triggered by the sudden announcement of demonetisation. Millions of daily wage earners were rendered unemployed overnight, which had also triggered a mass exodus towards their homes. That event went almost unnoticed, primarily because rail and road transport were operating, and the suddenly unemployed were also aware of the date demonetisation would end when most of them could get back and be re-hired in their daily wage jobs.
India may not have been aware of the fact that daily wage earners in cities and towns, alongside roadside vendors and farm laborers, provide the largest source of employment in the country. So, the government's skill development and apprenticeship schemes, etc, as means of increasing job opportunities, has had indifferent impact.
Basically, we pretended that there is no elephant in the room!
The issues surfacing from the present unprecedented crises can no longer be ignored.
The march of millions of men, women, children, the elderly and the infirm towards their ancestral homes and hearth is a statement of their desperation and their last destination for survival.
It also became clear that none of the comfortable class Indians or politicians was aware of the socio-economic fragility, the size and number of working-age Indians in this sector.
Given these realities, spreading the message of self-reliance in a 21st century advanced India seems like a dirge first heard on the eve of Indian independence.
The visible optimism of the well-to-do and emerging middle-class Indians did not represent the hopes and expectations of the silent majority.
India has known for a while that the only succour that can be ensured is through subsidies in cash and in kind to meet the minimum needs of survival of a huge number of our citizens. MGNREGA was a modest start. Much more remains to be done. A minimum level of social security must be acknowledged as a constitutional right in a civilised country.
The 2019 Nobel Prize in Economics recognized this as a basic human right while conferring the honour on Esther Duflo and Abhijit Banerjee.
As a nation we have avoided addressing the issue of population explosion, diverting our attention by calling it a demographic dividend. Sadly, it has turned out to be a demographic tragedy.
If we ever hope to turn the tide of this tragedy, we may consider Covid-19 as a crisis with a silver lining. As a civilized nation, we must force ourselves to take care of India's poor so that the journey back to good health is a source of joy, rather than that of despair.